Rex Ryan Eviscerated the Chicago Bears' Refusal to Let Justin Fields Succeed: 'He Looks Like a Maserati With 4 Flat Tires'
Former New York Jets head coach and current ESPN analyst Rex Ryan is all aboard the Justin Fields train, and he has no patience for those who want the Chicago Bears' rookie quarterback to fail.
Ordinarily, one would think such logic would primarily extend to Green Bay Packers fans and those who don't have the 11th overall pick of the 2021 NFL Draft on their fantasy team. However, Ryan recently criticized the Bears organization and head coach Matt Nagy for seemingly setting the rookie quarterback up to fail.
Rex Ryan ripped Matt Nagy and the Chicago Bears on 'Sunday NFL Countdown'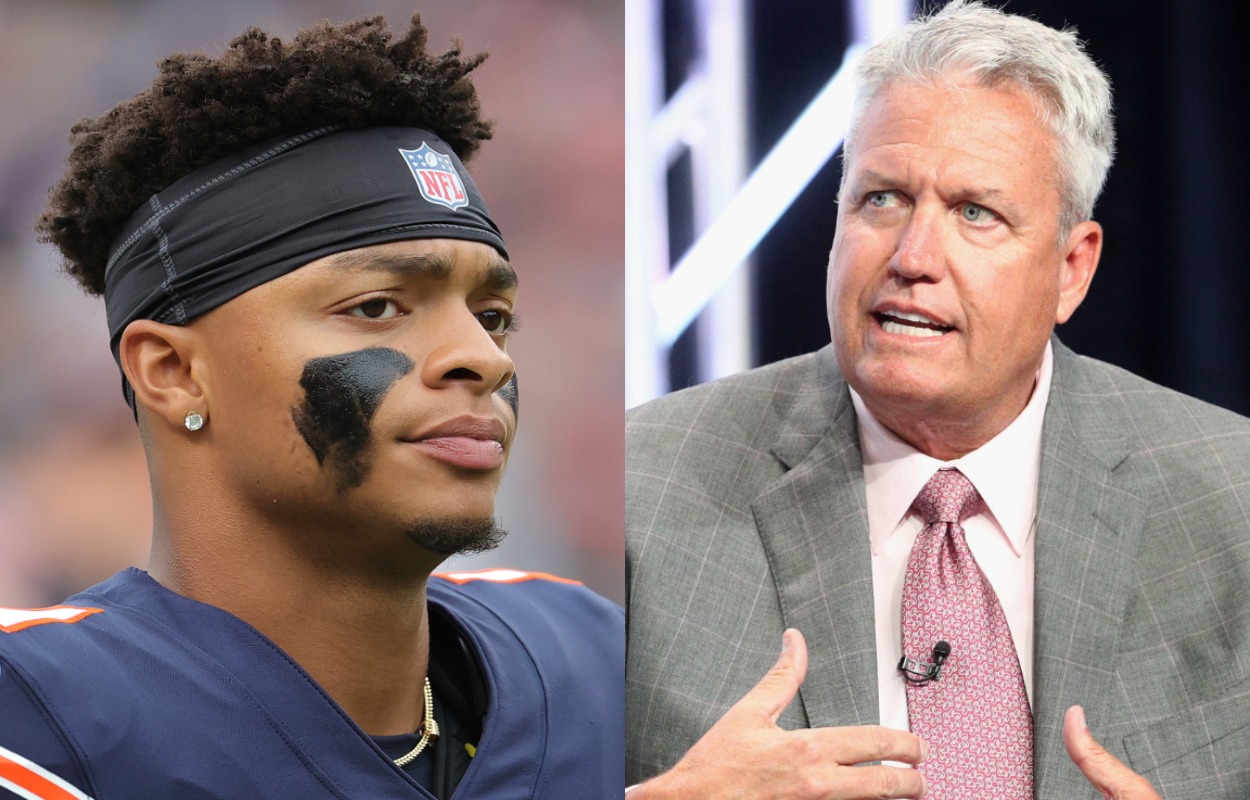 The Fields era was supposed to mark a new day in Chicago. Instead, Nagy has stubbornly avoided committing to his rookie quarterback and publicly endorsing him as a player who can bring a Super Bowl title back to the Windy City.
Even ahead of Fields' first career start in Week 3, Nagy continued stressing how the team belonged to Andy Dalton, the injured veteran quarterback. The three-time Pro Bowler started the Bears' first two games but is currently out with a knee injury.
On the Oct. 3 episode of Sunday NFL Countdown, Ryan made it clear that he's had enough of Nagy's approach. The defensive mastermind loudly criticized Nagy's reluctance to embrace Fields as his starting quarterback. 
Ryan also took issue with those who were already discouraged with the rookie's slow start. Fields only completed six of his 20 passes and took nine sacks in a Week 3 loss to the Cleveland Browns.
"I get it, [Fields] wasn't ready, but whose fault is that? It's hard for me to sit back and say a quarterback shouldn't be ready to go his rookie year. Why? Because I started two different rookies. Me, I don't get that. You drafted this guy; you gave up two first-round picks for him. I look at him; he looks like a Maserati with four flat tires. Why? Because you're not putting air in those tires."

Justin Fields
Those two quarterbacks, by the way, were Mark Sanchez and Geno Smith.
As a rookie in 2009, Sanchez served as the starting quarterback on a Jets team that, in large part because of a dominant defense, reached the AFC Championship Game. Smith had an inconsistent rookie season in 2013 but engineered five game-winning drives and totaled 18 touchdowns from scrimmage.
Fields' Week 4 performance went a long way in proving Ryan's points correct
Those who want to approach the Bears' Week 4 victory cynically will say the team won solely because of the Detroit Lions' ineptness on offense. Then again, how many times have we said that over the years?
Fields, for his part, completed 11 of his 17 passes for 209 yards and an interception in the 24-14 victory. He became the second quarterback selected in the 2021 NFL Draft to win a game as a starting quarterback; New England's Mac Jones, the 15th overall pick earlier this year, won his starting debut in Week 1.
Zach Wilson, the second overall pick, joined the club later in Week 3. Wilson threw two touchdown passes and helped the Jets engineer a 27-24 upset over the Tennessee Titans.
Let's go back to Fields, who looked sharp at points and didn't shy away from attempting deep passes. Darnell Mooney, a second-year receiver from Tulane, had a 64-yard catch en route to a five-reception, 125-yard performance.
All in all, Fields played more than well enough to help the Bears avoid a 1-3 start. For the first time this season, Nagy and the Bears at least showed some willingness to put air in the rookie quarterback's tires.
Nagy needs to listen to Ryan and have more faith in Fields
Perhaps the rookie quarterbacks are starting to turn a corner. Wilson rebounded from an ugly start to his NFL career and helped upset a dangerous Titans team. Jones enjoyed a stretch during the Patriots' thrilling last-minute loss to Tom Brady and the Tampa Bay Buccaneers in which he completed 19 straight passes for 180 yards and two touchdowns.
As for Fields, he's still searching for his first passing touchdown. If Nagy is serious about reaching the playoffs for the third time in four years, he'll firmly establish that the Ohio State product is his starting quarterback going forward, and he'll do everything in his power to help the rookie succeed. If that means more snaps and targets for Mooney, that's on the Bears' offensive staff to work that into the game plan.
However, Fields might be without one of his most efficient weapons in Week 5. Running back David Montgomery suffered a knee injury against Detroit and will likely miss next week's showdown with Derek Carr and the Las Vegas Raiders. The Iowa State product gashed the Lions' defense for 106 yards and two touchdowns.
Fields likely understands by this point that he can only control what he can control when he hits the road. With that said, now seems like the perfect opportunity for Nagy to stop being stubborn and finally grab the air pump.
Like Sportscasting on Facebook. Follow us on Twitter @sportscasting19.
RELATED: Justin Fields and the Bears Have a Gigantic Problem on Their Hands That Has Nothing to Do With Matt Nagy's Horrific Play-Calling