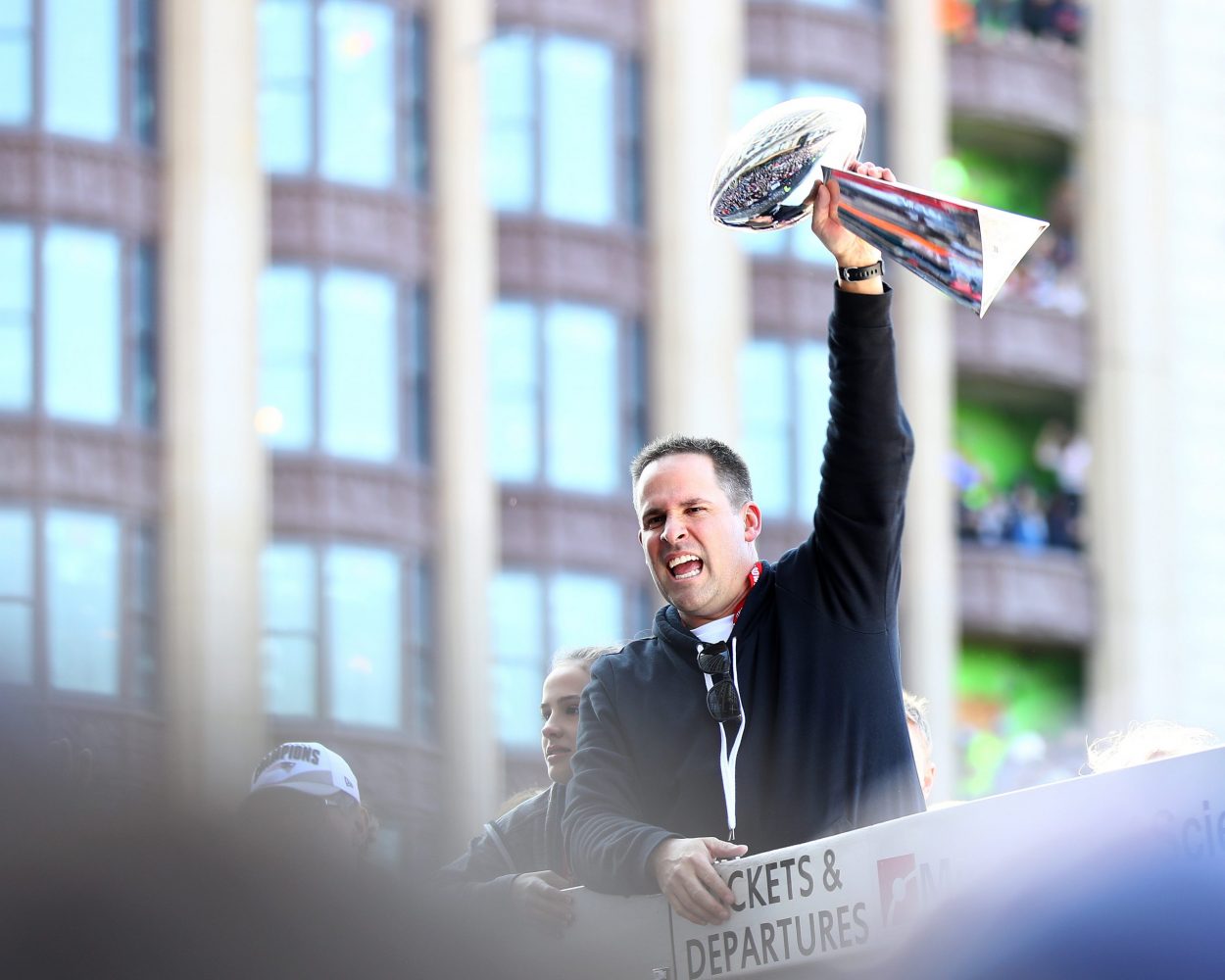 Rex Ryan Heaps Praise on Raiders For Hiring Josh McDaniels: A 'Home Run'
Josh McDaniels has agreed to become head coach of the Las Vegas Raiders after a decade as Patriots offensive coordinator.
The Las Vegas Raiders saw how the New York Giants poached their new general manager and head coach from the AFC East, so they went out and got their own version.
This time, it was the coaching/GM tree of the New England Patriots that bore fruit. According to multiple reports on Sunday, the Raiders have agreed to terms on a deal that would make longtime Patriots offensive coordinator Josh McDaniels the new head coach in Las Vegas.
Joining McDaniels as the Raiders' new general manager is former Patriots director of player personnel Dave Ziegler.
This would be McDaniels' second actual head coaching stint in the NFL, after leading another AFC West team, the Denver Broncos from 2009-10. With the hiring of one of the top offensive minds in the game, the Raiders are hoping to bring some stability to a franchise that endured a chaotic and at times tragic season, yet still managed to qualify for the NFL Playoffs as a Wild Card team.
Rex Ryan loves the Raiders' hire, calls it a 'Home run'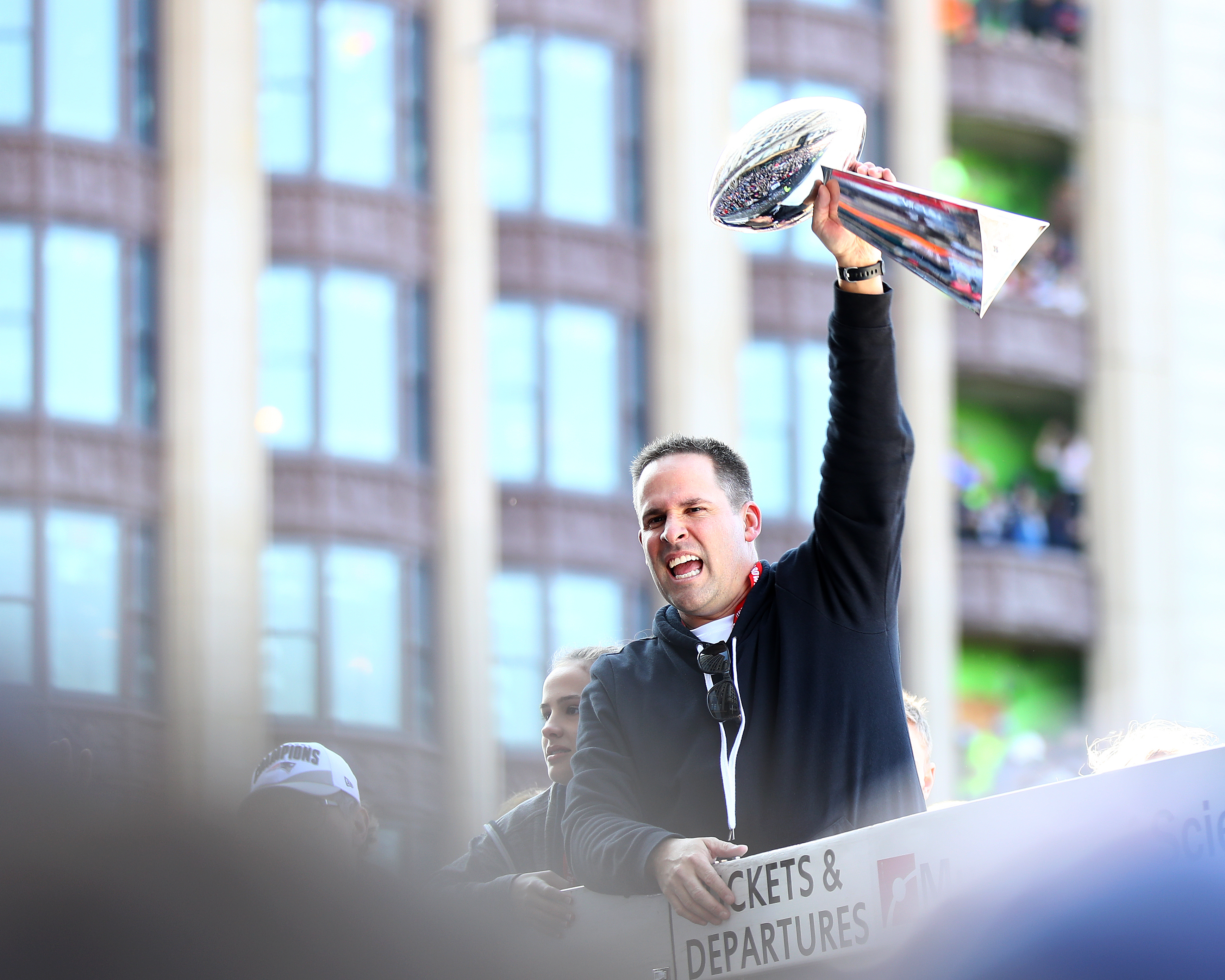 McDaniels served as Tom Brady's quarterbacks coach and offensive coordinator for much of Brady's tenure in New England, and they were together for all six of the Patriots' Super Bowl victories in the Bill Belichick era, the final four with McDaniels serving as quarterbacks coach, offensive coordinator, or both.
It was under McDaniels' leadership as offensive coordinator that Brady had arguably the greatest season by a quarterback in league history in 2007, throwing 50 touchdown passes.
Ziegler got his first NFL personnel job with the Broncos under McDaniels in 2010 and by 2021 was acknowledged by Belichick as the team's point person for their personnel staff. McDaniels and Ziegler attended John Carroll University together and their close bond is seen as a key element to their joint hiring, after the tumultuous era of John Gruden as head coach and Mike Mayock as GM.
The news of McDaniels' hiring by the Raiders was greeted with positive reviews by the morning pregame shows on Sunday. And none were more effusive in their praise than former New York Jets head coach Rex Ryan, now an ESPN NFL analyst.
"This is a great hire for the Raiders," Ryan said during Sunday's "Postseason NFL Countdown" on ESPN. "This guy — let's not get it twisted — this is one of the best football coaches in the National Football League. The fact, you know, he was so young when [when coaching the Broncos]. He's had time away from the head coaching position to come back here.
"I think that this is an amazing hire for the Raiders. I don't think that they could've hired a better guy. So, if I'm Derek Carr, I'm so excited right now to have this guy. This is a home run, in my opinion."
McDaniels' earlier head coaching experiences didn't go well
But for all his coaching success under Belichick, McDaniels has a much different resume as a head coach. He did not last a full two seasons with the Broncos, going 2-8 over the final 10 games of his first season in 2009 to finish 8-8 and miss the playoffs.
In his second season in 2010, the team went 3-9 through 12 games and endured a videotaping scandal similar to the "Spygate" scandal that rocked the 2007 Patriots, which McDaniels was also involved with. In the Broncos scandal, McDaniels and the team were each fined $50,000 by the league, but league also absolved McDaniels and the team of having knowledge of the taping scheme beforehand.
Nevertheless, because McDaniels had been found guilty of not reporting the incident to the league office upon learning about it, the Broncos fired McDaniels after Week 12.
In 2018, the Indianapolis Colts interviewed McDaniels for their open head coaching position and announced in early February that they had hired him. But McDaniels stunned the league by withdrawing from consideration the same day as the announcement and remained with the Patriots as offensive coordinator.
Will the Patriots go back to Bill O'Brien as offensive coordinator?
Now it's the Patriots turn to go on a coaching search, and it is widely expected that former Patriots offensive coordinator Bill O'Brien, who held the position in 2011 before leaving to coach Penn State University in the wake of the Jerry Sandusky scandal and firing of head coach Joe Paterno. McDaniels succeeded O'Brien in New England, reclaiming his old position and keeping it until this weekend.
Now it could be O'Brien, who became Houston Texans head coach for the 2014 season and remained in the position until being fired as coach and GM in 2020, who returns to the Patriots to replace McDaniels.
O'Brien spent the 2021 season as the offensive coordinator at the University of Alabama, working under Belichick's best friend, Nick Saban.
Small world.
Stats courtesy of Pro Football Reference