Rex Ryan Would Fake an Illness If He Had to Go Against Patrick Mahomes
The NFL has had its share of great dynasties, from the Troy Aikman-led Cowboys of the '90s to the 49ers teams of the '80s led by offensive coaching genius Bill Walsh. Meanwhile, most agree that the New England Patriots dynasty captained by quarterback Tom Brady is as the greatest of all-time.
With Patriots' glory days over, many believe the Kansas City Chiefs will become the new NFL dynasty. Former coach Rex Ryan seems to agree. Let's look at Ryan's NFL career and his recent thoughts on Patrick Mahomes. Are the Chiefs' the next great dynasty?
Rex Ryan's NFL career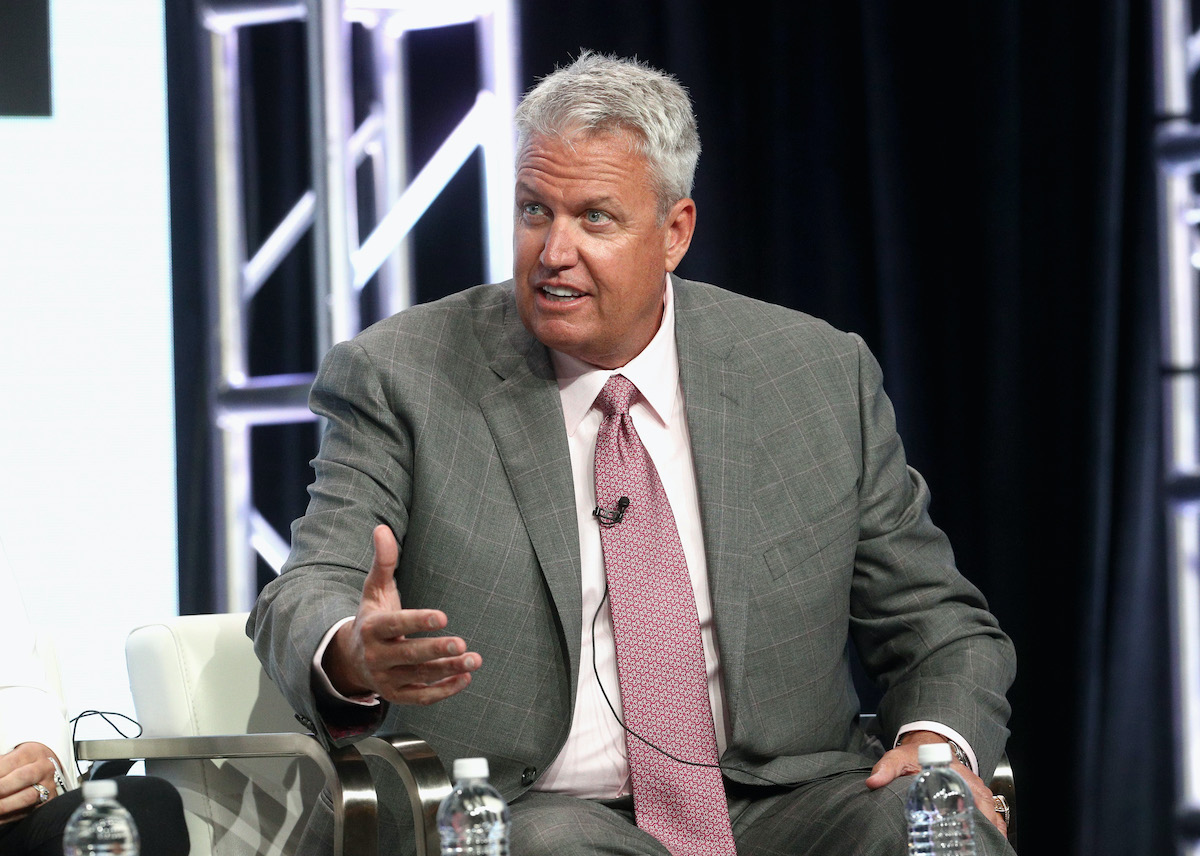 The 57-year-old got his start in coaching soon after graduating from college at Southwestern Oklahoma State University. Then, he embarked on a 12-year run of coaching college football. He also spent one year in the mid-1990s as a defensive coach for the Arizona Cardinals. Yet it wasn't until 1999 that he finally made a permanent leap to the NFL.
Ryan spent 10 years coaching for the Ravens, first as a defensive line coach, then a defensive coordinator, and then as assistant head coach. During that span, he helped coach the team to a victory in Super Bowl XXXV. In 2009, he took his first head coaching position with the Jets. He spent six years at that job. Then, he served two years as head coach of the Buffalo Bills, before becoming a TV analyst with ESPN.
Ryan's thoughts on Patrick Mahomes
RELATED: The Heartbreaking Reason Damien Williams Opted Out of the Chiefs' Season
Ryan recently appeared on the Pat McAfee Show. It didn't take long for the Chiefs to come up. McAfee pointedly asked Ryan what his defensive strategy would be for stopping the potent Chiefs offense. The former coach began his answer with a joke. He faked a cough and said, if he was a defensive coordinator facing the Chiefs, his first move would be to fake an illness.
Ryan then pointed out the Chiefs' incredibly talented roster, from star quarterback to Mahomes to speedy receivers like Sammy Watkins. He conceded that the only real way to stop such an offensive was to "mix it all." This means challenging every aspect of the Chiefs offense to try to probe for weaknesses.
Ryan also stated that the one team he thought could really challenge the Chiefs are the Baltimore Ravens. He also pointed out that the 49ers did a great job in the Super Bowl — until they put Richard Sherman on man-to-man coverage against Watkins. Ryan's point was that even one defensive lapse against a team like the Chiefs can cost you.
The Chiefs' case as an emerging dynasty
RELATED: John Elway Holds Surprising Belief About Patrick Mahomes' Contract
So do the Chiefs really have what it takes to form the next NFL dynasty? While no critical consensus exists, most commentators seem to think so. Mahomes is a next-level talent and is still just 24 years old. He's also paired with the perfect head coach in Andy Reid. The Cheifs leader takes an innovative approach to offensive strategy.
Mahomes is also surrounded by a plethora of in-their-prime offensive weapons, including 26-year-old wide receiver Tyreek Hill and 30-year-old tight end Travis Kelce. The Chiefs have most of their key players locked up under contract for the next several years, meaning they don't have to worry about doing any financial gymnastics to keep their squad together.
Not all football dynasties have to last as long as the Brady-led Patriots. The Chiefs are clearly poised to be a Super Bowl contender for at least the next four or five years. If they can come away with two or three wins in that time, they will have secured their place as one of the great dynasties of the 21st century.