Rich Eisen Gifted Derrick Henry With a Catchy New Nickname Which Spells Trouble for the Opposition on His Record-Shattering Quest
Tennessee Titans running back Derrick Henry is one of the most dominant players in the NFL and has been for the past few seasons. Just six weeks into the season, he's already on a record-setting pace. He's affectionately known as King Henry, but NFL Network analyst Rich Eisen prefers the two-time Pro Bowler go by something else.
Titans RB Derrick Henry is on a record-setting pace
Derrick Henry's NFL career started slow, especially considering his dominance at Alabama. However, he's been a model of consistency lately and showing no signs of slowing down.
Henry has reeled off three consecutive seasons with over 1,000 rushing yards and double-digit touchdowns. He led the NFL in both rushing yards and rushing touchdowns in the 2019 and 2020 seasons.
Through the first five games in 2021, he's already on pace to achieve that feat in back-to-back-to-back seasons. Henry has carried the ball 142 times for 640 yards and seven touchdowns through five games.
The Yulee, Florida native received the lion's share of the carries in Tennessee's offense, and he's still proven to be durable. Henry led the league in rush attempts in 2019 and 2020, and he's currently pacing the rest of the pack in 2021.
Henry's 2020 season ranks No. 5 on the NFL's all-time single-season rushing yards list. With a 17-game schedule, breaking Eric Dickerson's elusive record (2,105) is well within range. The Titans rely heavily on their run game, so he could also break Larry Johnson's record for rush attempts in a single season (416).
Rich Eisen has a new nickname for King Henry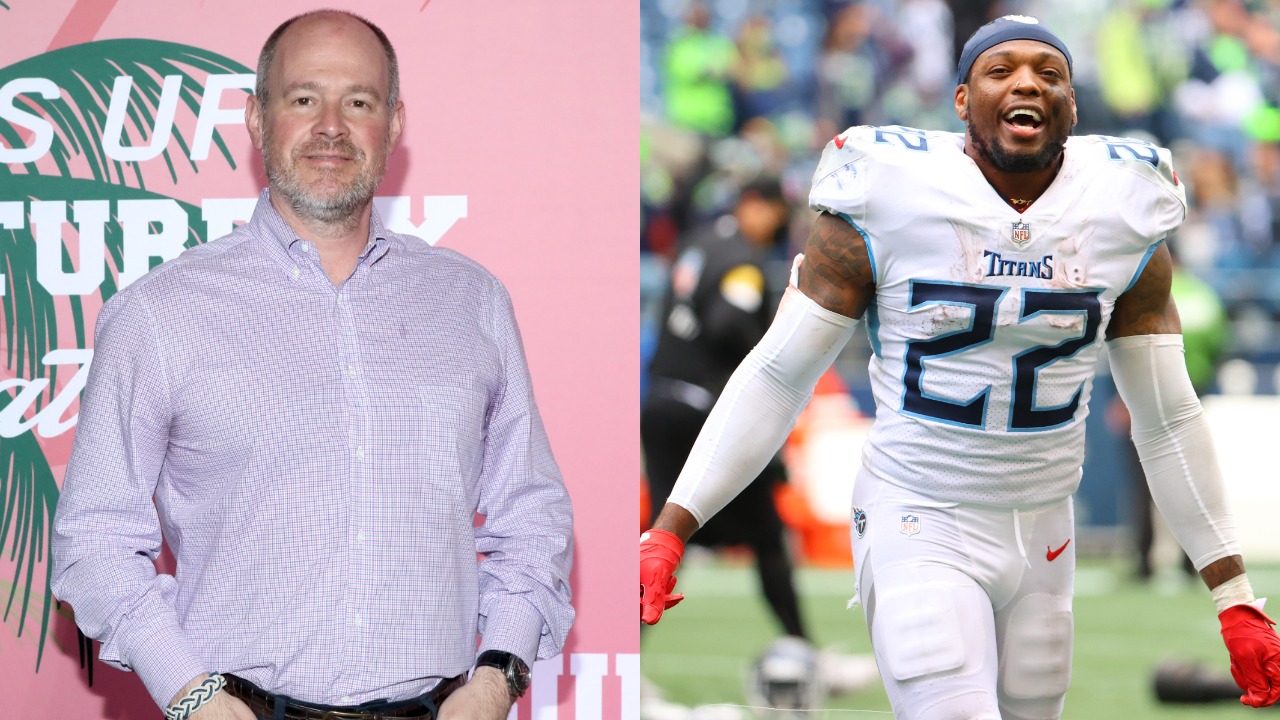 In a league with unique talents like Christian McCaffrey, Saquon Barkley, and Alvin Kamara, Derrick Henry makes a strong case as the best running back in football.
He joined The Rich Eisen Show to discuss his chances at breaking the rushing record, among other topics. Rich Eisen asked the Titans star how the King Henry nickname came about.
"I made that Twitter handle my name in high school, and that's been what it's been since then," said Henry. He said he doesn't ask people to call him "King." They just do.
Eisen took it upon himself to craft a different nickname for Henry to use moving forward. The NFL Network analyst suggested the All-Pro running back go by "The Diminisher."
"People are concerned with the amount of usage you're getting and that running backs wind up showing diminishing returns. And I don't think you're showing any diminishing returns," said Eisen.
"You are the one that does the diminishing," Eisen added. "You're the one that comes downhill."
Henry was a big fan of the nickname, or at least, that's what he told Eisen. "You know what I gotta do," asked Henry. "I gotta live up to it."
Henry refuses to let DBs tackle him
Derrick Henry's sizable workload may be concerning to many, but not to Henry himself. He puts in work in the offseason to get his body ready for the season ahead.
"Cold tub, hot tub, massage, ART [Active Release Technique], needling, cryo, that whole nine," said Henry per ESPN. "Anything I can do to get my body ready, I am going to try it. I just make sure that I feel good enough to be able to pick my daughter up in the morning when she gets up."
Henry's preparation manifests itself every week on the field when defenders are exhausted late in games. The 6-foot-3, 247 pound running back is just getting warmed up.
The sixth-year running back has made a living disposing of unsuspecting defenders. He's perfected the art of the stiff arm. Eisen asked Henry about his thoughts when he sees a defensive back coming toward him in the open field.
"Can't let him tackle you," said Henry. "Can't let him tackle you one-on-one." Players try to tackle Henry low because of his sheer size, but he makes defenders pay more often than not.
Derrick Henry is one of one. Opposing defenses switch their game plan for him. Barring injury, he may shatter records in 2021.
All stats courtesy of Pro Football Reference.
RELATED: O.J. Simpson Has Become the Biggest Beneficiary of Derrick Henry's Monstrous Start and the 17-Game Season