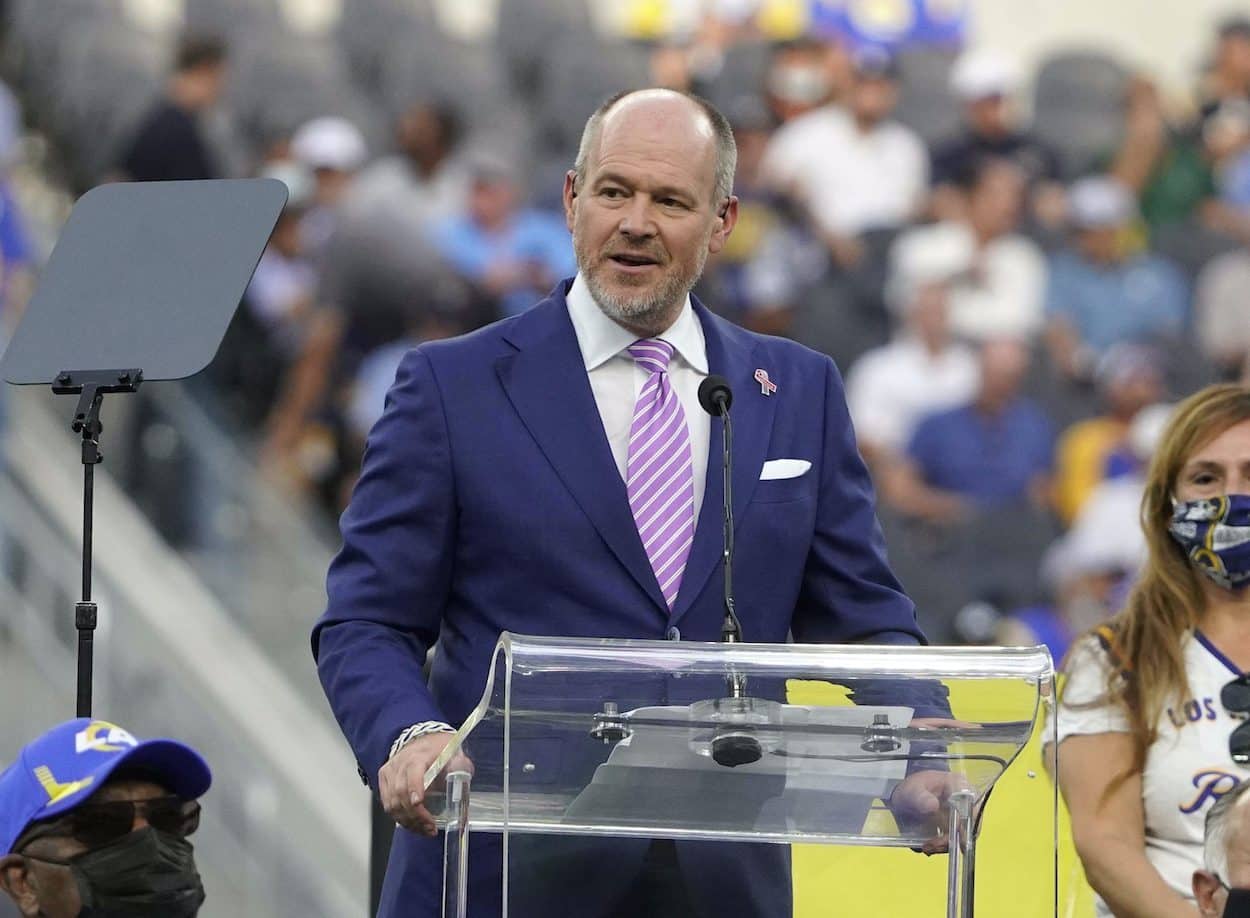 Rich Eisen May Leave NFL Network in August, Where Will He Go Next?
Original NFL Network host Rich Eisen becomes a free agent in August. Will he leave? And, if so, where could he go next?
When the NFL Network debuted in 2003, former Sportscenter anchor Rich Eisen became the face of the fledgling sports media enterprise. For nearly two decades, Eisen has remained the most recognizable on-air personality. He's hosted the NFL Combine, NFL Draft, NFL Gameday pregame show, and more.
Now, Eisen's contract will expire in August 2022, and he's yet to sign an extension with his longtime TV home. In a year when networks have given out more than a billion dollars in new contracts to on-air talent, where will Rich Eisen go next?
Will Rich Eisen leave the NFL Network?
The most likely outcome for Rich Eisen is that he stays at NFL Network.
One reason is that the NFL's standalone channel already has a major shakeup on its hands with its daily morning show, Good Morning Football. In the last year, Nate Burleson left for CBS, and Kay Adams left for a (currently) unknown destination.
As GMFB ramps up for the 2022 season, former NFL defensive back Jason McCourty will replace Burleson, and CBS sideline reporter Jamie Erdahl is replacing Adams.
Whether the new pair joining Peter Schrager and Kyle Brandt can replicate the magic the initial foursome had is still unknown. This AM shakeup should be a significant factor in the NFL Network wanting to keep its prime time and game-day star.
The other reason Eisen will likely stay put is that there doesn't seem to be a prestigious chair open right now in the NFL world.
James Brown, Curt Menefee, and Maria Taylor are in place at CBS, Fox, and NBC, respectively. And Amazon Prime has filled its' Thursday Night Football hosting duties with Charissa Thompson.
Eisen could go back to ESPN and replace Samantha Ponder (Sunday NFL Countdown), Suzy Kolber (Monday Night Countdown), or Chris Berman (NFL Primetime). However, ESPN doesn't often bring talent back after they leave The Worldwide Leader.
Where could the host go if he leaves?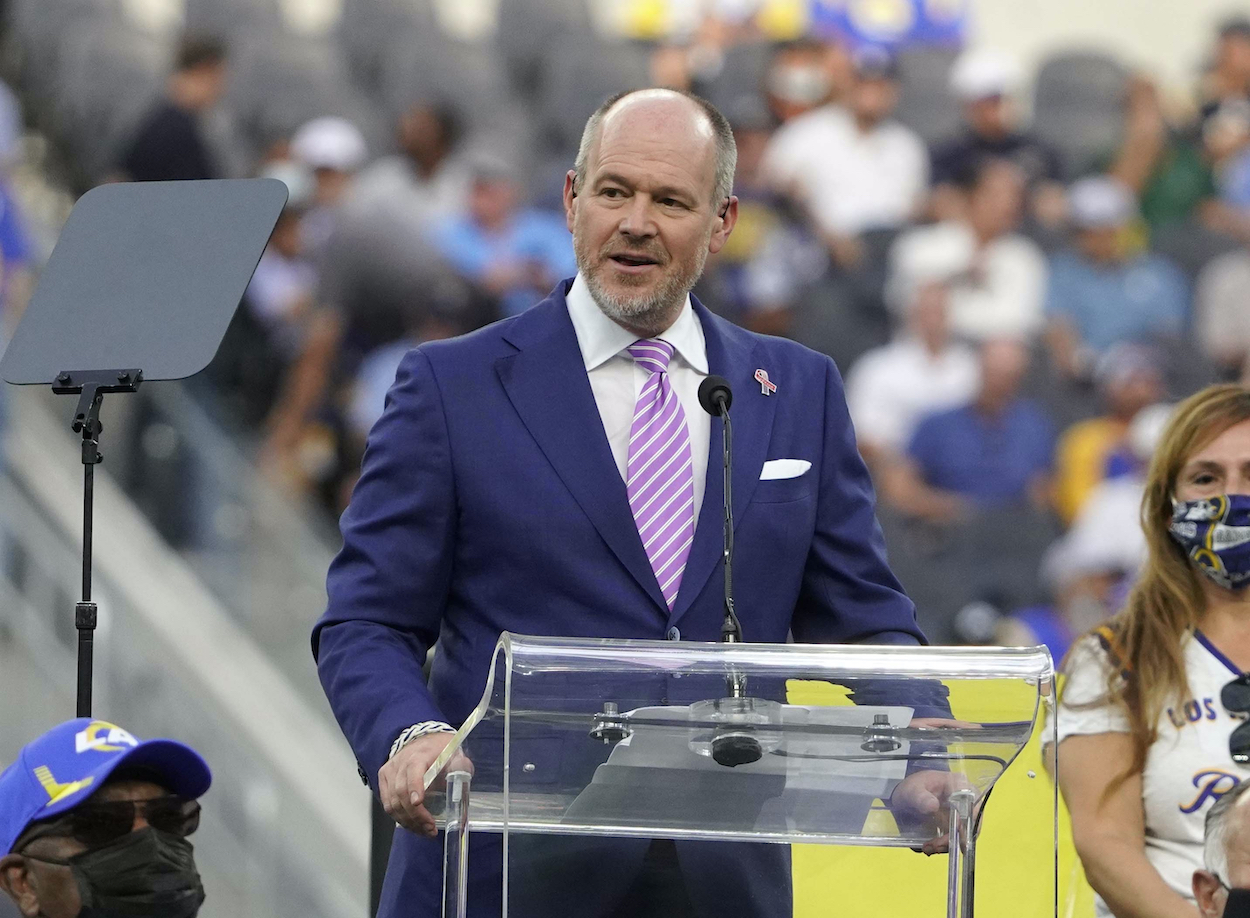 With the lead hosting roles at Amazon and the major NFL broadcasting partners filled, Eisen getting a nice raise from the NFL Network seems most likely.
However, Eisen still has options if the NFL's flagship channel doesn't cough up the cash.
In 2022, sports betting is becoming a larger (legal) part of NFL culture. As such, the major players in the industry are looking to lure top talent to their sites. If Eisen got a massive payday from the likes of DraftKings or FanDuel, it wouldn't be a shock.
Also, whether he re-signs with the NFL Network or not, Eisen will still host his daily sports talk show, the Rich Eisen Show, on NBC's Peacock. That means paycheck will still be coming into the Esien household if he wants to take a year away from hosting every Sunday.
Plus, if he does sit out a year, he could end up in one of the jobs above if someone moves on. Or, if a platform like Apple TV+ gets the rights to the NFL Sunday Ticket package in 2023, it could be a perfect new home for the broadcaster.
Like Sportscasting on Facebook. Follow us on Twitter @sportscasting19 and subscribe to our YouTube channel.