Richard Esquinas Claims Michael Jordan Has Still Never Paid Up to His Gambling Debt
There's no doubt that athletes are a competitive bunch. So, it is not surprising that quite a few famous athletes like to gamble. They don't gamble on their own games mind you — that would be against the rules. Well, OK, one name does come to mind who notoriously did do just that. But for the most part, they gamble on "friendly" games of golf and the like.
Phil Mickelson has wagered a lot against other PGA Tour golfers. Some NBA retirees are also known for their gambling habits. Charles Barkley has shared his love of Las Vegas casinos because he can afford to, he once said. And Michael Jordan has long placed wages on his abilities on the golf course. One opponent, Richard Esquinas, says MJ still owes him $100,000 from 1993.
Michael Jordan's gambling habits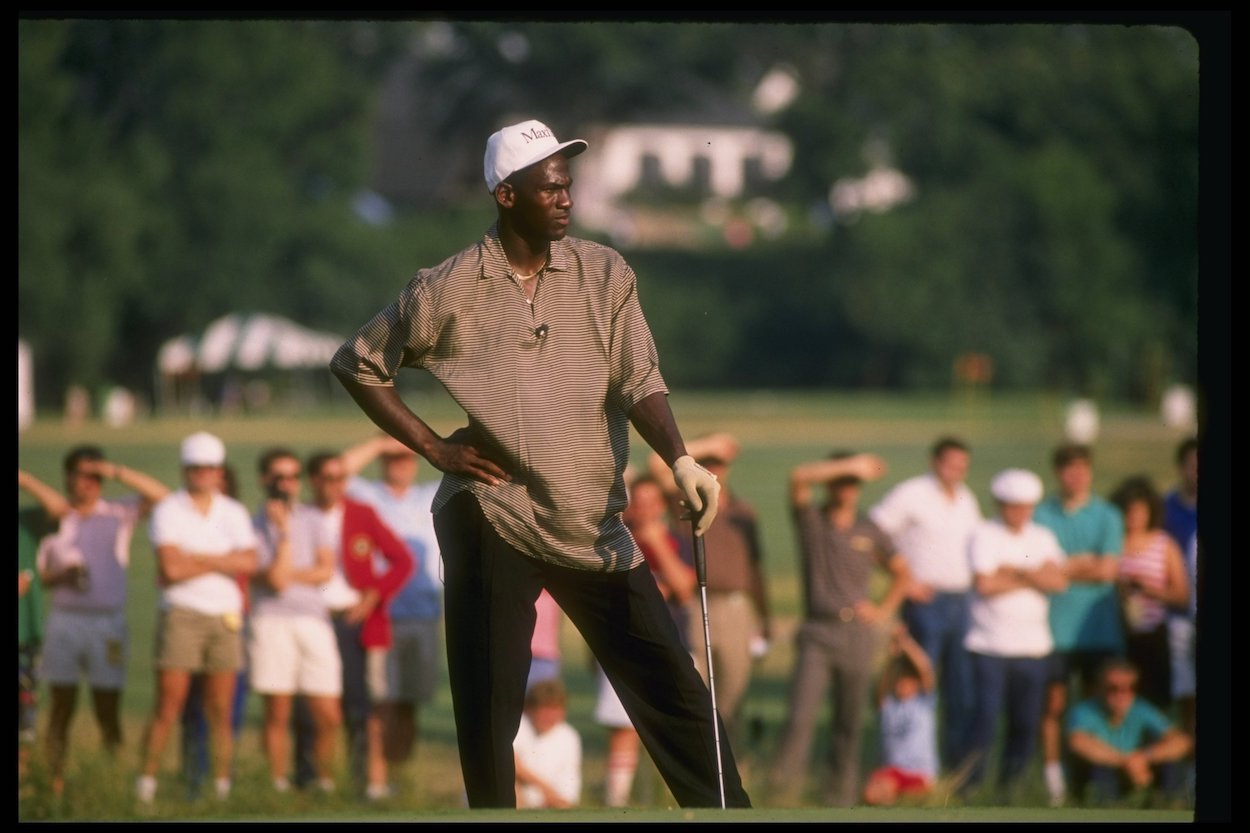 It is no secret that Jordan has been competitive his entire life. While it is not known exactly when he started gambling, a history of petty bets can be traced back to high school and a bet he had with a prom date, according to CBS Sports.
When MJ began playing in the NBA, he had a consistent and large income. In 1984, Jordan earned $550,000 in his rookie season with the Chicago Bulls. His first contract was for $6.3 million over seven years, according to Clutch Points. He began playing cards with teammates and sports journalists.
In 1989, Jordan met Esquinas, a publisher and investor. Esquinas and businessman Harry Cooper were investors of the Sports Arena in San Diego where NBA stars were playing an exhibition game. Jordan and Esquinas met at a post-game reception and found a mutual interest in golf and gambling, reports the San Diego Union-Tribune. The two picked up 18 holes the next day. Jordan won the game and $2,500.
A golfing-gambling friendship ends with a book deal
Over the next few years, Jordan and Esquinas played more than 100 rounds of golf. And they kept betting. One thousand dollars was their standard wager per hole. They usually played 36 holes. Side bets were triggered when someone got behind.
At one point in 1991, Esquinas faced a $6,000 putt, if he made it. He missed and his debt to MJ escalated to $98,000. He beat Jordan on a double-or-nothing bet afterward, and their score was reset to zero. But rather than ending it, the betting continued. "It got out of control," Esquinas said. Eventually, Jordan owed $1.252 million but was able to lower it to $902,000 during the Dream Team's Olympic training camp ahead of the 1992 games.
That is when they stopped playing and betting. They agreed to lower the total amount due by Jordan to $300,000. He made steady payments on his tab, paying off $200,000. But then Esquinas penned a book, "Michael and Me: Our Gambling Addiction. . . My Cry for Help."
In it, Esquinas claimed MJ owed him $1.25 million. Only later did he share, publicly, that they had settled on the $300K amount. In the book, Esquinas also shared their games often took place in Hilton Head, South Carolina. No gambling is allowed there. Although never charged, they violated a misdemeanor.
The fallout between Richard Esquinas and Michael Jordan
Despite the uproar from the book, Jordan didn't stop gambling. By the time he and the Dream Team headed for the 1992 Summer Olympics in Barcelona, a side trip to Monte Carlo was on his agenda. He also set up late-night card games with other basketballers during their off time at the games.
It didn't stop there. In his book "The Book of Basketball," sports analyst Bill Simmons revealed a card game involving Jordan during All-Star Weekend in 2006, according to Golf.
Jordan has said he could stop gambling, although we don't know if he ever has. MJ is worth $1.6 billion making him the richest athlete in the world. Perhaps he gambles because he can afford to.
But why didn't he pay Esquinas the other $100,000 he owed him. Jordan claims that publishing the book took any agreement off the table and reset the balance to zero. Esquinas disagrees.
"For whatever reason, I think a lot of this is just the fact that he did not want the loss," he said. "He didn't want to give me a W. Maybe he was embarrassed. Writing me a check was an L to him … I don't understand when a man won't pay."
RELATED: Michael Jordan Was Not the Best Player on the 1992 Dream Team