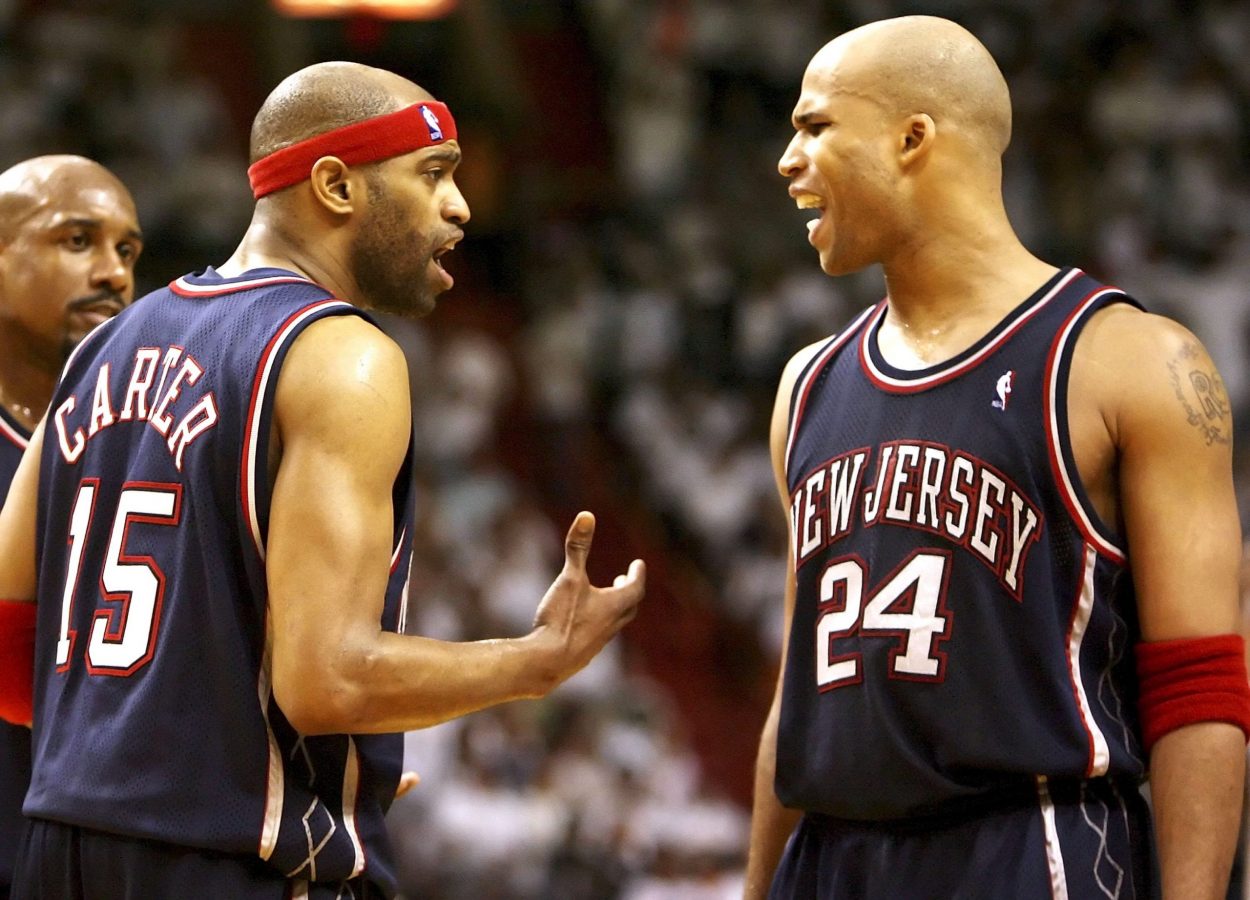 Richard Jefferson Shockingly Stated That Vince Carter Is the 'Most Talented' Basketball Player Ever: 'There Was Nothing That I Have Ever Seen This Man Not Be Able to Do'
Richard Jefferson had the privilege of playing with a host of All-Stars during his 17-year NBA career, including the likes of Stephen Curry and LeBron James. Yet the current ESPN NBA analyst shockingly said former Nets teammate Vince Carter is the "most talented" player he has ever seen in all his time watching hoops.
Richard Jefferson's list of star teammates includes Jason Kidd, Tim Duncan, Stephen Curry, and LeBron James. Yet none of those guys wowed him quite like Vince Carter.
Jefferson played with and against some of the best players in NBA history during his 17-year career. But it's Vinsanity who made the most profound impression on RJ. The current ESPN analyst even went so far as to call Carter the "most talented" basketball player he has ever seen.
Richard Jefferson made his case for Vince Carter as the most gifted player in NBA history
Richard Jefferson and Matt Barnes gushed about Vince Carter earlier this month on ESPN's The Jump.
Barnes, who played with Carter for a single season in Orlando, lauded Carter's physical attributes. Jefferson had a similar message, though he also praised VC's level of skill. He proceeded to make an extremely bold claim about Carter, saying he could be downright unguardable and calling Vinsanity the "most talented" basketball player he has ever seen.
Jefferson elaborated on his stance. He said Carter boasted a unique level of body control to pair with his dynamic athleticism. On top of that, RJ pointed out that Carter could "handle it like a point guard" and finish with both hands.
There's no question Carter, in his prime, was one of the better scorers in the NBA. But for Jefferson to put him on a pedestal above the likes of LeBron James and Michael Jordan is absolutely blasphemous.
More talented than LeBron James or Michael Jordan? Really?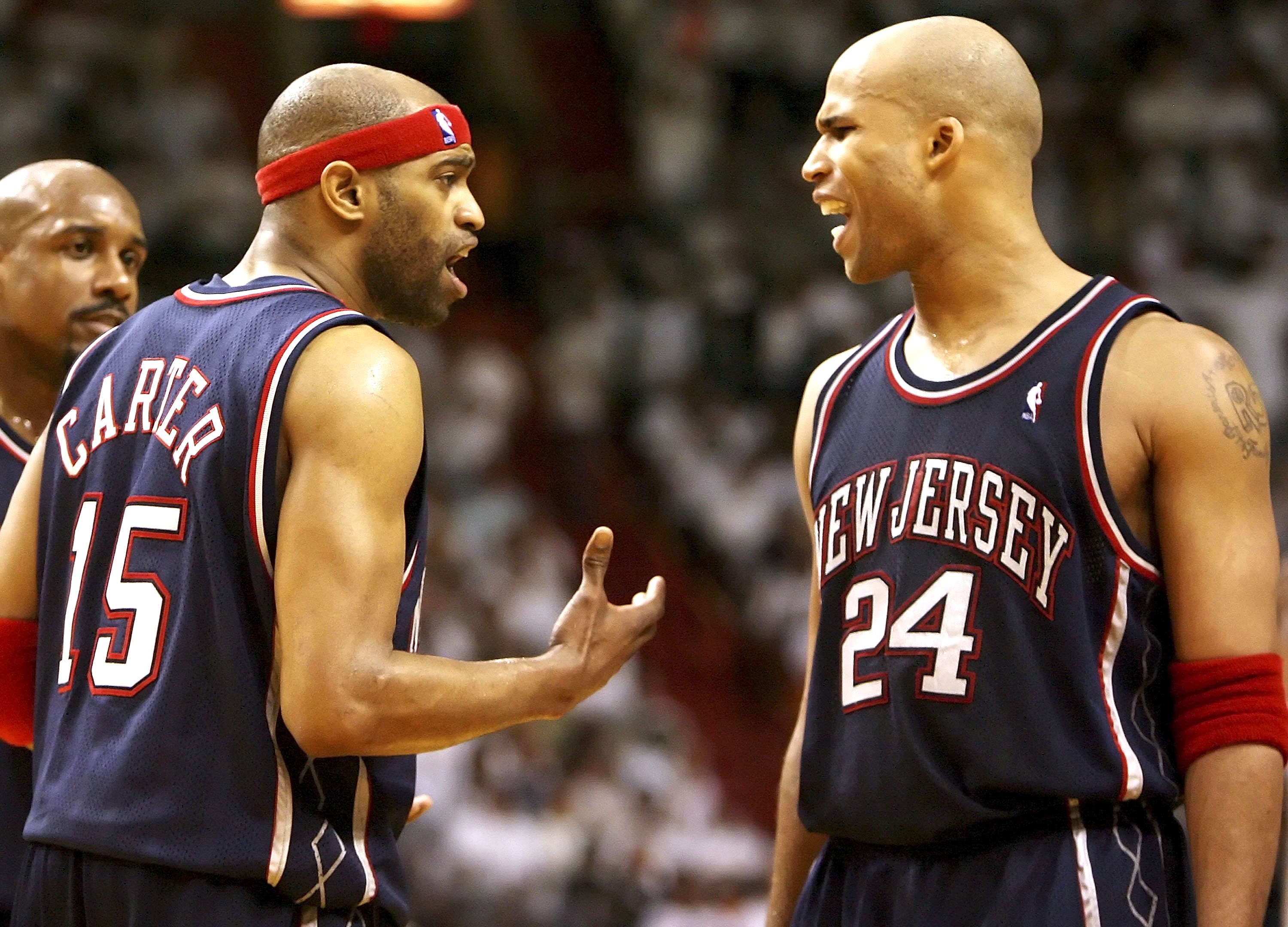 Jefferson shouted out LeBron James during one of his monologues about Carter, though he used a word so commonly associated with James' greatness: size.
Indeed, James' physical stature — combined with his extraordinary athleticism — has played a massive part in helping him become one of the greatest players in NBA history. But merely using that component of LeBron's background to assess his game takes away from his remarkable gifts.
James has added an abundance of assets to his offensive repertoire throughout his career. He has consistently become a more dominant force on the low block and evolved as a shot-creator in recent seasons.
Moreover, LeBron's basketball IQ and read-and-react are second to none, as are his passing abilities as a guy built like an NFL tight end. Vince Carter could score and was a decent playmaker, but he did not possess the same level of court vision or smarts as James.
The above segment on The Jump mainly focused on former teammates, but Jefferson still called Carter the most talented he's "ever" seen. Well, now we also have to lump Michael Jordan into the conversation, considering Jefferson, 41, was certainly old enough to remember the days of MJ gracing the hardwood.
Would anyone genuinely suggest Vince Carter was more gifted than Michael Jordan? From the early athleticism to the late-career switch to being a dominant midrange player, MJ's all-around game was far above Carter's in terms of total skill level.
Again, VC was a brilliant player and had exceptional gifts in his own right. Still, Jefferson's claim is misguided. He's still standing by his claim, though.
Jefferson doubled down on his claim about Vinsanity
Social media immediately challenged Richard Jefferson on his statement, though RJ didn't back down.
Jefferson recently tweeted, "I stand by what I said. If there is any questions I'll take them. Given I played with and against them I'd love to hear from people that just watched them!"
The 2016 NBA champion was also asked whether there was some bias in the statement, given he played with Vince Carter during VC's prime while his Cavs days came toward the latter half of LeBron James' career. But RJ tweeted that such potential biases didn't factor into his claim.
Kudos to Richard Jefferson for remaining steadfast in his initial argument, even if his assessment of Vince Carter is (rightfully) immensely controversial.