Seattle Seahawks Reach out to Former Standout Corner; Can Richard Sherman Help Save Russell Wilson's Prime?
Seattle Seahawks coach Pete Carroll confirmed he's talked with former All-Pro cornerback Richard Sherman. However, that doesn't mean a reunion between Sherman and the franchise he rose to stardom is imminent. Sherman spent the last three seasons with the San Francisco 49ers and is an unrestricted free agent this offseason. While an aging Sherman isn't what he was when he headlined the Legion of Boom secondary, he can't hurt a Seattle pass defense that ranked 31st in the NFL last season. Add the fact Russell Wilson's prime is ticking away, and a reunion might make sense.
Sherman went to the Seahawks in 2011 as an afterthought, a fifth-round draft pick from Stanford, but achieved superstardom while in the Pacific Northwest.
Richard Sherman's impact with the Seattle Seahawks unquestioned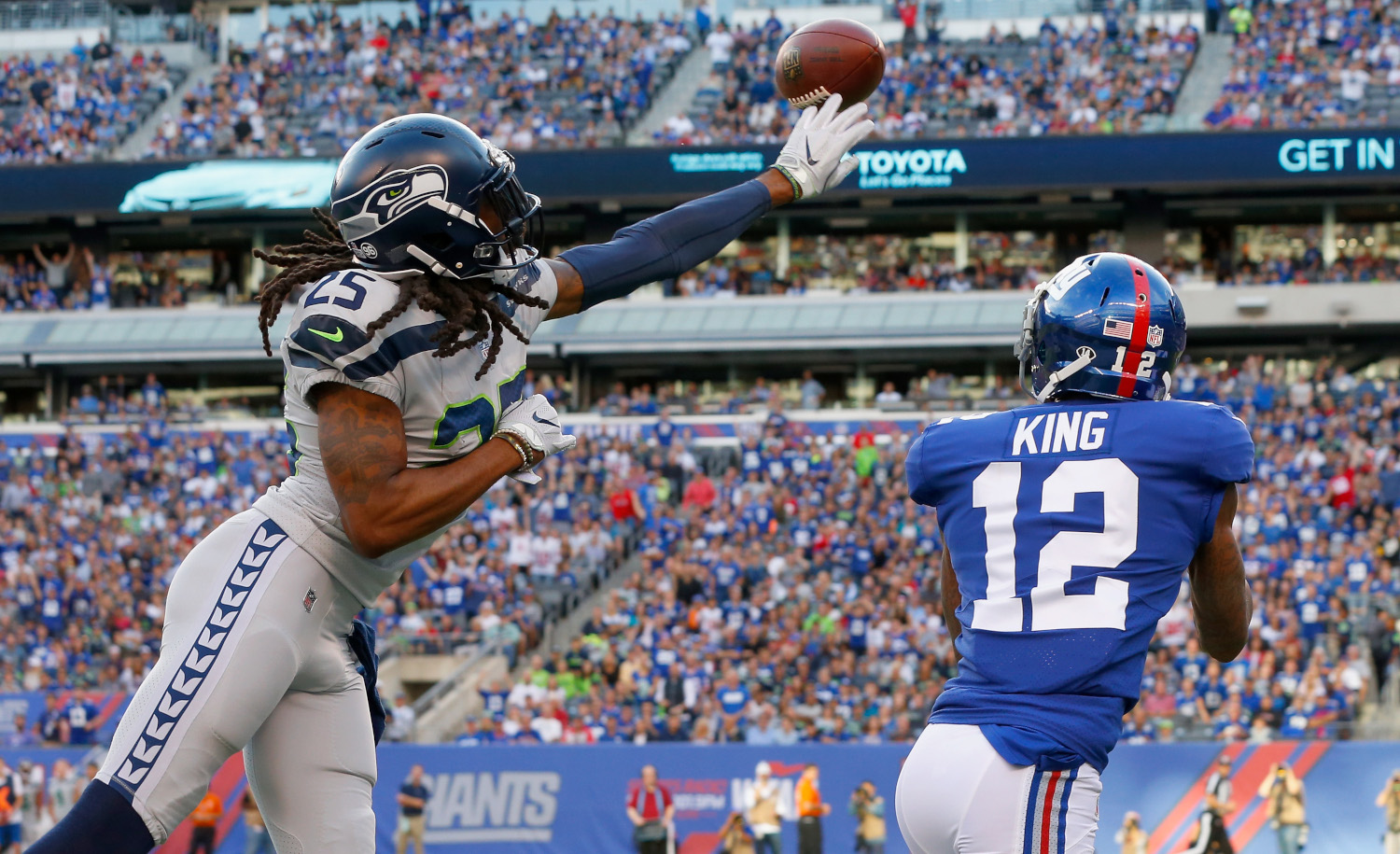 RELATED: The Seattle Seahawks Can Solve Their Most Glaring Defensive Issue by Giving an Old Friend a Second Chance
Sherman defended 99 passes in 105 games in seven seasons with Seattle, the second-most in team history behind Marcus Trufant (112 in 136 games). His 32 interceptions are tied for fourth on Seattle's all-time list with Hall of Famer Kenny Easley. Dave Brown's 50 picks from 1976–86 are the franchise record. But that was an era during which interceptions were more common because of differences in pass-coverage rules.
Sherman led the NFL with 24 passes defended in 2012 and had a league-high eight interceptions in 2013. His numbers dipped afterward in part because opponents shied away from going his way. In 12 playoff games with Seattle, Sherman defended 12 passes and had a pair of interceptions. He had two picks during San Francisco's run to the Super Bowl in 2019.
During his Seattle tenure, Sherman was the face and the mouthpiece of an outstanding secondary group known as the Legion of Boom. Sherman was named to four Pro Bowls and reached as high as No. 7 on the NFL's annual Top 100 list in 2014. He was also durable, starting all 80 regular-season games from 2012–16.
Age, health hurting Richard Sherman's market value
RELATED: 49ers Tight End George Kittle Was Mere Minutes From Catching Passes From Russell Wilson With the Seattle Seahawks
Sherman turned 33 on March 30 and played only five games last season because of a lingering calf injury. In those five games, Sherman had one interception and defended one pass. He knows his age is a concern for teams but hopes to get a shot at proving he can still play. He spoke with ESPN's Stephen A. Smith on Friday, the second day of the NFL draft.
"I've got to wait through this draft process," Sherman said. "Obviously, the first round, a lot of teams got corners, some teams didn't get the corners they wanted, and I think once this draft process completes, my phone will ring a little more with people who expected to get a guy and didn't get the guy they wanted. I'm not as in control as I was. At 33, it's just like, it doesn't matter what you put on tape."
Sherman's value will get a boost Monday afternoon as well. Per ESPN's Field Yates, signing an unrestricted free agent from another team will not count toward the NFL's formula for awarding compensatory draft picks. To that end, Carroll said he's talked to Sherman frequently this offseason.
"(W)e have stayed in contact, and he's out there," Carroll said to Brady Henderson of ESPN during the draft on Saturday. "I know he's thinking about it. He's looking for an opportunity. I saw where he said there's three or four teams he's considering or whatever. So we'll see what happens."
Russell Wilson isn't getting any younger and can use all the help he can get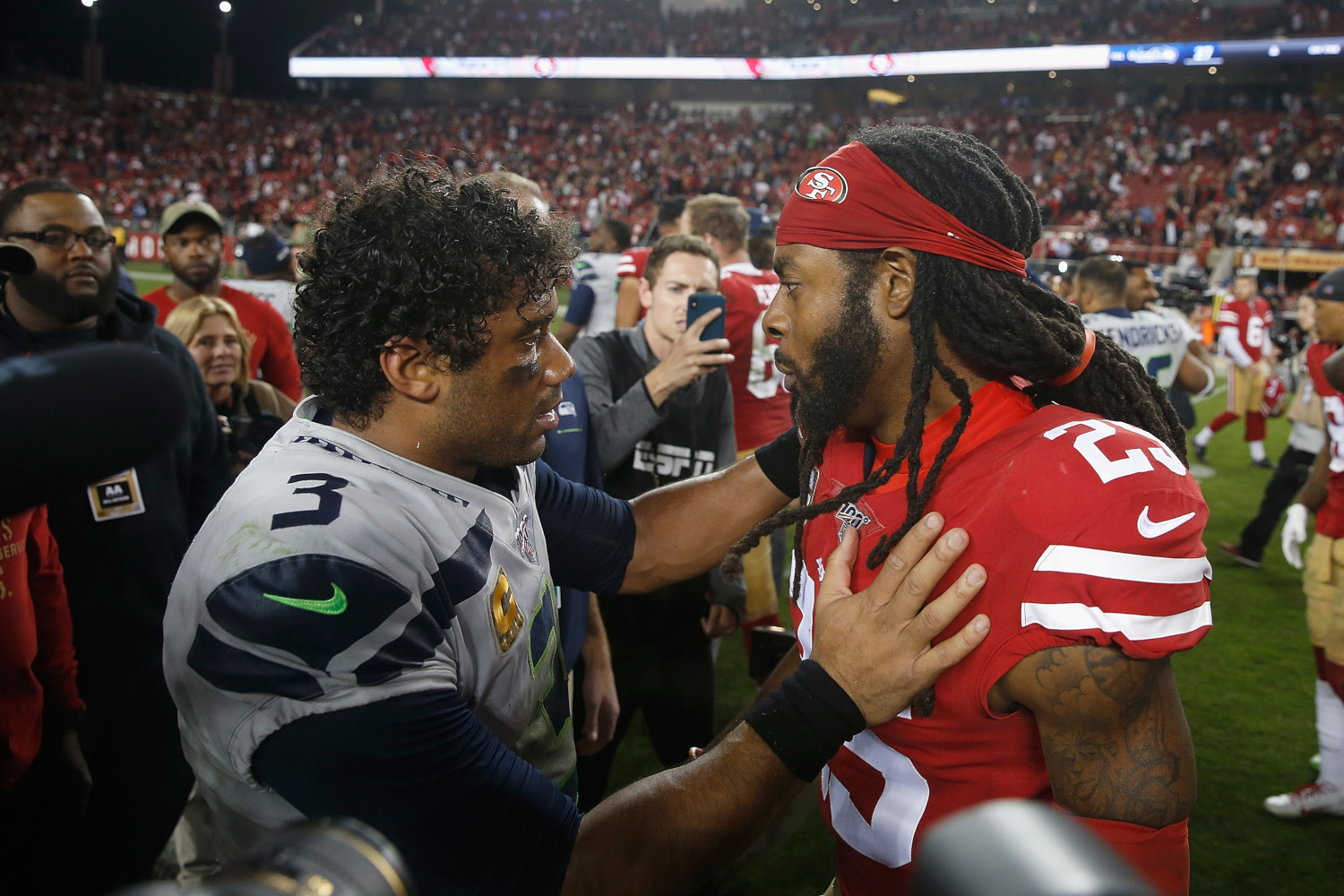 RELATED: Russell Wilson is Pushing for the Seattle Seahawks to Sign a Controversial Wide Receiver
Wilson has led the Seahawks to the playoffs eight times during his nine-year NFL career. But since losing Super Bowl XLIX to the New England Patriots after the 2014 season, Seattle hasn't advanced past the divisional round. Over the last three seasons, the Seahawks are 33-15 in the regular season. They won one postseason game in that span.
Last season, Wilson threw for a career-high 40 touchdowns (also tossing a career-worst 13 interceptions) and was just off his career-best with 4,212 passing yards. He hasn't missed a start in his career, with 144 consecutive games and counting. But Seattle's defense did Wilson no favors. They were 15th in the NFL in scoring defense and next-to-last in pass defense, allowing 285.0 net yards per game.
Richard Sherman won't be the All-Pro he was seven or eight years ago. But he showed he wasn't done yet with the 49ers, earning a Pro Bowl bid in 2019. And it's not like the Seattle Seahawks can get much worse against the pass.
Stats courtesy of Pro Football Reference.