Richard Sherman Wants You to Stop Doubting Jimmy Garoppolo
If there's one thing Richard Sherman is not, it's one to mince his words. In today's culture of the internet and media, the cornerback has had enough with the naysayers. Instead, Sherman defended his oft-doubted quarterback Jimmy Garoppolo from the doubters who continue to criticize him through a 10-1 record.
What Richard Sherman said 
After beating the Packers on November 24, 2019, Sherman wasted no time stating that while he and some of the other veteran NFL players on the 49ers may be leaders in the locker room, Garoppolo is the true leader of the team.
The cornerback proceeded to say that the team would follow him into the "darkest of dark." He said if anyone dared to follow Garoppolo into a dark alley, they wouldn't be able to touch the quarterback because he's proven that he'd fight for his teammates, and his teammates would easily fight for him. 
Sherman discussed how hard Garoppolo has worked to get to where he is. "You hear … the things said about him, and it's frustrating," Sherman said. "Because we see him every day. We see what kind of work ethic he puts in, the hours that he puts in preparing — the first one in, the last one out. The guy looks for no credit. All he does is encourages teammates and put more work in."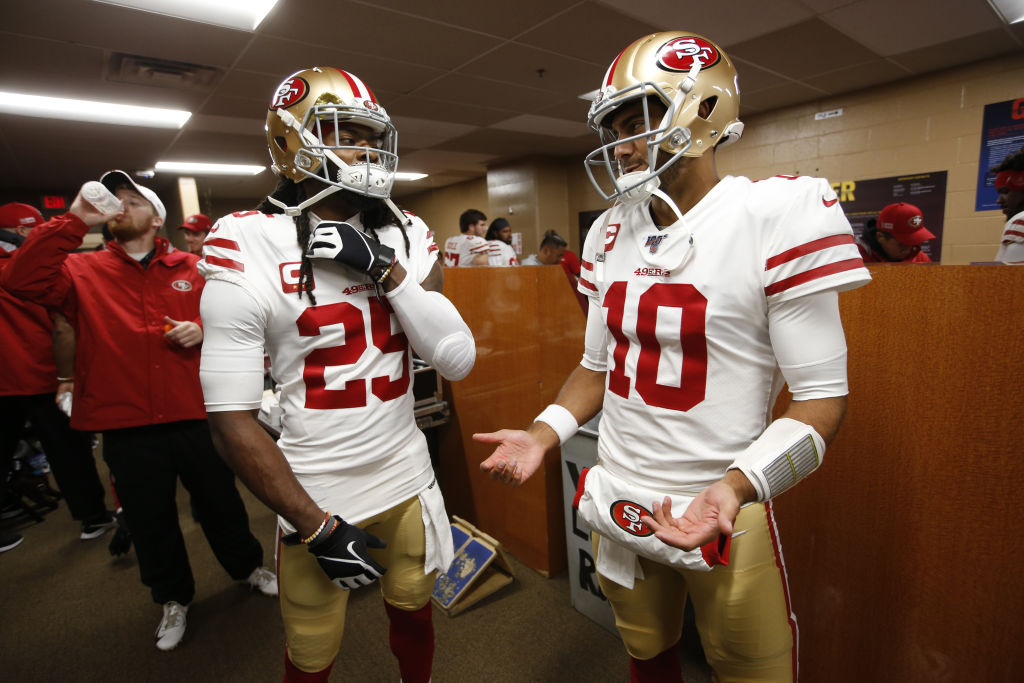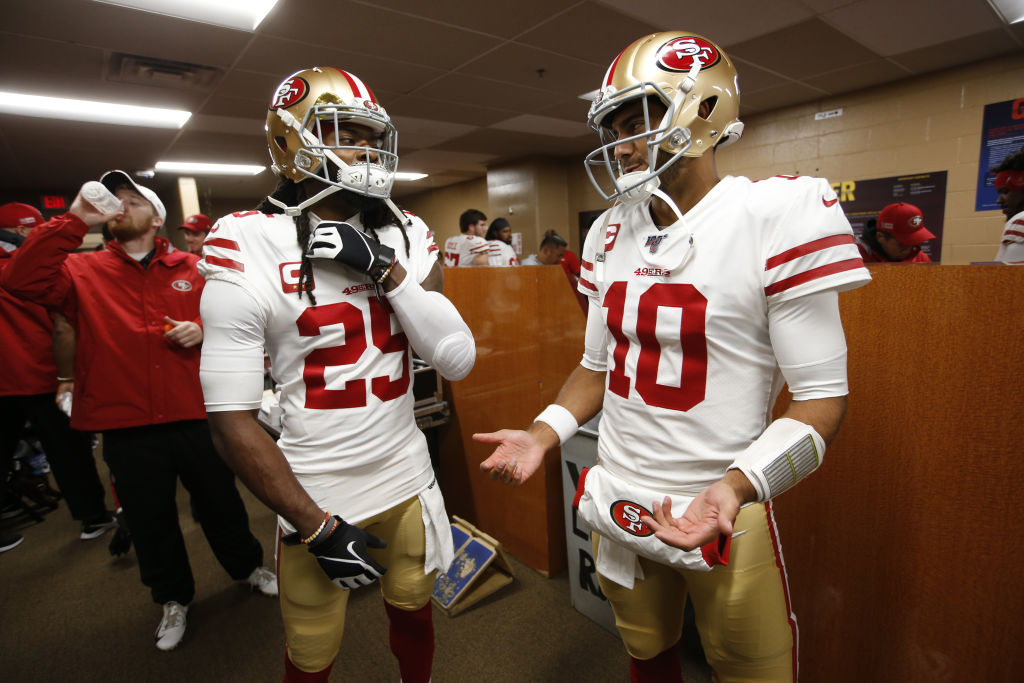 Sherman shared his ire for those who nitpick Garoppolo in the name of a false narrative. He said people will cherry-pick stats like running yards as a means to insult the quarterback's arm, or they'll say he got outplayed by the likes of Kyler Murray despite the fact that the 49ers won and Murray's stats paled in comparison to Garoppolo's. 
"You laugh at these things, but the goalposts keep moving with him," Sherman said. "And the one thing you can appreciate — and I said this before — is you can appreciate being good enough that people got to make excuses for why you good."
Sherman is passionate about his team's quarterback and will stop at nothing to defend Garoppolo's honor. With so many narratives, however, it's hard to know who to believe without looking at the QB's performances. 
Is Richard Sherman right about Jimmy Garoppolo?
As far as statistical analyses, the data doesn't paint Garoppolo as either a superstar quarterback or a terrible one. The 49ers run an economical offense compared to several top-tier teams, so it makes sense that Garoppolo may not be among the NFL's upper tier of quarterbacks. 
Through 11 games, Garoppolo has thrown for 2,731 yards, just slightly less than Aaron Rodgers' 2,822 and not too far behind his former teammate and mentor Tom Brady's 2,941 in the same number of games.
On top of this, Garoppolo is throwing the ball with great accuracy at 68.8%, a sign that the lack of stats may have more to do with the offensive schemes than any perceived weaknesses. The 28-year-old has thrown a respectable 20 touchdowns against only 10 interceptions.
All in all, Garoppolo's statistics are good on a game-to-game basis. A look at the rest of the NFL's winning quarterback shows that an economic system, which slows down the pace and doesn't require Hail Marys and countless throws, isn't necessarily what's needed to win. 
How good is Garoppolo?
Garoppolo is playing at a time when every performance is judged through a hyperbolic vacuum, every quote is misconstrued, and every game is used as an indictment or defense of a player.
The QB saw this when the team went 8-0 and sparked criticism when he told reporter Erin Andrews that 8-0 "feels great, baby." This was met with backlash from people who thought he calling her a baby. In reality, he was likely just saying it in excitement.
This same type of judgment goes for the way he's critiqued as a player. Garoppolo may not be in the same class as veterans like Brady and Rodgers; he might not even be in the same class as young stars like Patrick Mahomes and Lamar Jackson. However, this does not negate his excellent season.
The measure of a quarterback may be found with statistics and quarterback ratings. But, at the end of the day, it is in wins and losses that a QB shows his worth, and Garoppolo has done this.