Richard Sherman Will Have Nearly 9,000 Reasons to Grin Regardless of How Much He Plays in His Buccaneers Debut
Even in the salary cap era, the rich always have an opportunity to get richer. We live in a world where former All-Pro cornerback Richard Sherman became the latest NFL legend to join Tom Brady on the Tampa Bay Buccaneers.
Sherman, who turned 33 in March, will be active when Brady and friends face Bill Belichick and the New England Patriots in Week 4. Although the veteran defender isn't expected to play much if at all, he'll still have plenty of reasons to smile following the game.
Richard Sherman can make $125,000 in per-game bonuses with the Buccaneers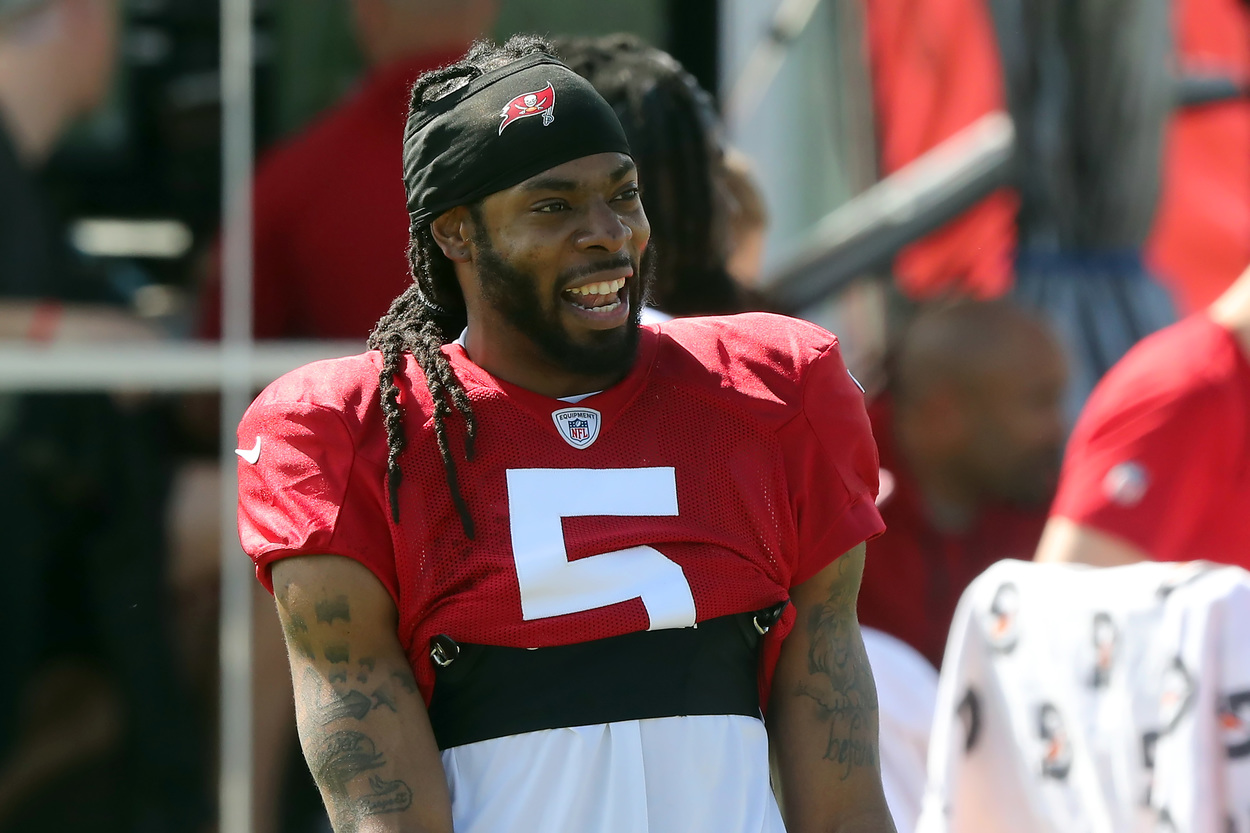 Given his age and a recent brush with injuries, Sherman is likely primarily looking at one-year contracts going forward. That won't stop the five-time Pro Bowl selection from trying to cash in where he can.
According to ProFootballTalk, Sherman will receive $1 million — $500,000 of which is guaranteed — over the balance of the season. The contract will also allow him to make up to $125,000 in per-game roster bonuses.
It is important to note that Sherman will not receive $125,000 for each game he is active. Instead, he'll earn $8,928.57 each week so long as he's on the gameday roster.
Considering that Buccaneers head coach Bruce Arians admitted he doesn't expect Sherman to play much in Week 4 if all goes to plan, he essentially has the opportunity to earn nearly $9,000 without doing anything. We should all be so lucky.
According to Spotrac, Sherman has already earned well over $82 million in the NFL, so something tells us he won't complain about free money.
The Buccaneers can only hope Sherman revives his career the way Rob Gronkowski did
Because Sherman only played five games last year while dealing with lingering calf issues, it's easy to forget how sharp he looked in 2019. The Stanford product earned second-team All-Pro honors and was named to his fifth Pro Bowl, although he didn't participate because the 49ers competed in Super Bowl 54.
No one needs Sherman to re-emerge as the dominant shutdown cornerback he was with the Seattle Seahawks throughout the 2010s. At this point, it's probably too much to ask him to play as well as he did two years ago.
With that said, there's something in the Tampa water that allows these older players with injury histories to channel their younger selves. Gronkowski retired following the 2018 season after numerous ailments and surgeries in nine seasons with the Patriots. Since joining the Buccaneers last season, however, he's mostly remained healthy (although he'll be inactive Sunday night with a ribs injury) and played a pivotal role in Bruce Arians' offense.
Through the season's first three weeks, the All-Pro tight end hauled in 16 catches for 184 yards and four touchdowns, numbers that put the 32-year-old veteran on pace for 90 receptions, 1,042 yards, and 23 scores before his injury. Remember, Gronkowski hasn't even topped 50 catches in a season since 2017.
If we were Sherman, we'd be taking an empty bottle down to the Gulf of Mexico every day and filling it up every day. That's just our advice.
Sherman is the latest Buccaneers addition who should find himself in the Pro Football Hall of Fame
We've really hit the point where the Buccaneers are stockpiling players who should expect to take the stage at the Pro Football Hall of Fame within the next decade.
Sherman was arguably the league's best cornerback in the 2010s. He passes the eye test, has the stats and counting achievements, and already owns a Super Bowl ring. He should get in reasonably early.
Any doubt about Brady and Gronkowski's chances went away when both were named to the NFL's 100th Anniversary All-Time Team in 2019. Then again, Brady may still be playing when the league puts together its 200th Anniversary Team, so maybe we should hold off on seeing him earn his bronze bust in our lifetimes.
Veteran receiver Antonio Brown certainly has the numbers and accolades to make a case for himself. However, one can rightfully wonder if the voters elect him, given his history of legal issues and off-field controversies.
Defensive lineman Ndamukong Suh will be an interesting candidate when his time comes. He earned first-team All-Pro honors three times in his first five seasons and won a Super Bowl last year. Considering that he turns 35 in January, he's running out of time to cement his place among voters.
Do you know what would help Brown, Sherman, and Suh's respective Hall of Fame cases? A second Super Bowl ring for each player.
All contract figures courtesy of Spotrac.
RELATED: Tom Brady and Rob Gronkowski Just Sent Bill Belichick a Cold-Blooded Message Without Saying a Single Word