Richard Sherman's Shocking Revelation About Tom Brady Puts Significant Pressure on the Buccaneers Front Office
Richard Sherman's return to the NFL field ended up being a rather short one, as he's off to the IR with a hamstring injury. However, that isn't stopping the veteran cornerback from staying involved in the NFL landscape, specifically with Tom Brady and his new Tampa Bay Buccaneers teammates.
On a recent episode of "The Richard Sherman Podcast," Sherman dove into the oft-talked-about conversation about how much longer Brady can continue playing in the NFL.
Richard Sherman believes Tom Brady can play until he's 55
Brady has been referencing the possibility of playing until he's 50 or 55 years old for quite a few years now. However, everyone typically brushes these comments aside. As great as Brady continues to be, the idea of a quarterback playing into his fifties is too outlandish to consider seriously.
Not to Sherman.
During a recent episode on his podcast, Sherman said he doesn't believe Brady is kidding.
"People think he's joking about playing until he's 55. I don't think he's joking at all," Sherman said.
Sherman has only been in Tampa Bay for just over a week now. However, he and Brady have long had a sound off-the-field relationship. It was the biggest reason Sherman signed with the Buccaneers in the first place. If he's saying Brady isn't joking, there may be some genuine truth to it.
Richard Sherman may have a point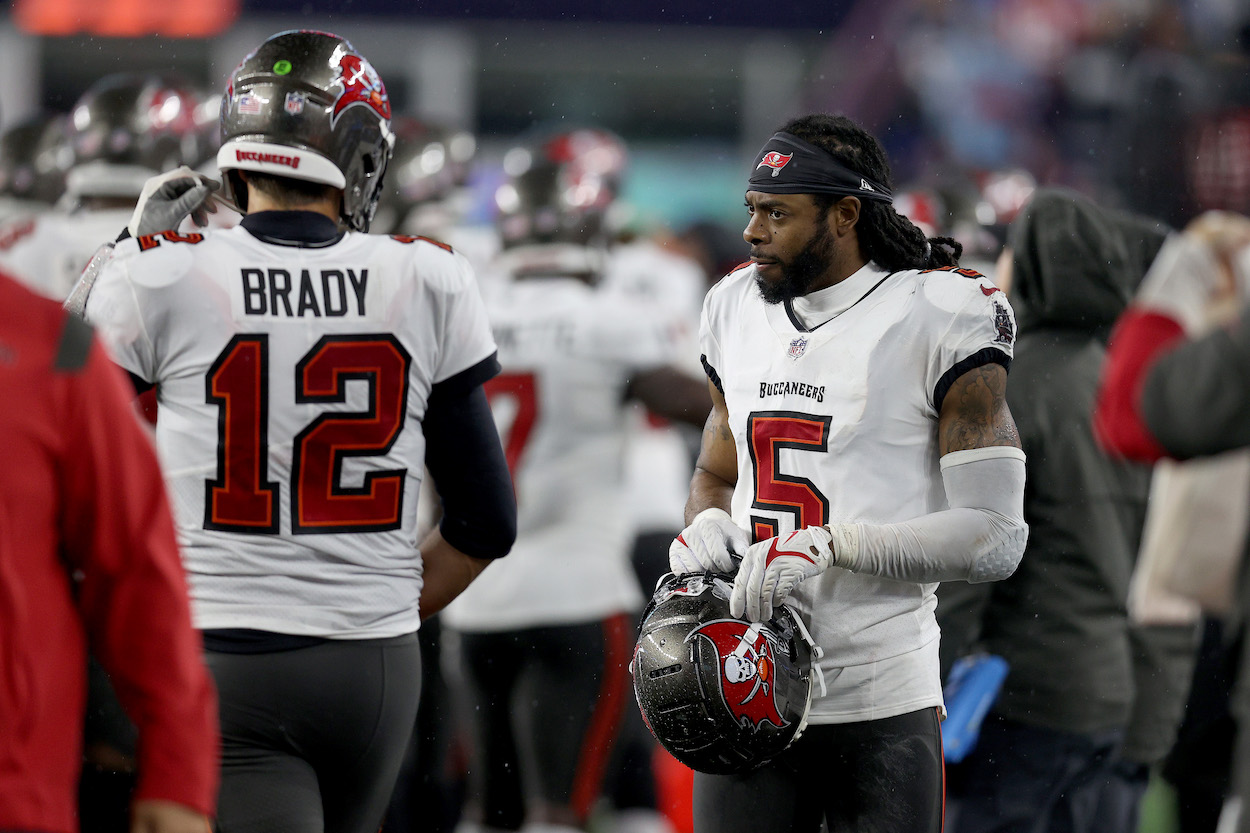 As improbable as such an outcome feels, it's worth pointing out that Brady has been proving doubters wrong for as long as he's been in the NFL.
The 199th overall pick in the 2000 NFL Draft, Brady was never supposed to start a game in the NFL. Instead, the future Hall of Famer grabbed hold of starting duties in New England and didn't let go until he was ready to play for a new team.
Upon joining Tampa Bay, Brady proved he's more than just a product of Bill Belichick's "system." He coasted to a Super Bowl win in 2020, snagging his seventh ring.
It may sound like an impossible feat, but Brady is currently 44-years-old and is leading the NFL in passing attempts, completions, and yards following the Buccaneers' Week 6 win. Sherman may have a point. It's never wise to doubt Brady.
What would Tom Brady playing until 50 mean for the Buccaneers?
The tricky part to evaluating this discussion is how the Buccaneers would react.
While Tampa Bay is likely thrilled that Brady is their QB and doesn't appear to be slowing down anytime soon, would they really invest the next decade of their franchise into a near 50-year-old QB? Even with Brady appearing to be a cyborg when it comes to his health and longevity, father time will catch up to him eventually.
With that in mind, the pressure is now shifted to Tampa Bay's front office to continue surrounding Brady with elite talent while he's still playing like a legitimate MVP candidate. Signing Richard Sherman is a pretty good example of the team's GM remaining aggressive.
Either way, Brady's future in the NFL will certainly remain a hot story. If he can't fulfill his dream of playing into his fifties with the Buccaneers, there will presumably be several teams willing to sign him in free agency.
All stats courtesy of Pro Football Reference.
RELATED: The Carolina Panthers' Devastating Injury Decision Should Put a Swift and Brutal End to Sam Darnold's Bounce-Back Season