Richie Ashburn's Sunken Boat Summed Up the Woeful 1962 New York Mets
Even after a chaotic offseason, the 2021 New York Mets have high expectations in front of them. The same could not be said for the 1962 New York Mets, a first-year expansion team who were expected to perform to that level and couldn't even clear that bar. A mix of over-the-hill veterans and cast-offs, the Mets only won 40 games. They added insult to injury by sending their best player, Richie Ashburn, into retirement with a gift that didn't work.
The '62 Mets can't 'Play This Game'
The New York Mets came into Major League Baseball as part of the National League's expansion of 1962. They represented a spiritual successor to New York City's NL teams of the past, the Giants and Dodgers. As such, they inherited the combined fanbase from those two teams, and brought some of their old players on board to help sell tickets.
Unfortunately, the 1962 Mets inherited none of the talent from either of those teams. Despite the presence of seven-time world champion manager Casey Stengel, the Mets stumbled out of the gate. They lost the first nine games of their existence and didn't recover for the rest of the season. It didn't help that they were condemned to play their first two seasons in the rotting Polo Grounds.
The Mets finished their inaugural season with a record of 40-120, and their ineptitude was famously chronicled in Jimmy Breslin's Can't Anybody Here Play This Game?
Richie Ashburn gets the short end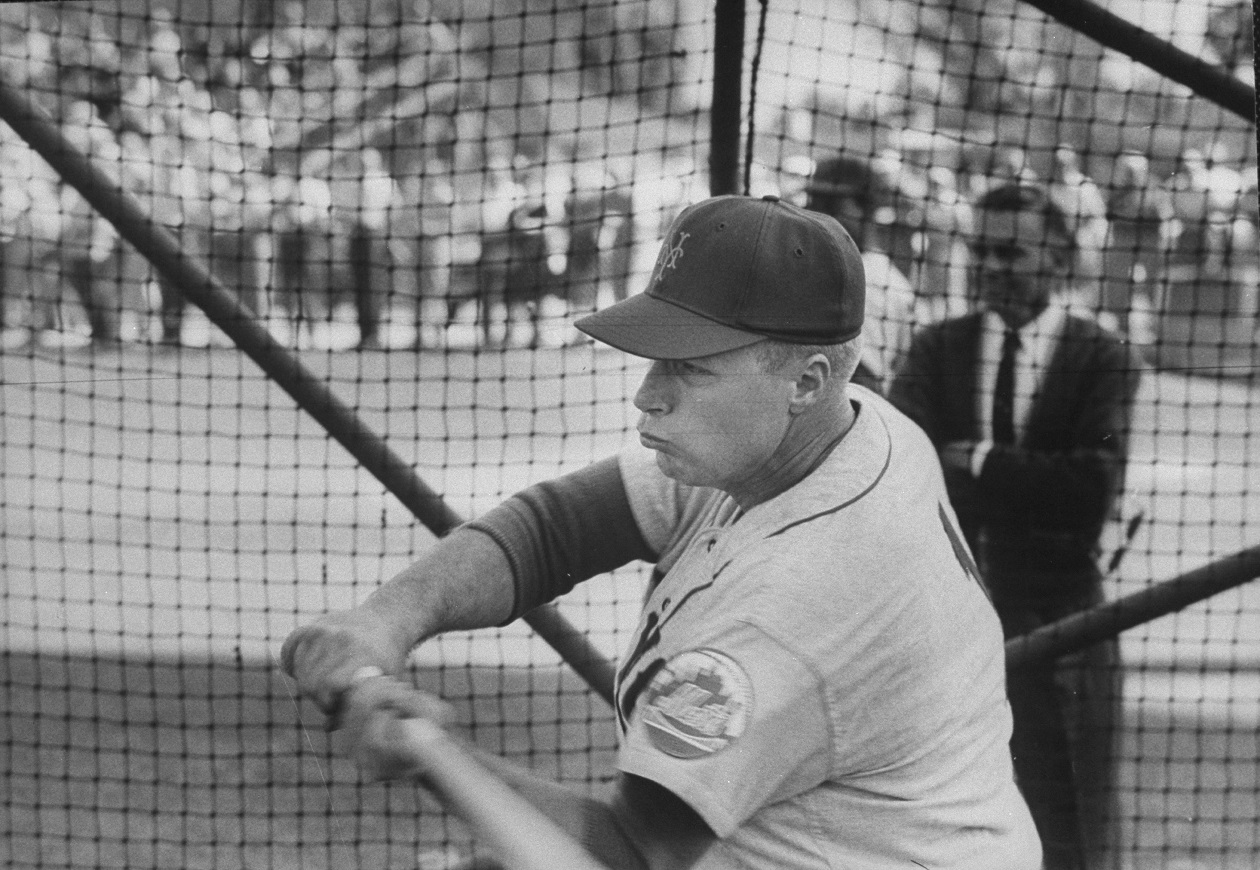 There were some familiar faces among those first-year Mets. Some of the Brooklyn transplants included Gil Hodges, Clem Labine, Don Zimmer, and Roger Craig.
One of the few productive players on those 1962 Mets, by a long distance, was Richie Ashburn. He had spent the past two seasons with the Chicago Cubs before coming over to New York. Despite the Mets' historically poor season, Ashburn did the best he could and posted a .306 average. He would be the Mets' only representative in both MLB All-Star Games that season — yes, there was a time where there were two All-Star Games.
Still, bad luck struck him just as it did everyone else on the Mets. In their final game of the season, Ashburn was caught in an eighth-inning triple play in a close game. The Mets, of course, lost this game to Ashburn's former team, the Chicago Cubs. This, understandably, turned out to be the final game of Ashburn's career. There was no coming back from a disaster like this.
After the sorry season ended, according to the Society for American Baseball Research, Ashburn's Mets teammates presented him with a gift for being the team's "most valuable player" — for what that was worth. It was, according to Ashburn, "…a 24-foot boat equipped with a galley and sleeping facilities for six. After the season had ended, I docked the boat in Ocean City, New Jersey, and it sank."
Richie Ashburn finds life after the 1962 Mets
Richie Ashburn had short stints in Chicago and New York, but he would always be remembered as a Philadelphia Phillie. (Is that the singular form of 'Phillies'?) In fact, he would arguably become more well-known in Philadelphia for his broadcasting career post-retirement than for his playing career.
A year after his retirement, Ashburn settled into a career calling Phillies games on radio and/or television. Starting in 1971, he teamed up with another Philadelphia institution, Harry Kalas, forming one of the most famous announcer pairings in all of baseball. The two worked together until Ashburn's death in September 1997.