Rick Barry Boldly Claims Ben Simmons Could 'Be Like Shaq'
If the casual basketball fan asked Shaquille O'Neal what he felt Ben Simmons shared in common, The Diesel would likely say, "Nothing."
O'Neal routinely criticized Simmons during his holdout from the Philadelphia 76ers, even going so far as to say he did not "respect" the Brooklyn Nets' newest acquisition. Shaq has repeatedly alluded to Simmons being entitled and selfish in refusing to address holes in his game. Although Superman ultimately called off the dogs after receiving a message from the polarizing All-NBA guard, it's pretty safe to say he already drew the proverbial line in the sand.
O'Neal and Simmons could not seem much different if they tried. Interestingly, though, NBA Hall of Famer Rick Barry thinks Simmons can dominate much as Shaq did during his prime.
Barry acknowledges some of the pitfalls in the Nets star's game. However, the Golden State Warriors legend believes a subtle change could allow Simmons to wreak havoc on the league.
Rick Barry fielded questions about Ben Simmons' free-throw issues
Barry's underhand free-throw form is nothing short of iconic. It also resulted in him leading the NBA in free-throw percentage in seven different seasons.
Given Simmons' miserable struggles at the charity stripe, might he try to replicate Barry's style? The 1974-75 Finals MVP does not believe the Nets star will play copycat.
Barry told longtime NBA Insider Marc Stein (h/t Substack) he doubts any player will ever adopt the underhand form again. He did, however, suggest that the routine could resolve some of Simmons' issues at the line, and he wonders why more modern stars refuse to embrace the idea of shooting underhand.
"[Simmons] definitely could be fixed. Somebody already told me he said he would never want to do it, but I don't understand: What difference does it make how you do it?"

–Rick Barry on Ben Simmons and free-throw form, via Substack
Barry has a point. Wouldn't 76ers fans have preferred Simmons to shoot underhand free throws in the 2021 playoffs?
During last year's playoffs, Simmons went a woeful 25-of-73 (34.2%) from the free-throw line. His 4-of-14 performance in Game 5 of the Eastern Conference semifinals played an enormous role in the Atlanta Hawks snatching a three-point victory and taking a 3-2 series lead, a cushion they needed after losing Game 6.
What happens if the three-time All-Star knocks down more free throws? Sure, famously passing up an open dunk in the closing seconds of Game 7 angered just about everyone. But the Sixers probably don't even need a Game 7 if Simmons feels more confident at the charity stripe.
Indeed, Barry believes improved shooting at the line would have a butterfly effect. In fact, he said that small change could result in Simmons becoming one of the most dominant players in NBA history.
Barry claimed Simmons' dominance could rival Shaquille O'Neal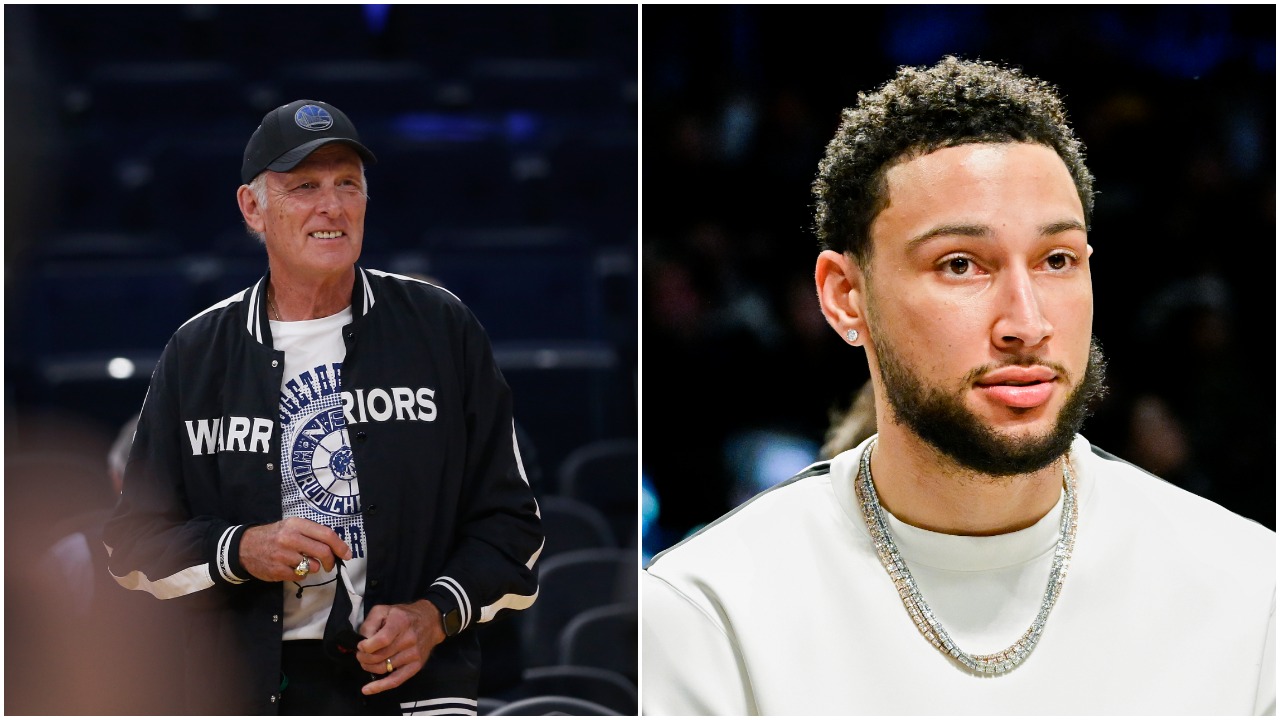 Rick Barry isn't a fool. He understands that Shaquille O'Neal is one of the most dominant players in NBA history and that comparisons to The Diesel are sure to raise eyebrows.
Still, that awareness didn't preclude Warriors great from saying Ben Simmons can impact the game like Shaq if he starts making more free throws.
"If [Simmons] was an 80-percent shooter, with his size, he would be like Shaq. You could take him and post up those little guards and he would just abuse them — and he could hope he got fouled. He would be such a dominant factor. He becomes one of the best players in the league."

–Rick Barry on Ben Simmons
It's a bold hypothesis, but not one without merit.
Despite the disastrous conclusion to his Sixers tenure, Simmons remains one of the most talented players in the NBA. He can see over just about anyone and use his terrific passing ability to pick out open teammates running off-ball actions. If opponents don't come to double, he has the strength to bully his way into the restricted area and hunt chances around the basket.
Moreover, increased confidence at the line would almost certainly result in Simmons feeling less passive and looking to shoot more himself. That could unleash all sorts of possibilities.
Which player are the Nets getting? And a different kind of dominance
So, which player will the Nets get when Simmons returns? Will they get the guy who can unleash his all-world playmaking talents and hunt offense in the post and around the dunker spot? Or will it be the timid Simmons who prefers to defer to the team's other stars?
Brooklyn has yet to set an official timetable for Simmons' return. Regardless, he hasn't played all season and will need time to adjust to new surroundings and personnel.
However, Barry's comparison to Shaquille O'Neal feels more resonant with Simmons now on the Nets. Albeit in a different way.
Shaq dominated in spite of his free-throw shooting. Simmons would need to become an effective free-throw shooter to impose his will in a similar fashion, but the other pieces are in place to maximize his talents.
Simmons now finds himself on the same team as two elite perimeter shooters and creators in Kevin Durant (still out with an MCL sprain) and Kyrie Irving, both of whom move well without the ball and score in transition. Guys like Joe Harris (also injured), Patty Mills, and now Goran Dragic add more shooting.
At full strength, the Nets' spacing should allow Simmons to exploit mismatches in the post. But he must improve at the charity stripe. Otherwise, Barry's comments will appear downright foolish.
Stats courtesy of Basketball Reference.
RELATED: Trae Young Sticks Up for Ben Simmons: 'I Can See Where Ben's Coming From'