Amid Kyle Larson-Chase Elliott Tension, Rick Hendrick Pulls Rare Power Move
Rick Hendrick rarely joins early week team debriefings.
The owner of one of the dominant NASCAR Cup Series organizations, Hendrick employs the past two circuit champions, Kyle Larson and Chase Elliott.
A few days after one top asset, Larson, took out the other, prompting a profanity-laced outburst on the team radio.
Hendrick, who has a young stable of drivers and envisions a dynasty for the next generation, created time to address any driver dissension.
Hendrick Motorsports teammates Kyle Larson and Chase Elliott become race rivals
In-team tension remained when Hendrick Motorsports' weekly competition meeting commenced virtually because of the West Coast swing.
En route to claiming the Wise Power 400 at Auto Club Speedway on Feb. 27, Larson appeared to aggressively block Elliott from making a high-side run, sending the teammate into the wall and out of contention.
Larson started to vent on the team radio, courtesy of NASCAR Race Hub's Radioactive.
A string of Elliott curse words filled the radio feed:
"Stupid, ****** ******"
"He's a ******* Idiot."
Larson attempted to explain what happened in real-time:
"Dammit, I'm sorry. I didn't … I didn't know he was there."
From looking at an opening to gain the lead to getting lapped, Elliott continued his rant:
"It's ******* broke again. Piece of ****. ****** ******."
"It's getting worse here. A lot worse here in the last half (lap)."
As Larson started distancing himself from the frontrunners, Elliott appeared to execute an unopposed revenge spin, bringing out the 12th caution period and closing field.
Rick Hendrick pulls rare power move in meeting with Larson and Elliott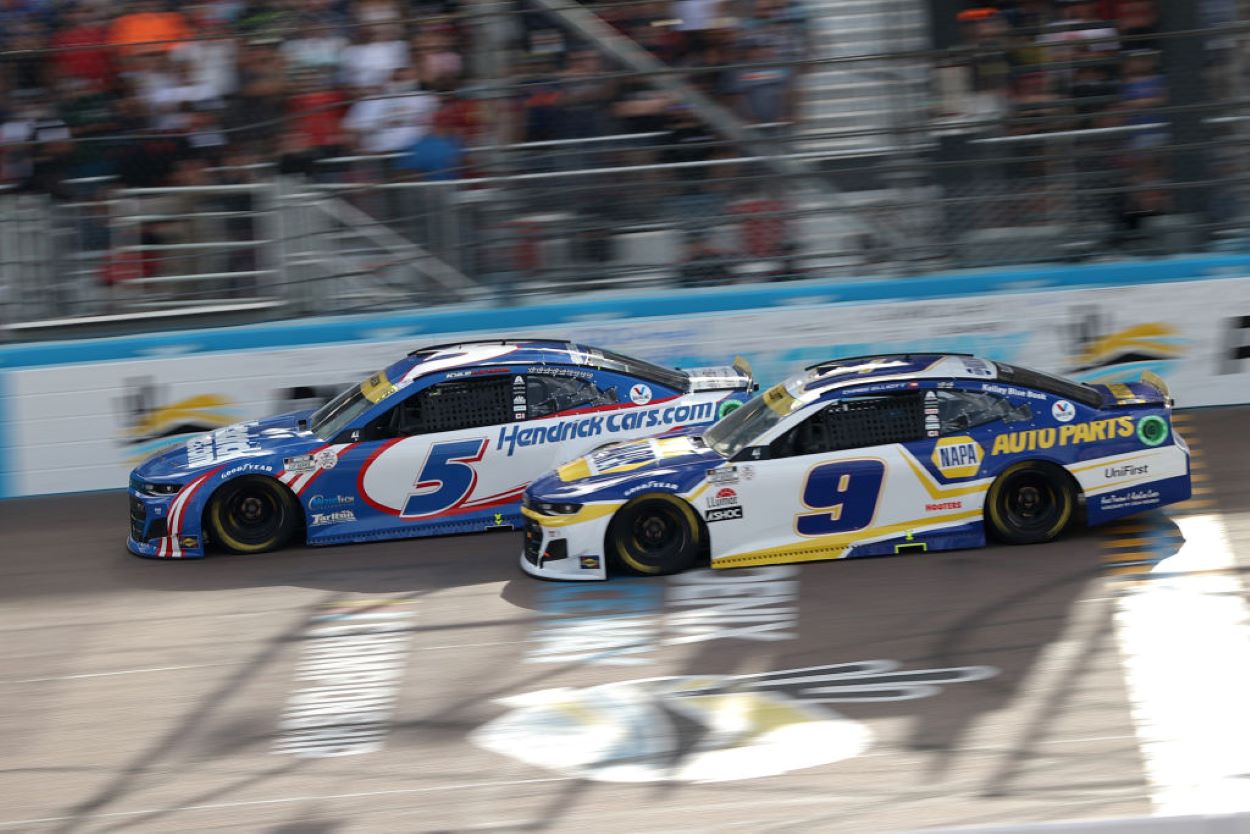 Hendrick needed to have his voice heard.
It doesn't happen often.
"As far as I can remember, that's the only meeting since I've been there that Rick's been a part of in that sense," Larson said, reported by nascar.com.
The defending series champion, Larson joined Hendrick Motorsports before the start of 2021.
"He's been to competition meetings and stuff like that," Larson said. "And we've had multiple meetings about different things. But as far as the racing and stuff, that's the first one I can remember him getting involved in."
Hendrick's urgency was as apparent as the in-team tension. Elliott recently signed a five-year contract extension and spoke of making the team his "family."
Larson has captured 11 points races in his first 39 appearances in a Hendrick Motorsports machine.
Larson: 'It was good for him to get involved again and tell us what the expectations are'
Hendrick joined the meeting to ensure his top assets would remain professional.
Hendrick sent the message.
Larson said it was delivered.
"I think we all know his expectations, and after the incident last week, it was good for him to get involved again and tell us what the expectations are," Larson said. "… So, it's good to get those reminders every now and then and continue to race good in the future with each other. I'll catch up more with Chase here in a little bit, and we'll be good."
During Stage 2 of the Pennzoil 400 at Las Vegas Motor Speedway on March 6, the teammates challenged for the lead and raced clean next to each other. Larson battled another teammate, Alex Bowman, for the checkered flag. Bowman won in the two-lap overtime without incident. Larson placed second.
Driver Joey Logano predicted similar Larson-Elliott-like sagas will become an industry trend.
Like Sportscasting on Facebook. Follow us on Twitter @sportscasting19.
RELATED: 3 Reasons Why Kyle Larson Will Repeat as NASCAR Champ in 2022