Rick Mahorn Joins Scottie Pippen in Piling on Michael Jordan for 'The Last Dance': 'That's 10 Hours I Can't Get Back'
Scottie Pippen sparked a firestorm with his new memoir Unguarded when he turned his heel on decades of deference to former Chicago Bulls teammate Michael Jordan. In the book, Pippen unleashed on Jordan. It's a sentiment that has been shared by some, including a former University of North Carolina star as well as a prominent foil in Jordan's documentary, The Last Dance. Rick Mahorn, the baddest of the Detroit Pistons Bad Boys, took the opportunity to pile on his former archrival.
Mahorn was part of the Pistons teams that defeated Jordan, Pippen, and the Bulls in consecutive postseasons in 1988 and 1989. He was ignominiously selected by the Minnesota Timberwolves in the expansion draft during the victory parade after Detroit won the 1989 NBA title. Mahorn wasn't around when Jordan got his revenge over Detroit in 1991.
Pippen goes scorched earth against Michael Jordan
In his memoir, Pippen launched a frontal assault against his longtime teammate, Michael Jordan. He called Jordan's 1993 retirement on the eve of training camp selfish and claimed The Last Dance glorified Jordan while reducing his teammates to spare parts. As for Jordan's antics as a teammate, Pippen referred to Jordan as hypocritical and insensitive, per Sopan Deb of The New York Times.
Don't hold back, Scottie. Please tell us what you really think. In so doing, he's encouraging others, such as Rick Mahorn, to take some shots at MJ.
Pippen was part of all six Chicago championship teams in the 1990s and was a first-ballot Hall of Famer in 2010, the year after Jordan's induction. The NBA's most-famous sidekick participated in Jordan's documentary series but claimed not to have been paid to do so and claims several former teammates reached out to him to voice complaints about how their portrayal.
It's painfully apparent Pippen harbors considerable resentment toward Jordan. Pippen was a marvelously versatile two-way player, with seven All-NBA selections and 10 All-Defensive nods. A member of the NBA 75th anniversary team announced in October 2021, his place in history is seemingly secure.
But Jordan is considered one of the two or three greatest players of all time. He's the highest-earning former athlete in history at more than $2.6 billion. Jordan did well enough with his Nike partnership that he's now the majority owner of the Charlotte Hornets.
Pippen played a starring role for the Bulls dynasty. But he saw very little sunlight in Jordan's massive shadow.
Rick Mahorn was a rugged role player with a disdain for Jordan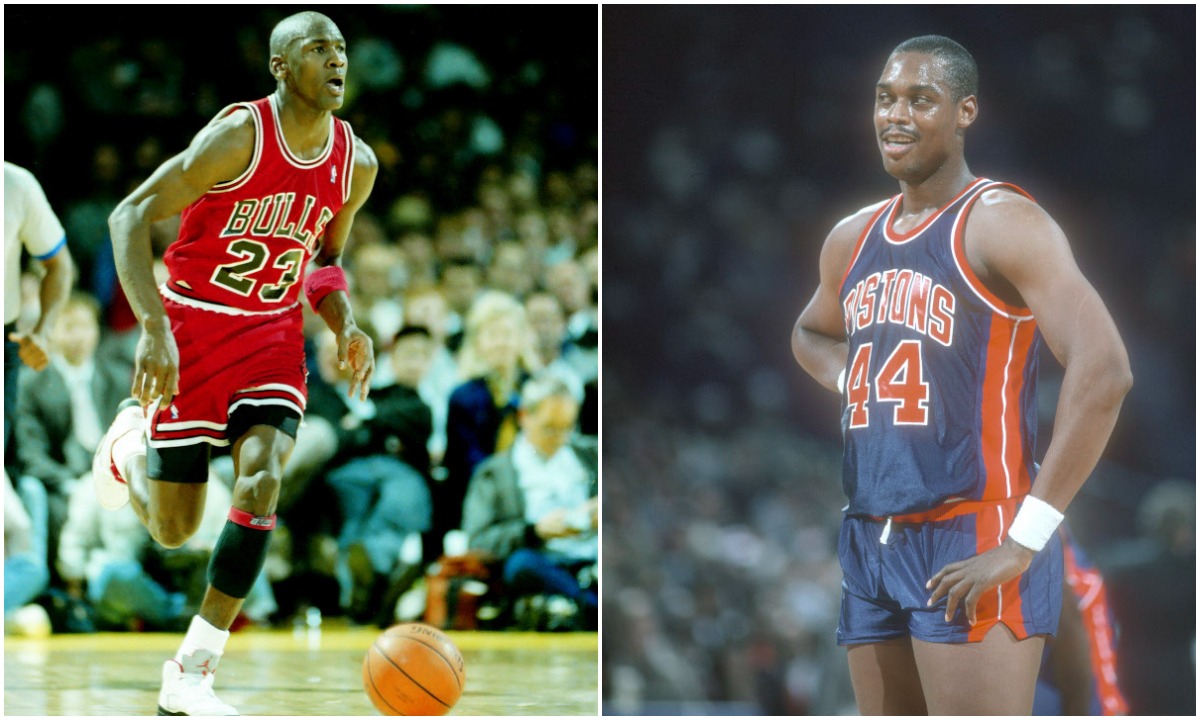 Rick Mahorn played 19 years of professional basketball, 18 of them in the NBA. He was the role player's role player, a rugged inside force never afraid to throw his 6-foot-10, 240-pound frame at opponents.
During his four seasons with the Pistons from 1985–89, there were 17 regular-season meetings between Mahorn and Michael Jordan, and they collided in the postseason in 1988 and 1989, both Detroit victories. After Mahorn left Detroit, Jordan and the Bulls eliminated his Philadelphia 76ers from the playoffs in 1990 and 1991.
They met 62 times, with Jordan holding a 21–20 edge in the regular season and going 11–10 in the playoffs. Yeah, it was hard-fought.
During an interview with The Universe Galaxy channel on YouTube on Nov. 4, Mahorn didn't hold back when talking about Jordan's documentary series. While many around the NBA reveled in the film, Mahorn didn't even bother to watch:
"Well, you know I didn't watch any of The Last Dance because you know when I look at it, that's 10 hours I can't get back. I wasn't watching that; I mean, it's just something to glorify a little bit of Michael Jordan."

Rick Mahorn
Mahorn probably made a wise decision. The Pistons, mainly their star Isiah Thomas, firmly played the role of villain in Jordan's made-for-TV story. Having lived it, why go through it again?
Pippen wrote that he hated the documentary
In Unguarded, Pippen fired multiple shots at Michael Jordan, calling the series an attempt to undermine LeBron James.
"Michael was determined to prove to the current generation of fans that he was larger-than-life during his day — and still larger than LeBron James, the player many consider his equal, if not superior," Pippen wrote per an excerpt published in GQ. "Each episode was the same: Michael on a pedestal, his teammates secondary, smaller, the message no different from when he referred to us back then as his 'supporting cast.'"
Let's call the odds for Pippen and Jordan eventually hugging it out as remote.
Rick Mahorn wasn't around when Michael Jordan eventually got his win over the Pistons. But he was part of two Detroit teams that showed His Airness the door in the playoffs and picked up a ring in the process. He remembers first-hand that Jordan wasn't always unbeat-a-Bull.
Statistics courtesy of Basketball Reference and Stathead.