Ricky Rubio's Injury Scare Proves the Cleveland Cavaliers Desperately Need to Make a Major Move Before the 2022 NBA Trade Deadline
The Cleveland Cavaliers have been the most surprising team of the 2021-22 NBA season, but, like most squads this year, they have had to fight through quite a bit of adversity. In addition to dealing with numerous players going into health and safety protocols, the Cavs saw Collin Sexton, who led the team in scoring the last two seasons, go down for the year after hurting his knee. Backup point guard Ricky Rubio also recently suffered a scary knee injury in a game against the New Orleans Pelicans.
Regardless of the severity of Rubio's injury, though, the unfortunate situation has proved one thing: The Cavaliers need to make a deal at the trade deadline if they want to continue contending this season.
Ricky Rubio has been a revelation for the Cavs this season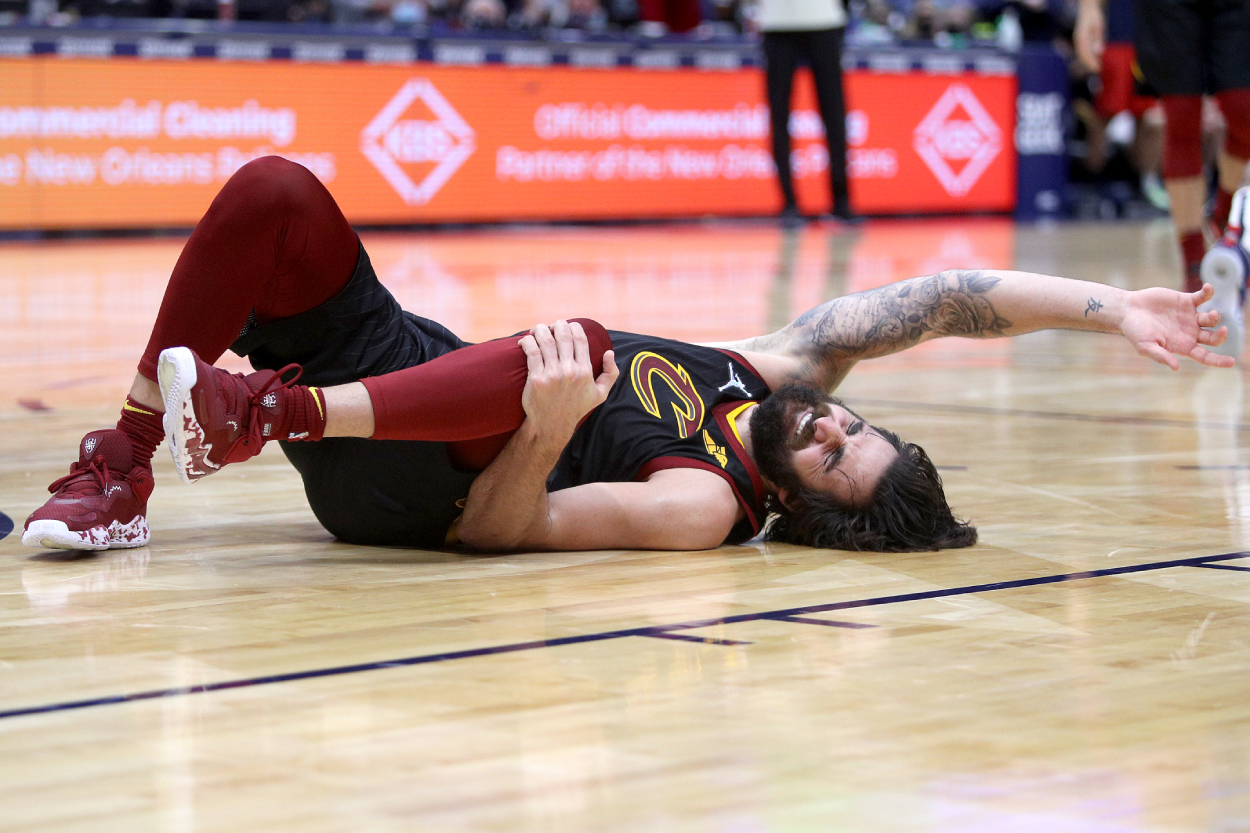 While guys like Jarrett Allen and Darius Garland have had All-Star-type campaigns for the Cleveland Cavaliers this year, the team's surprise success has also been because of Ricky Rubio's play off the bench, especially with Collin Sexton out for the season.
While backing up Garland, Rubio has averaged 13.1 points through his first 34 games for the 20-14 Cavaliers. He is also dishing out 6.6 assists and pulling down 4.1 rebounds per game. No, he's not the 20-plus-points-per-game scorer that Sexton is, but the 11th-year veteran knows his role and has come through for the Cavs when they have needed him. In fact, he scored 37 points against the New York Knicks in November and has had three other games with 25 or more.
But in a recent loss to the Pelicans, Rubio went down with a knee injury, and his teammates had to help him off the floor. Given that Garland is in health and safety protocols, the situation has Cavs fans fearful and — no matter the severity of Rubio's knee — shows that Cleveland needs to be aggressive at the trade deadline.
The Cleveland Cavaliers need to be aggressive at the trade deadline
Due to Collin Sexton's injury, the Cavs – an already tall team – are rather thin at guard. They have Garland, who is averaging 19.5 points and 7.3 assists as the team's starting point guard, and Rubio backing him up. Other than that, second-year player Isaac Okoro, a 9.2-points-per-game scorer, is Cleveland's starting shooting guard, and Cedi Osman, who scores 11.5 points per game, comes off the bench in his place.
Outside of Garland and Rubio, they essentially don't have any other scoring threats at guard. The rest of their points come from their big men, Jarrett Allen (16.8 points per game), Evan Mobley (14.1 points), Lauri Markkanen (13.7 points), and Kevin Love (13.2 points).
So, suppose Garland or Rubio miss time at any point in the season due to injury or health and safety protocols. Cleveland, currently the fifth team in the Eastern Conference, has no one else to turn to for a scoring option in the backcourt. It also doesn't have anyone capable of running the offense. While, Garland and Rubio (who both average over 6.5 assists) have done so effortlessly this season by throwing lobs to the big men and finding their open teammates with ease, no other player averages more than 2.5 dimes this year.
The Cavs desperately need to prepare for a situation where Rubio or Garland could miss time. And they need to do that before the NBA trade deadline on Feb. 10, 2022.
Who can the Cleveland Cavaliers target at the 2022 NBA trade deadline?
So, if the Cavaliers decide to be buyers at the trade deadline, who should they go after to bolster their depth?
Well, they have had rumored interest in Ben Simmons. No, he's not a shooter, but he would be someone who can create his own shot and lead an offense consistently. There's also Caris LeVert, who is from Ohio and the Cavs have reportedly had an interest in, or even Buddy Hield, one of the top shooters in the league that the Sacramento Kings almost traded to the Los Angeles Lakers in the offseason.
It's somewhat tricky for a non-salary cap expert to figure out how all the finances would work, but, according to ESPN, the Cavaliers have control over all their first-round picks in upcoming NBA Drafts. So, they have plenty of draft capital to trade in potential deals.
All in all, the Cavs have had a magical start to their season. After being one of the worst teams in the NBA throughout each of the last three campaigns, they have looked like one of the best when healthy this year. If they don't add some help at guard, though, one injury or a positive COVID-19 test could put them in some real trouble.
Stats courtesy of Basketball Reference