Ricky Rubio's Devastating Knee Injury Puts More Pressure on the Cavaliers to Finally Pull off a Blockbuster Ben Simmons Trade
Ever since LeBron James bolted for Los Angeles, there hasn't been nearly as much pressure on the Cleveland Cavaliers to win as there was during his tenure. Instead of trying to build around one of the greatest players of all time, they have been quietly assembling a new squad.
Their efforts from the past few seasons have since paid off, as the Cavs have become one of the hottest young teams in the league this year. They are currently taking the NBA by storm and are built for long-term success.
However, this has, in turn, brought some of the pressure back. They're capable of winning now, so should they go all in?
That question likely became even more important recently, as Cleveland lost backup guard Ricky Rubio to a season-ending knee injury this week. The news was a brutal blow to a fun Cavs squad, and leaves them with only two options: Either try to win without any depth at guard at all, or pull off the blockbuster move everyone has been waiting for by trading for Philadelphia 76ers guard Ben Simmons.
The Cleveland Cavaliers have reportedly had an interest in a Ben Simmons trade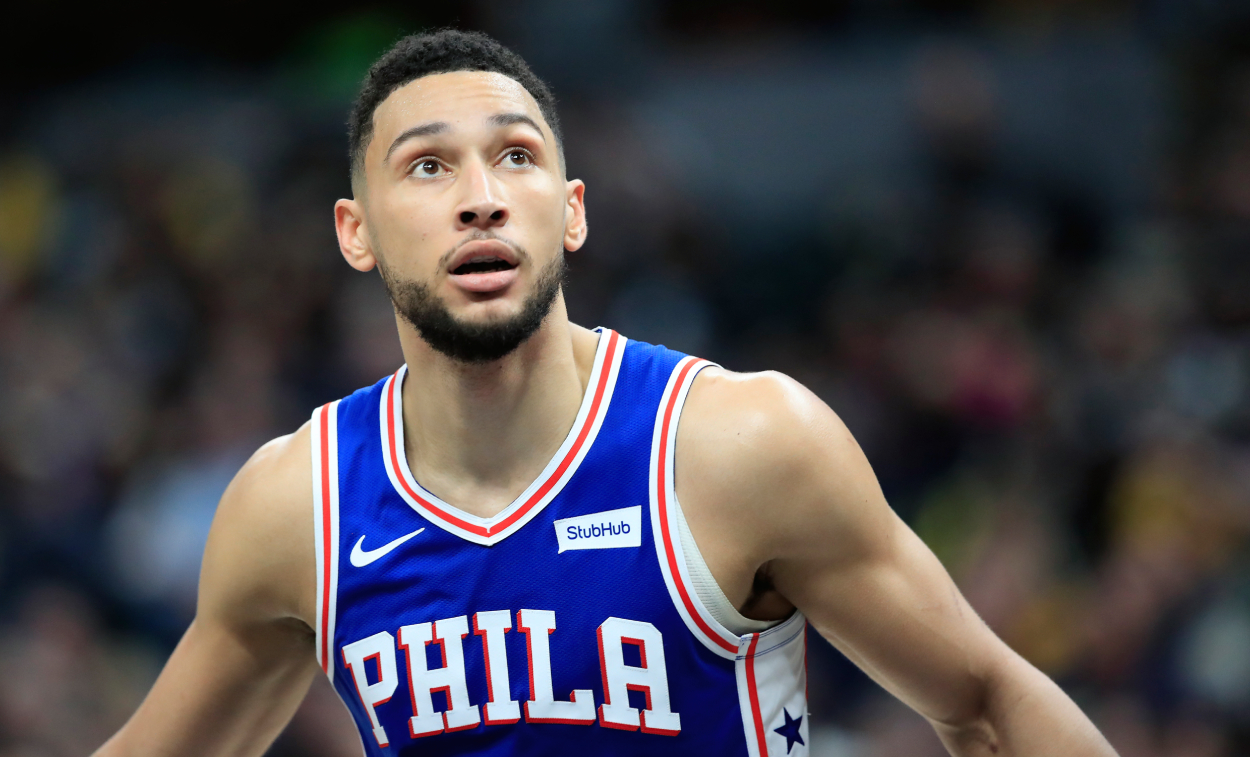 Philadelphia 76ers guard Ben Simmons has yet to play for Philly this year, as the three-time All-Star has expressed his desire to be traded from the team following all the criticism he received for the Sixers' Eastern Conference semifinals loss last season.
While all of the Simmons rumors have been a confusing mess over the last several months, ESPN's Adrian Wojnarowski recently listed the 20-14 Cavaliers as a team that could strike a deal for the LSU product.
"But here's an interesting team to watch: the Cleveland Cavaliers, who before they went on this really incredible start to the season, had been engaged with Philly on Simmons," Wojnarowski said on ESPN's Christmas Day coverage, per NBC Sports Philadelphia. "They've got some really intriguing assets, either in a straight deal or perhaps a three- or four-team deal."
He continued: "It will be interesting to see if Cleveland re-engages as a team that I think's built for long-term success with all their young players. Ben Simmons is only 25 years old; he does fit into the timeline of that team."
These comments, though, were before Rubio's injury. Now, the Cavaliers should be feeling more pressure to get this trade done.
The Cavaliers should be feeling more pressure after Ricky Rubio's injury
Losing Ricky Rubio for the season is brutal for the Cavaliers. They already lost their leading scorer from the last two seasons in Collin Sexton, as he's out for the year with a knee injury. So, Cleveland is now very thin at guard.
Darius Garland has become a star at the team's starting point guard position this season, averaging 19.5 points and 7.3 assists. And Rubio had been a fantastic backup, recording 13.1 points and 6.6 assists per game. However, now that the latter is done for the year, Garland is the only guard on the team averaging over 11.5 points and 2.5 assists. In fact, no one else on the Cavs is recording more than 2.5 dimes per game this season. They simply don't have anyone else who can run the offense, and no other guards give them a consistent scoring punch, as the rest of their point-scorers are big men like Jarrett Allen and Evan Mobley.
This is where Ben Simmons could come in.
Cleveland now essentially needs Simmons. Before Rubio's injury, adding the Sixers star would have been a nice luxury. He would have helped them build on their current standing as the fifth team in the Eastern Conference and could have potentially made them title contenders. 
But now, his ability to find open men and score at a decent rate is something this Cavs team with little backcourt depth needs. He wouldn't just make them championship contenders; he would potentially save their season.
However, the only question now is how much the Cavaliers would have to give up for him.
The Cavaliers would have to potentially give up a lot in a trade for Ben Simmons
While the Cavaliers should be feeling more pressure to add Simmons, the 76ers' asking price might just be too high to seriously consider trading for him.
Philadelphia has notoriously asked for a lot in return, which is somewhat justified, as the No. 1 overall pick in the 2016 NBA Draft has the potential to become a superstar with his ability to score, rebound, facilitate, and defend. Simmons failure to come up big in clutch moments, though, has made him a wild card and should have the Sixers rethinking their demands.
If they do, the Cavaliers have assets to move. Collin Sexton, who averaged over 24.0 points last season, will be a free agent this year, and Philly could potentially trade for the guard and then sign him to a team-friendly deal due to his injury. Cleveland also has control over all its first-round draft picks, meaning it has a lot of draft capital.
So, if the 76ers want to ease up a bit, the Cavaliers could be a perfect trade partner for them. But they aren't the ones who are feeling the most pressure right now; that's the Cavs, as they should be doing whatever they can (with reason) to trade for Ben Simmons.
Stats courtesy of Basketball Reference