Ricky Williams Missed out on an Extra $200,000 After His Football Career
Ricky Williams was a star in college for the Texas Longhorns. He was then a pretty good running back in the NFL. Williams earned plenty of money while in the NFL, but he has not played in the league since the 2011 season. He did get a chance to earn a decent amount of money in 2019, though, but he ultimately missed out on $200,000.
Ricky Williams was a dominant back at Texas
For four seasons with the Texas Longhorns, Ricky Williams could not be stopped. In 1995, Williams ran for 990 yards and eight touchdowns. He then became a focal point of that offense the next season, though, as he ran for 1,272 yards and 12 touchdowns. Texas was pretty good in those seasons too as they played in the Sugar Bowl and the Fiesta Bowl.
However, in 1997 and 1998, Williams was arguably the best running back in the entire country. During the 1997 season, Williams ran for 1,893 yards and 25 touchdowns. He ultimately finished fifth in the Heisman Trophy voting. He then, somehow, continued to get better in 1998. Williams ran for 2,124 yards and 27 touchdowns in 1998 for the Longhorns. He ended up winning the Heisman Trophy that season and Texas won the Cotton Bowl.
Williams' play at Texas made him a top prospect in the 1999 NFL draft.
Williams had a weird NFL career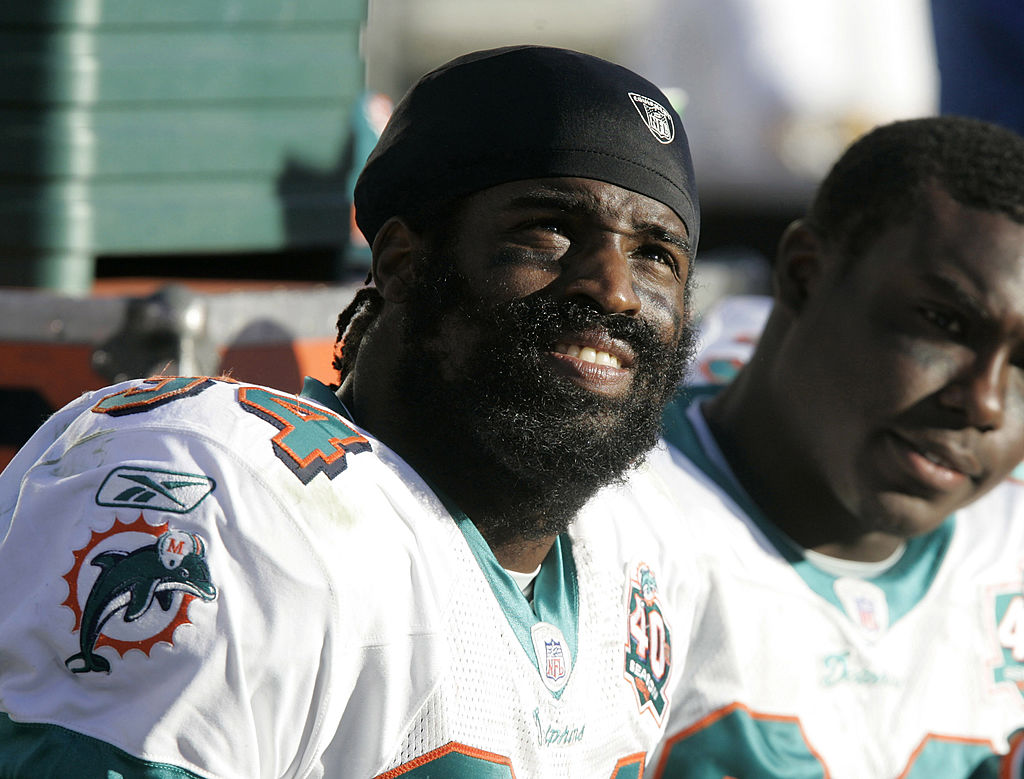 The New Orleans Saints selected Ricky Williams with the fifth overall pick in the 1999 NFL draft. He was pretty good in his first three seasons with the Saints too. After rushing for 884 yards in 1999, Williams ran for 1,000 yards and eight touchdowns in 2000, and 1,245 yards and six touchdowns in 2001.
However, he played for the Miami Dolphins in 2002 and 2003 and was one of the best running backs in the NFL. Williams led the league with 1,853 rushing yards in 2002 to go with 16 touchdowns. He earned his only Pro Bowl selection that season in addition to earning a first-team All-Pro selection. Williams then ran for 1,372 yards and nine touchdowns in 2003.
Williams, however, then faced a four-game suspension after testing positive for marijuana in 2004 but ultimately decided to retire. He did not play the entire 2004 season but came back in 2005 and played for the Miami Dolphins. He ran for 743 yards in 12 games for the Dolphins in 2005. Williams then did not play the entire 2006 season after violating the league's substance-abuse policy. However, he played in one game in 2007 and then played the next four seasons before retiring for good.
Williams had one more season where he was pretty good as he ran for 1,121 yards and 11 touchdowns in 2009 with the Dolphins. After playing his last season in the NFL with the Baltimore Ravens in 2011, Williams finished his career with 10,009 career rushing yards and 66 rushing touchdowns.
Taking on a new game
In 2019, Williams competed in Celebrity Big Brother. The object of the game was to be the last celebrity standing. The contestants were isolated in a house together for weeks and used competitions, as well as politics, to pick each other off. Williams was one of 12 contestants. He was not the only former athlete either. Olympic swimmer Ryan Lochte, WWE star Natalie Eva Marie, and Olympic hurdler Lolo Jones also took part in the show. 
Williams ultimately did really well as he was in the final two. He won some huge competitions down the stretch to get there too. It eventually came down to him and TV personality Tamar Braxton. Williams, however, possibly rubbed some people the wrong way. Lolo Jones certainly was not happy with him after he chose Braxton to go to the final two with him over her. This resulted in Braxton winning the entire show by a vote of 9-0, according to People.
"I kind of went through my head and the different exchanges that I had with everyone, and it just made sense to me that they would all vote for Tamar," Williams said, according to Entertainment Weekly.

Ricky Williams
Since he finished second, Williams won $50,000. However, Braxton won $250,000 for finishing first, according to People. That's a pretty big difference.
Williams will be just fine. His net worth is still an estimated $3 million, according to Celebrity Net Worth. However, he missed out on $200,000 and maybe would not have done so had he played a different type of game on Celebrity Big Brother.