Rob Gronkowski Has Made $62.6 Million in the NFL but Could Potentially Take on a New Sport in Retirement
Rob Gronkowski has essentially mastered football, winning four Super Bowls with the New England Patriots and Tampa Bay Buccaneers. So, could he potentially venture out and try a new sport once he hangs the cleats up for good? It's not a guarantee, but in a recent interview, the future Hall of Famer didn't rule out potentially taking on a new sport down the road.
Rob Gronkowski has made $62.6 million in the NFL
Gronkowski was a second-round pick with New England Patriots in the 2010 NFL draft, and he quickly became one of the biggest stars in the NFL, earning Pro Bowl and first-team All-Pro honors in his second year. He even led the NFL with 17 touchdown receptions that season while also catching 90 passes for 1,327 yards.
Gronkowski spent nine seasons with the Patriots and became one of the best tight ends in NFL history, catching 521 passes for 7,861 yards and 79 touchdowns during his years in New England. He also earned five Pro Bowl and four first-team All-Pro selections, and he was a three-time Super Bowl champ.
The former Arizona star then retired in 2019 but played with the Buccaneers in 2020 and won his fourth Super Bowl.
Gronkowski's tremendous amount of success has helped him make a ton of money. On the field, the tight end has earned an estimated $62.6 million, per Spotrac. He has also likely made a hefty amount off the field as he has an estimated $45 million net worth, according to Celebrity Net Worth.
However, could he make some more cash in another sport once he's done with football?
He didn't rule out a potential boxing career once he retires from the NFL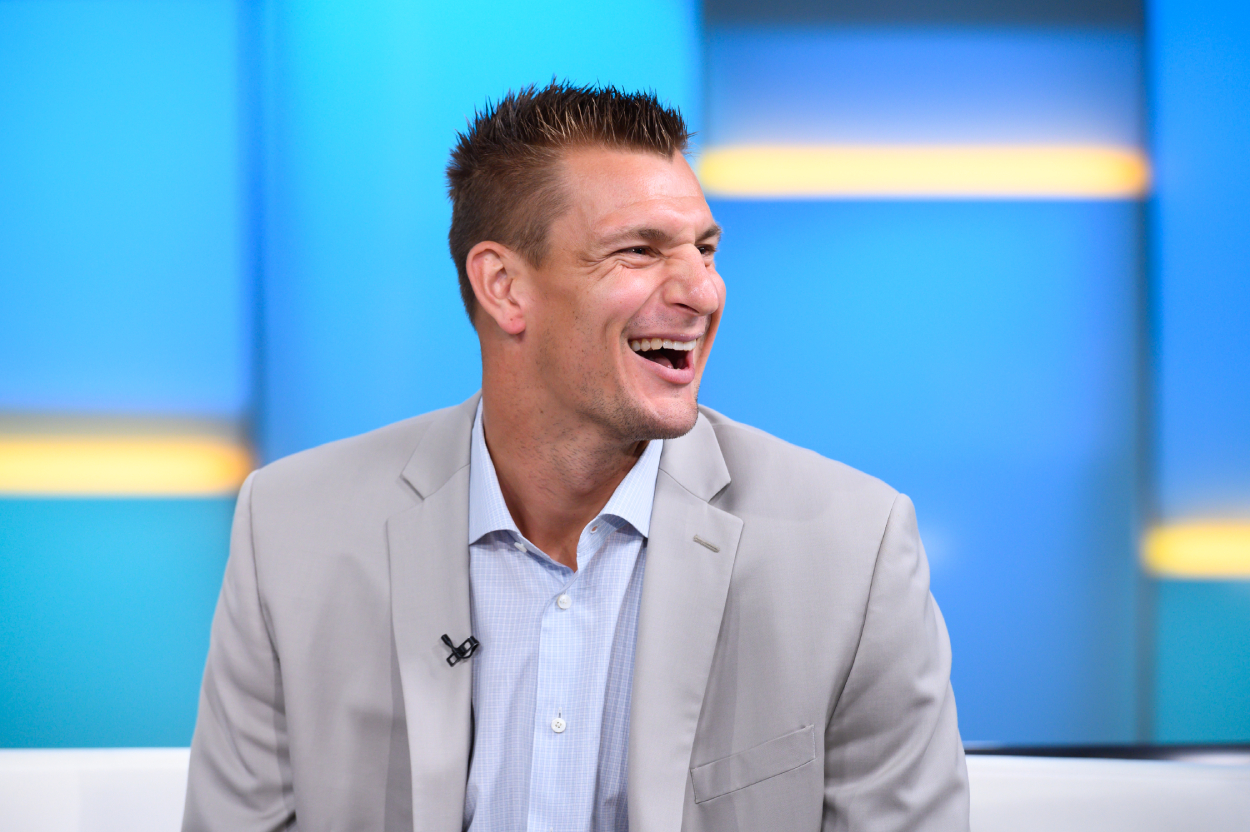 Celebrity boxing has become extremely popular in recent years. Nate Robinson fought YouTuber Jake Paul, while Chad Johnson is fighting on the undercard of YouTuber Logan Paul's fight against Floyd Mayweather Jr. in June.
Gronkowski also recently made a video in which he was the referee and his brothers sparred with Logan Paul. This led to him getting asked if he would ever consider boxing once he's done in the NFL.
"I feel like I would have interest in it for sure when I'm done playing football because being [that] football is just so competitive, that can actually keep my competitive spirits going for sure," Gronkowski recently said to TMZ Sports. "But I would have to have that urge to do it and that will to do it too because that's serious. It's not like you can do it overnight; that's some serious training. That's months and months and months of work; months of training your brain, your body with all those counter-movements, all those different types of movements with your body."
He continued: "I would definitely say it would spark an interest. I wouldn't just shut that down right away when I'm done playing, but you never know."
So, how much would Gronkowski be able to make? Per TMZ, ESPN's Stephen A. Smith reported that Robinson made over $2 million fighting Jake Paul, while Logan Paul told TMZ Sports he could make $20 million in his upcoming fight with Mayweather.
While that's a decent amount of cash, Gronkowski has a chance to win more Super Bowls with the Buccaneers first.
Rob Gronkowski can win more Super Bowls with the Buccaneers
After not playing at all in 2019, Gronkowski had a nice season with the Buccaneers in 2020, coming on stronger toward the end of the year by gaining nearly half of his 623 total receiving yards from Week 10 to Week 17. Gronkowski also ultimately caught 45 total passes and seven touchdowns in 2020 before catching six passes for 67 yards and two touchdowns in the Super Bowl.
The tight end now returns to the Buccaneers for the 2021 campaign and has a great chance to win another Super Bowl with Tom Brady. Tampa is bringing back all 22 starters, as well as Antonio Brown and Leonard Fournette, while also welcoming Giovani Bernard. All that firepower on a championship-winning team is scary to think about, especially when the QB is the greatest of all time in Brady.
Gronkowski definitely has the athleticism to have a future in boxing, but he's not done adding to his tremendous NFL legacy just yet.
Stats courtesy of Pro Football Reference