Rob Gronkowski Admits to Misery During Patriots' 2017 Super Bowl Season and Being 'Happy' With Suspension
Tampa Bay Buccaneers tight end Rob Gronkowski regrets the move that led to his one-game suspension with the New England Patriots in 2017. He was pleased, however, with the time off. Gronk recently stated he was "happy" he got suspended for his late and dirty hit on Buffalo Bills cornerback Tre'Davious White. He also stressed he and several other teammates weren't having fun as the Patriots made their way to yet another Super Bowl.
Rob Gronkowski earned a suspension for a late spear on Buffalo's Tre'Davious White in 2017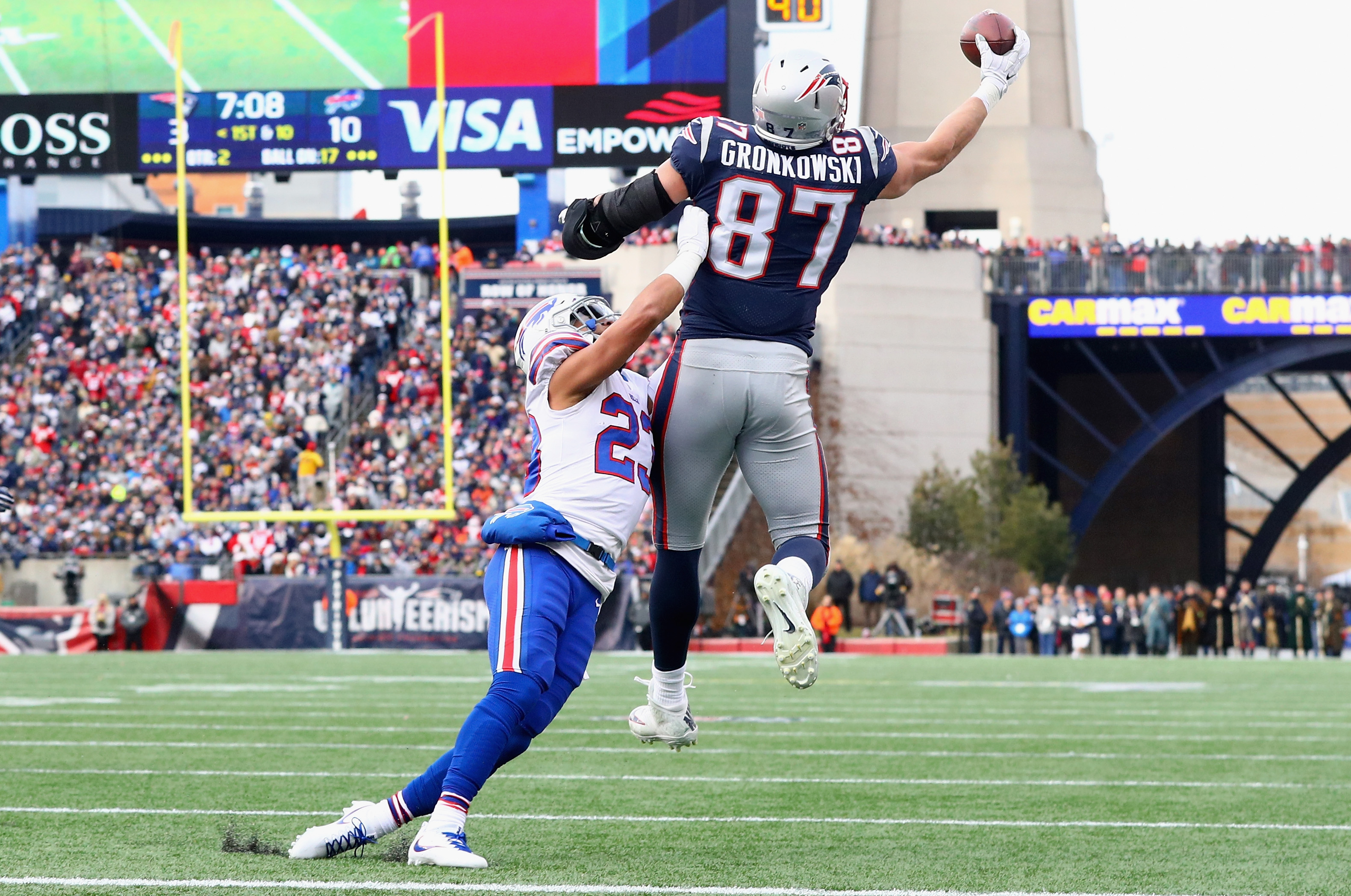 It was a clear cheap shot. Gronkowski admitted he was frustrated by the officiating in the early December game in 2017 against their division rivals. There wasn't a whole lot more for Gronk to be frustrated with as he finished with nine catches for 147 yards, and the Patriots walked away with a 23-3 victory, their eighth straight win.
Still, Gronk was frustrated by the way the game was officiated. After White picked off a Brady pass, Gronkowski infamously speared the Bills defensive back as While, who is out this season with a torn ACL, was on the ground.
Gronk apologized after the game.
"I want to apologize to No. 27," Gronkowski said, per CBS Sports. "I'm not in the business of that. I mean, there was a lot of frustration and I was just really frustrated at that moment and it just happened naturally through emotions. … I just want to apologize to Tre'Davious White."
The Patriots tight end said he believed he was being targeted by the officials.
"I just didn't understand why there wasn't a flag (against White for defensive holding just prior to the interception)," Gronkowski said. "… And they're calling me for the craziest stuff ever."
Rob Gronkowski admits he was 'happy' with his suspension from the hit
The NFL suspended Gronkowski one game for his hit on White. Four years later, the now-Tampa Bay Buccaneers tight end admits he was perfectly fine with sitting out a game. According to NESN, Gronk celebrated his week off as described in Episode 8 of Tom Brady's Man in the Arena docuseries. When he speared White, he knew it was wrong, but frustration got the best of him.
"I would do, like, a little push-off and they would throw a flag on me," Gronkowski said. "So I was like, 'Huh?' … I got no help. The referee's just like, 'Yeah, you're just bigger, so we're just going to let it be.' 
"Finally, in that Buffalo Bills game, I was just getting held again. Going in on the in route, I got held. Coming back out, held me. And boom, there was no flag. Just right there, I just lost it, and right when I was going down, I was like, 'Oh, shoot. I shouldn't be doing this.' I swear, when I was going down, I let up."

Rob Gronkowski
Gronk's suspension may have cost the Patriots a victory the following week when they lost to the Miami Dolphins, but it was time off he said he desperately needed.
"I was happy," he said. "Finally happy and I was like, 'Yes, I'm away from football for a week. I get to recover my body.' I mean, when you're running full speed into people, it definitely was taking a toll on me. … You need to recover from football, and that's what a lot of people don't understand out there. It's just grind, grind, grind.
"I lost a game check. I lost a paycheck. It was about $300,000, that game check, and I didn't even care one bit. I was just glad I had a week off from football because I needed it."
Gronk admitted he wasn't the only one who didn't have fun that season
The Patriots went 13-3 during the regular season and reached the Super Bowl, losing a shootout to the Philadelphia Eagles. Despite the success, Gronkowski said he didn't have a whole lot playing in New England that year.
Gronk was a Pro Bowl tight end that year. He racked up 1,084 receiving yards and eight touchdowns in 14 games. Success on the field certainly didn't translate into happiness.
"It was a tough season," Gronk said. "It was a grind season, for sure. Let me tell you, it wasn't really that fun of a year. It was just a little eerie, the atmosphere with the Patriots."
He said he wasn't alone in the misery department.
"There was a lot of guys, including myself, that just weren't really having a good time," he said "We would just show up to show up, go out to practice. I mean, we did what we needed to do. We were winning games still. (But) it definitely was taking a toll on me."