Is Rob Gronkowski the Best Tight End in NFL History?
Rob Gronkowski recently retired, ending the career of a tight end who was inarguably one of the best of this era. His fans and teammates will no doubt miss him, but he also leaves them considering one question: Where does he rank among the best tight ends of all time?

Let's take a look at his numbers and how he stacks up against other great tight ends to see whether Rob Gronkowski is the best tight end in NFL history.

Rob Gronkowski by the numbers
Despite suffering multiple injuries during his career, Gronkowski still managed to put up unbelievable numbers throughout his career. He finished with 7,861 receiving yards and 521 receptions. He also averaged a whopping 15.1 yards per reception and 68.4 yards per game.

Gronk was particularly effective in the red zone, scoring 79 career touchdowns. He led the league in touchdown receptions in 2001, when he scored 17 TDs.

Playing for the league's most successful franchise, the New England Patriots, gave Gronk multiple chances to play in the postseason, and he did not disappoint with his production there. He had 81 career postseason receptions, 1,163 yards, and 12 touchdowns. Rob Gronkowski played the equivalent of a full season in the playoffs with16 games, and the numbers amassed in those playoff games equate to an above average season for a receiver by any standard.

Who are the greatest tight ends of all time?
Several news outlets ranked the best tight ends of all time, and Rob Gronkowski is definitely in the discussion. To get a better understanding of the context of his career and accomplishments, it helps to look at the careers of those other tight ends in comparison.

Athlon Sports ranked the top tight ends of all time with Tony Gonzalez topping the list followed by Antonio Gates, Gronkowski, Shannon Sharpe, and Kellen Winslow.

Famed former NFL scout Gil Brandt ranked Gronk at No. 6 on his all-time list, with Tony Gonzalez, Kellen Winslow, John Mackey, Jason Witten, and Dave Casper in his top five.

Here are the tight ends from this era who compare favorably to Gronk:
How Rob Gronkowski compares to the other great tight ends

In this era, Gronkowski certainly ranks as one of the top tight ends. When the scope is widened to account for the league's entire history, Gronk still ranks as one of the top tight ends from a statistical perspective due to the league's increased usage of receivers, and tight ends specifically, over the past 15-20 years.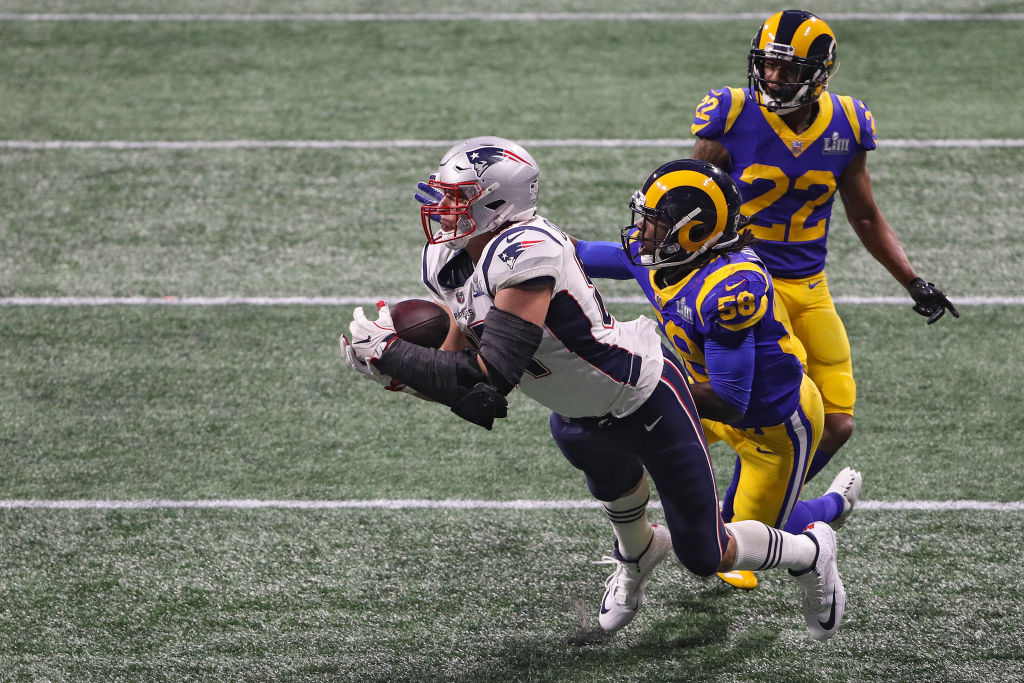 While it's true that Gronk's numbers pale in comparison to both Gonzalez, Gates, and in some categories Witten, there are several factors to consider in the evaluation:
He's struggled with multiple injuries throughout his career, decreasing his effectiveness. Some argue that Gronkowski's injuries have been due not to lack of conditioning, but by his opponents' defensefocusing on him due to the receiving threat he posed and his style of play.
He consistently ranked as one of the league's top red-zone threats.
Rob Gronkowski is ending his career early to preserve his health, robbing him of several years of production.
As noted above, his playoff performance is unrivaled among all tight ends.
Is Rob Gronkowski the best tight end in NFL history?
Based on the nature of his play, his production when healthy, postseason stats, and the mitigating factors that led to his early retirement, Rob Gronkowski may be the best tight end of all time. For the sake of argument, at worst he's No. 3 next to Tony Gonzalez and Antonio Gates. Gonzalez is a Hall of Famer, and Gates is a virtual lock.