Rob Gronkowski Can at Least Laugh About His Long Resume of Injuries and Surgeries: 'I Think the NFL, After I'm Done, Is Scared'
Article Highlights:
Tampa Bay Buccaneers tight end Rob Gronkowski is trying to laugh about his lengthy injury history
The four-time first-team All-Pro selection has had numerous surgeries and back problems over the years
Gronkowski also said he felt like he'd been "shot" after suffering broken ribs and a punctured lung in September
The football gods have blessed Tampa Bay Buccaneers quarterback Tom Brady with incredible health over the years. His close friend, Rob Gronkowski, didn't receive the same luck.
Dating back to his college days, Gronkowski has frequently gone under the knife and worked to recover from various injuries, including lingering back and knee problems. Yet, the four-time Super Bowl champion is somehow able to discuss his many ailments with a smile.
Rob Gronkowski is able to laugh about his long history of injuries
Luckily for him and his family, Gronkowski had never been shot as of Nov. 21, 2021. 
However, the legendary tight end recently admitted he felt something similar to hollow-point ammunition traveling through his body. Gronkowski suffered broken ribs and a punctured lung after receiving a brutal hit in a Week 3 loss to the Los Angeles Rams.
After missing four games with the injuries, Gronkowski briefly returned for a Week 8 showdown against the rival New Orleans Saints. However, he left that game with a back problem and missed a Week 10 loss at Washington (the Buccaneers had Week 9 off) as a result.
Despite all of the injuries he's had over the years, Gronkowski at least laughed about the situation when he addressed reporters on Nov. 19. The 32-year-old said he'll refer to his own injuries when his kids complain about bumps and bruises when he eventually becomes a parent.
"I'm gonna definitely have to file this one, too, under workers' comp. I think the NFL, after I'm done, is scared. Workers' comp. I'm comin' for you guys."

Rob Gronkowski
Although Gronkowski likely won't get workers' comp, he'll at least have his pension and $70 million in earnings to help him in retirement. Lucky him.
Gronkowski has truly been through the wringer dating back to his college days
On a far more serious note, the fact Gronkowski is still able to play at this stage in his career is nothing short of miraculous. Remember, he's had numerous back injuries dating back to his junior year at Arizona.
Gronkowski, a second-round draft pick in 2010, missed the entire 2009 college season after having surgery for a bulging disk in his back. He made it through his first two NFL campaigns without missing a single game and played through Super Bowl 46, the final game of his sophomore year, with an ankle problem.
His brief injury luck began running out in the fall of 2012, when he missed five games after fracturing his forearm; he later re-aggravated that injury in the postseason. After missing the 2013 season's first seven games while recovering from forearm and back surgery, Gronkowski tore his right ACL and MCL against the Cleveland Browns that December. He returned in time for the start of the 2014 season.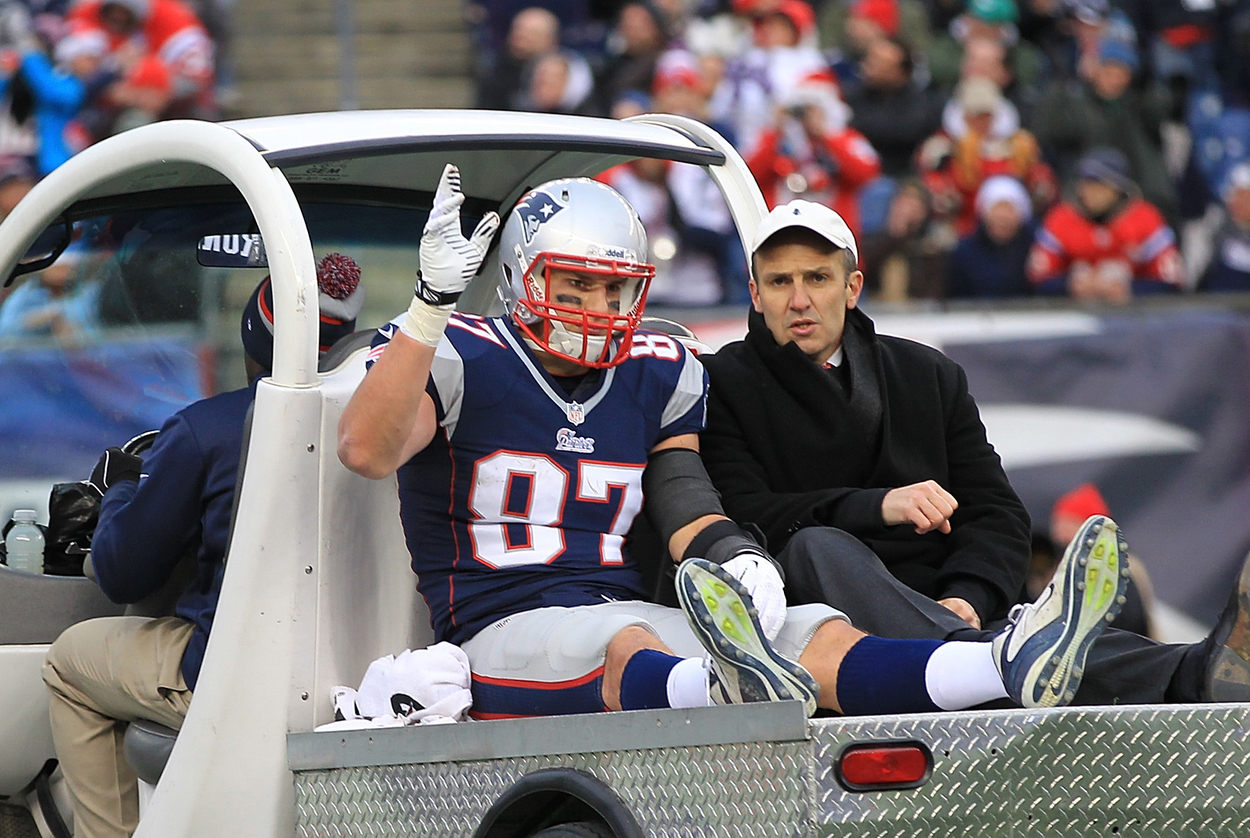 According to DraftSharks, Gronkowski also battled a 2015 hamstring injury, a 2016 lung bruise, and a 2018 concussion in addition to his recurring back problems. He retired after winning Super Bowl 53 in 2018 and spent that season working at Fox Sports and avoiding any further health issues.
Of course, Gronkowski returned to the NFL in 2020 and partnered with Brady in Tampa Bay. He played all 16 games last season, only the third time in his career he could say that, and looked sharp to open this season before the Week 3 injuries.
Gronkowski is ready to risk further injury if it means winning another Super Bowl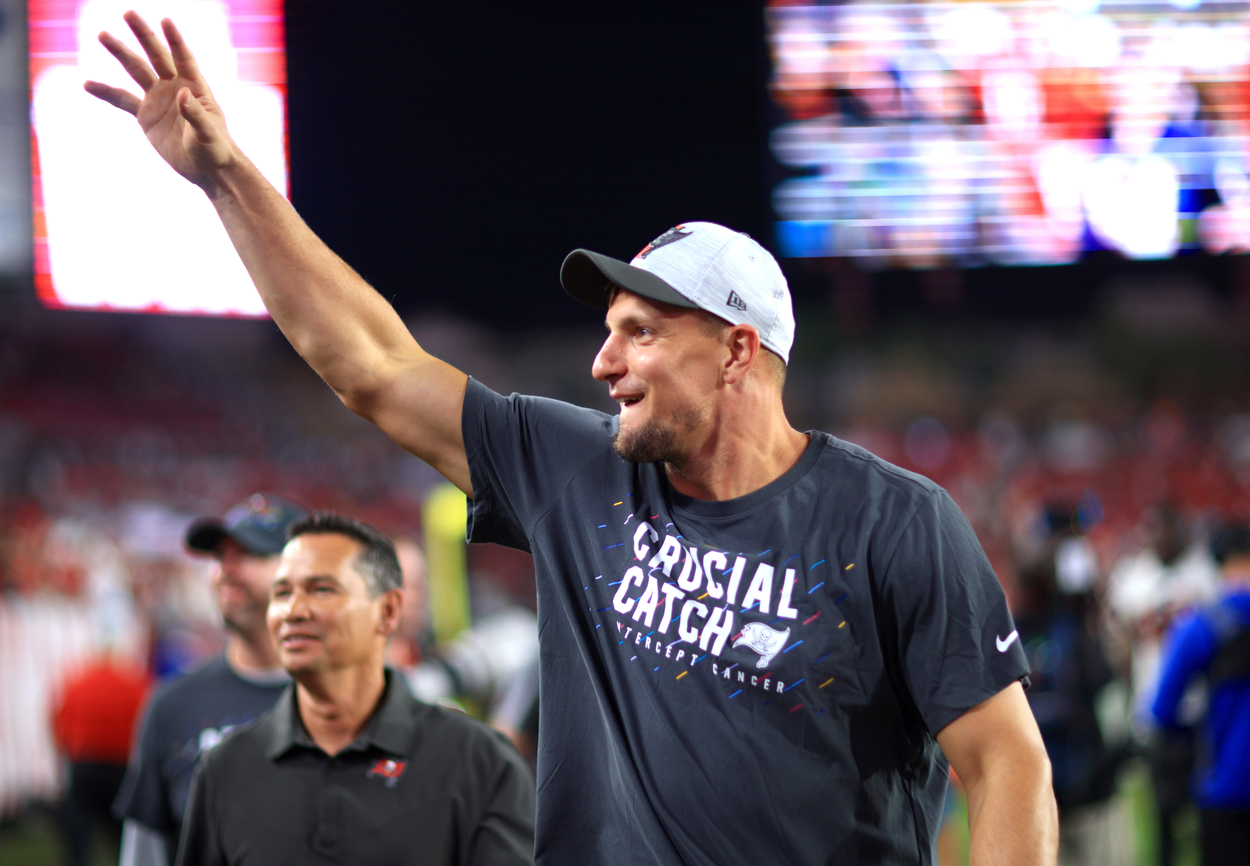 At this stage in his life, Gronkowski could retire as soon as you're done reading this and be assured of a spot in the Pro Football Hall of Fame. His place on the NFL's 100th Anniversary All-Time Team in 2019 all but guaranteed his bronze bust.
However, Gronkowski isn't ready to walk away just yet, and he's hoping to play against the New York Giants in Week 11. After that, he'll grind through his maladies for the rest of the 2021 season.
A reporter asked Gronkowski during his Nov. 19 presser if his 2019 retirement changed his approach to returning from injuries and potentially rushing back to action. After confirming the answer is no, the five-time Pro Bowler said both he and the Buccaneers are "all in on the same page."
Given the injury history and what he recently went through, don't be surprised to see Gronkowski hang up his cleats for good after the 2021 season. At least he sounds like someone prepared to laugh when his football wounds ache in retirement.
Like Sportscasting on Facebook. Follow us on Twitter @sportscasting19.