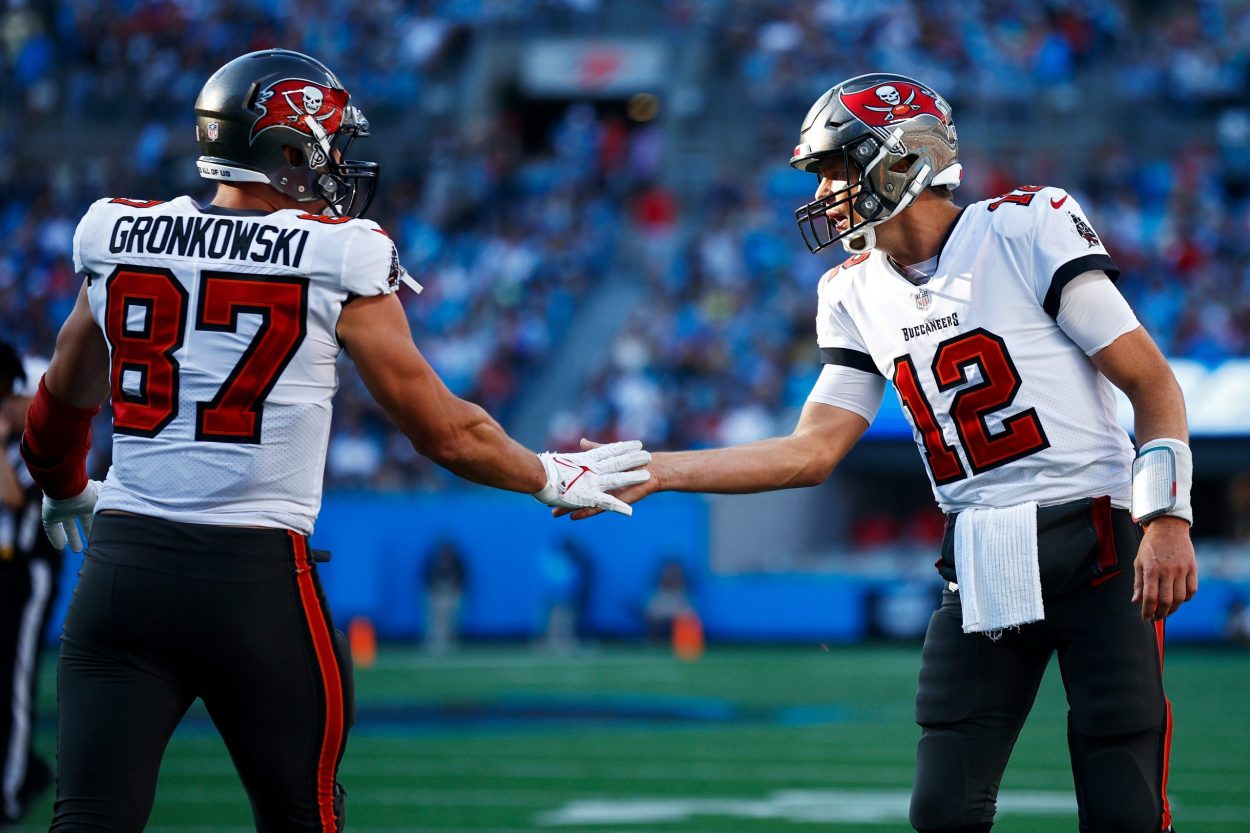 Rob Gronkowski Certain To Reunite (Again) With Tom Brady And Buccaneers
With Tom Brady returning to the Buccaneers in 2022, Rob Gronkowski's return to Tampa Bay shouldn't be far behind.
Sorry, Joe Burrow. Sorry, city of Buffalo. One of you came so close to having your own Rob Gronkowski for a year.
Then Tom Brady decided to put the band back together. No Gronk for you.
Brady, in an announcement at once stunning and unsurprising, un-retired from the NFL on Sunday afternoon, just six weeks after the clumsy and awkward rollout of his original "retirement.
After several subtle and not-so-subtle hints over the past month that maybe, just maybe, he was coming back to play, after all, Brady finally dropped all pretense on Sunday and revealed he would be returning to the Tampa Bay Buccaneers for the 2022 season.
And like that, with the legal tampering period that is the start of free agency less than a day away, the odds of Gronkowski playing anywhere other than in Brady's huddle suddenly shifted from highly likely to near-impossible.
Brady is the only quarterback Gronkowski has ever teamed with, and that should continue in 2022
The simple fact is, Gronkowski has never played an NFL season without Brady has his quarterback. The duo played together for the entirety of Gronkowski's career with the New England Patriots, which began in 2010 and ended with Gronkowski making the critical catch to secure a victory in Super Bowl 53 in 2019.
Gronk stepped away from the game for Brady's final season in Foxboro, then came out of retirement to re-join Brady with the Buccaneers, winning another Super Bowl in their first season in 2021, then losing in the Divisional Round this past season.
But when Brady announced his retirement in late January, Gronkowski did not immediately follow suit. He suggested that perhaps he would join the Cincinnati Bengals and play with Joe Burrow. But he also left the door open, as so many others did as well, that maybe Brady wasn't going to stay retired forever.
Gronkowski joins the 'Brady will be back' chorus, as Brady urges Gronk to return in '22 without him
Almost as quickly as he retired in the first place, Brady began dropping little hints here and there that maybe, just maybe, he wasn't going to be retired for long.
Gronkowski himself seemed to pick up that vibe, suggesting on the eve of the Super Bowl that Brady wasn't close to being finished as a player.
"The guy can play at any age,'' Gronkowski told USA TODAY. "If he's 50 years old he can still come back. I think he's going to come back but in a couple of years. The guy's a beast. He can play anytime.'"
Brady had similar thoughts about Gronkowski. On his weekly, "Let's Go" podcast with Larry Fitzgerald and Jim Gray back on Feb. 21, Brady talked about the potential retirement of his passing game sidekick.
With the world speculating on Brady's every move at the time, Brady offered his thoughts on what the big tight end ought to be doing in 2022.
"I don't know. I certainly hope [he plays]," Brady said. "I mean, I've watched him basically practice and play since he started in the NFL. He can certainly do it. It's a big commitment for all of us. It's a big commitment to keep playing. And I know when he's willing to make that commitment he's unstoppable out there as a player.
"So, he'll have a lot of opportunity in every aspect of life because of who he is and his personality and what he brings to what he does. So, I sure hope so. And there's a lot of players that are gonna be facing those tough decisions and really weighing the risks [and] the rewards to continue to play. But Gronk is someone that I love. He's an inspirational person for me, an inspirational friend, teammate. And I think football's a lot better when he's in it."
Right up until Sunday's big reveal, Gronkowski was touting Burrow as his next QB
If Gronk knew for certain that Brady was coming back, he never gave away the game publicly. When asked in early January about playing in 2022 for a new quarterback, Gronk didn't flinch, expressing a desire to play with Burrow in Cincinnati.
"I kinda like this young buck quarterback. He's in the Super Bowl now: It's Joe Burrow, man," Gronkowski said. "I watched him in college. I just love the way he presents himself out on the football field. In the pocket, he's just so calm and he just slings it out on the field. … I just love his swag, too. If I had to pick a quarterback, it'd be the young buck Joe Burrow. He's killing it right now in the game."
Meanwhile, the Buffalo Bills reportedly were preparing to make a free-agent run at Gronkowski, just as they had done in 2020, before Gronkowski chose to reunite with Brady the first time.
In an interview with CBS Sports published Saturday, Gronkowski reiterated his desire to catch passes from Burrow, with nary a hint that Brady's return was on the horizon.
Or did he?
At the end of the CBS interview, Gronkowski offered up this:
"There's so much potential out there, and I've played for incredible teams in my career," Gronkowski said. "There's a lot to look forward to, and all I can say is 2022 is going to be a hell of a year."
Stats courtesy of Pro Football Reference