Rob Gronkowski Finally Revealed the Big Secret That's Kept Him and Tom Brady Joint at the Hip for so Many Years
Rob Gronkowski and Tom Brady are one of the best duos in NFL history. In fact, one could go as far as to call them one of the best duos in sports history. They dominated on the New England Patriots for years, and it only took them one season to secure another Super Bowl with the Tampa Bay Buccaneers.
The Brady/Gronkowski partnership has always appeared a tad strange on the outside looking in. Gronkowski has consistently marketed himself as a goofy, fun-loving, fraternity brother-type character. On the other hand, Brady was the definition of cool, calm, and collected during his peak years with the Patriots. He's started loosening up since arriving in Florida. However, not nearly to the level that Gronkowski is at.
Rob Gronkowski revealed the secret to his and Tom Brady's elite partnership
During a recent appearance on NFL Network, Gronkowski was asked about his and Brady's elite connection over the past decade-plus. Gronkowski didn't mince words, alluding to the idea that Brady can read Gronk's mind when it comes to route-running.
"Being together for so long…he claims when we're throwing routes that he knows already what I'm thinking before I even know what I'm thinking," Gronkowski said. "So I'm like, if that's the case, we don't have to say a single word to each other if he already knows what I'm thinking. But I really think he does sometimes."
For what it's worth, it's not hard to believe Brady has developed a bit of a sixth sense when it comes to Gronkowski's tendencies. The two have thrived together for so long, and Brady, time after time, has targeted his favorite tight end when the pressure is at its highest. Few QB/TE duos have played together as long as Brady and Gronkowski have, and none of them have experienced the historic level of success they have.
How much longer can Brady keep his favorite TE in the NFL?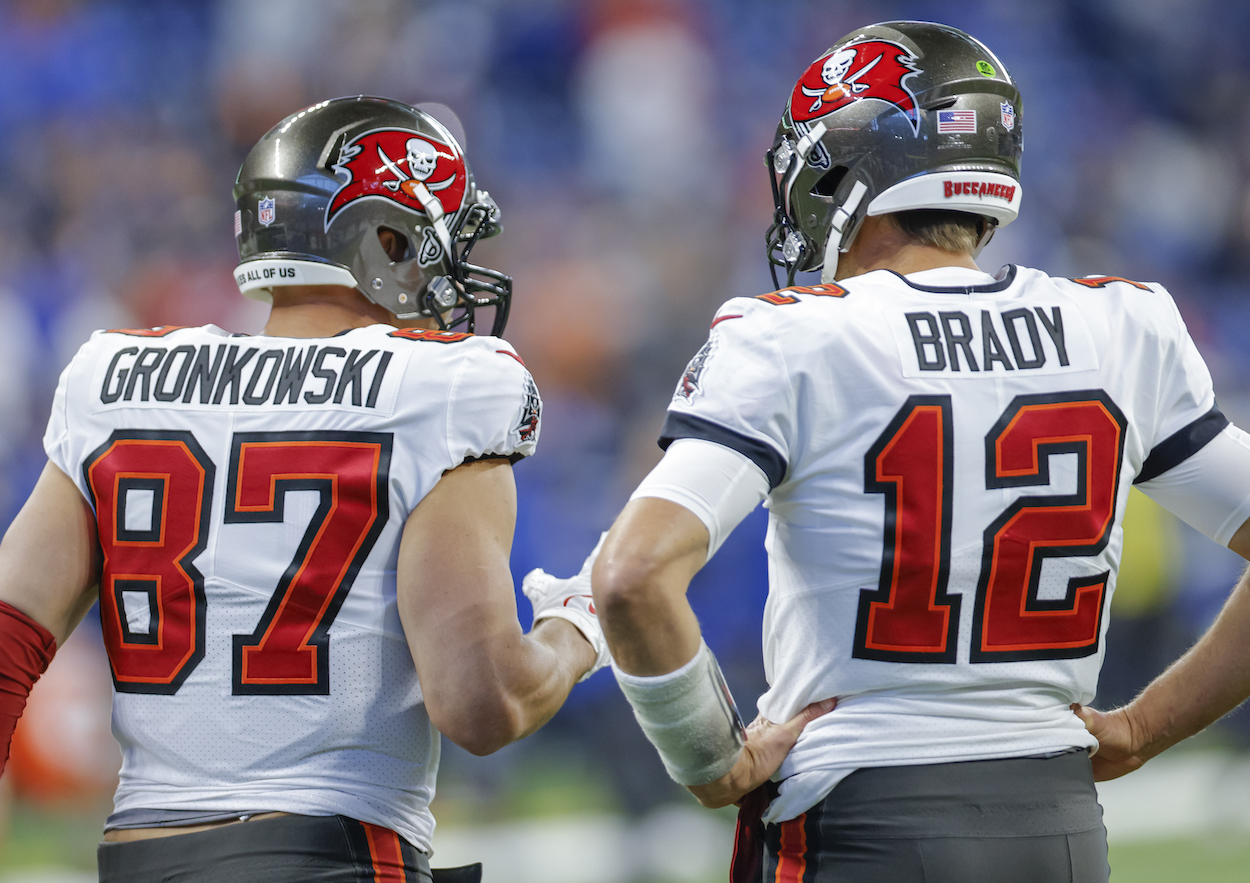 When Brady first joined the Buccaneers, rumors of him recruiting Gronkowski to join him ran rampant. To the surprise of absolutely nobody, the iconic tight end made his way down to Florida after pushing his way out of New England.
The two found themselves once again joint at the hip and promptly won a Super Bowl a few months later.
However, moving forward, it's worth questioning just how much longer Brady can keep his favorite pass-catcher in the league. At just 32 years old, Gronk's body is failing him faster than he would like. He battled constant injuries through his final few years in New England and has only played six games here in 2021.
Gronkowski clearly prioritizes playing with Brady over everything else. However, his retirement has been looming overhead for a few years now.
The Bucs need to keep their star TE healthy for the postseason
Gronkowski is coming off his best game of the season thus far, hauling in 7 catches for 123 yards against the Indianapolis Colts in Week 12. However, keeping him healthy should remain the top priority for Tampa Bay.
He suffered a punctured lung and multiple cracked ribs back in Week 3. That's obviously not something he wants to re-aggravate moving forward.
The regular season is important. However, keeping Brady's favorite target healthy and upright by the time playoffs roll around is far more important. One can only assume Brady will lean on that mind-reading ability during crucial third and fourth-downs during the postseason.
All stats courtesy of Pro Football Reference.