Rob Gronkowski's Girlfriend Is a Former Patriots Cheerleader and 'Sports Illustrated' Swimsuit Model
Rob Gronkowski, often referred to simply as "Gronk," is pretty popular in the NFL, even beyond his playing ability on the field. These days, the former New England Patriots tight end is playing for the Tampa Bay Buccaneers in a return-from-retirement move to join his pal Tom Brady. Through the years, Gronkowski has become somewhat of a heartthrob for many fans, creating a flirty reputation for being a ladies' man. (Reports say even the media reps aren't immune to his charming ways.) But, despite his "I'm Too Sexy" persona, Rob Gronkowski is off the market — in fact, his girlfriend is a former Patriots cheerleader who also had success as a Sports Illustrated swimsuit cover model.
Who is Rob Gronkowski's girlfriend, anyway?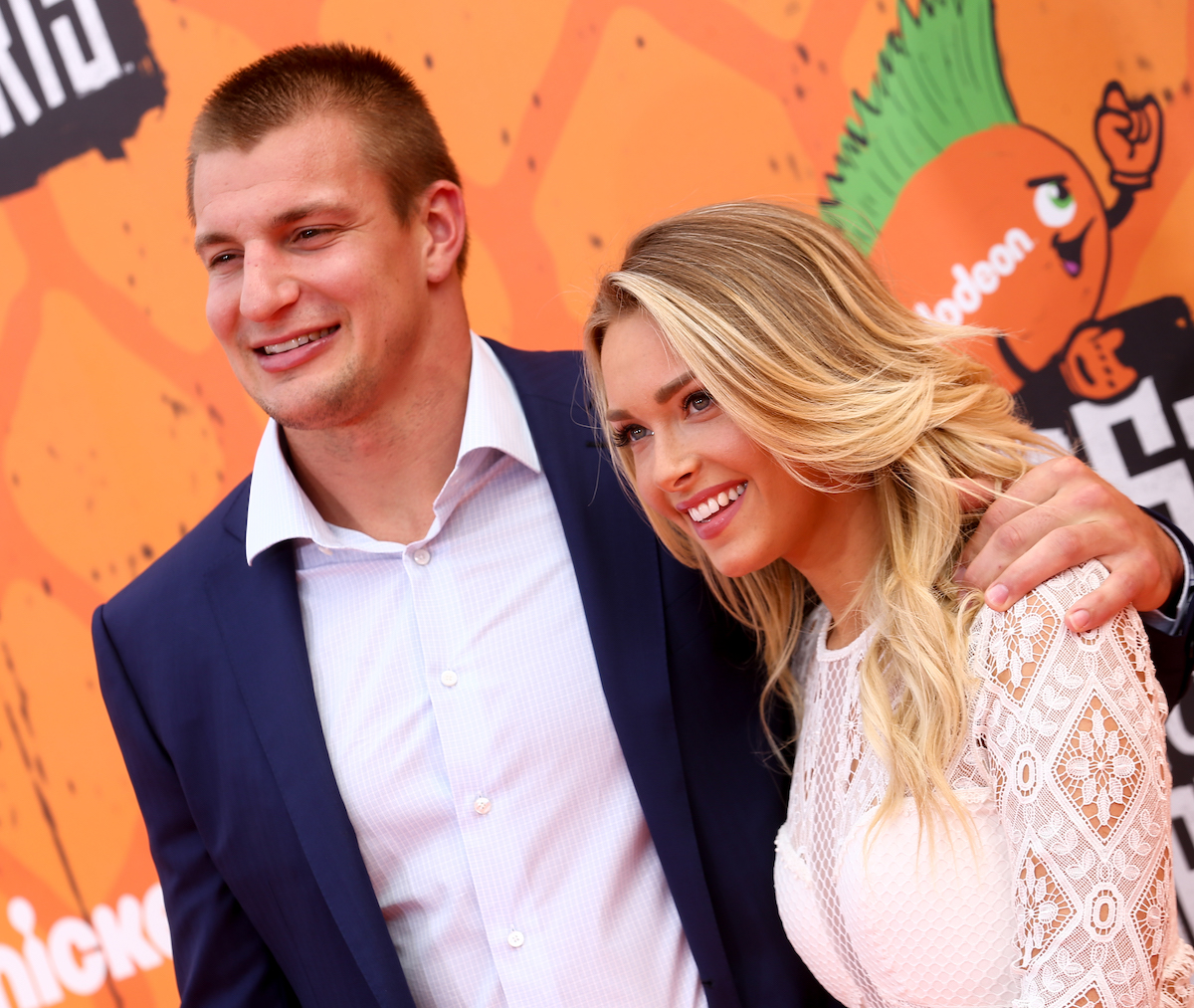 Rob Gronkowski may be a dreamy reason to watch football, but his heart belongs to his longtime girlfriend, Camille Kostek. Together, the couple is practically royalty to New Englanders. And they're pretty adorable.
Kostek actually joined the New England Patriots back in 2013 as a team cheerleader. She made the cover of the Sports Illustrated Swimsuit Calendar a year later and also dabbled in a pretty successful modeling career since. You might recall seeing her in the Ryan Reynolds movie Free Guy as the arm candy of Channing Tatum in a few scenes.
There's more to Kostek, though, including her degree in communications from Eastern Connecticut State University. She's demonstrated some pretty business savvy decision-making, too, with lucrative modeling work with the likes of Victoria Secret, L'Oréal, and Nissan. Players Bio says she's worth roughly $3.4 million, proving she is all beauty and brains.
How did Gronkowski meet Kostek?
You might assume that since both Gronkowski and Kostek spent time with the New England Patriots at the same time, that they connected as a couple back then. But the dynamic duo didn't actually get together until much later. It's probably best, too, since the NFL is pretty strict about fraternizing between players and cheerleaders.
In an onscreen interview with Kelly Ripa and Ryan Seacrest, the couple shared how they first met and connected at a Thanksgiving charity event in 2013. They spent time stuffing dinner baskets for those less fortunate — and they've been adorably in love ever since.
Rob Gronkowski and Camille Kostek are still smitten today
Rob Gronkowski and Camille Kostek still appear to be smitten with each other, and they aren't afraid to display their love publicly. And as People points out, the social media affections alone demonstrate just how head-over-heels they still are for each other. Kostek posted on Instagram about her surprise bouquet of flowers, saying, "thanks, mi amor." And Gronkowski posted sweet sentiments for Valentine's Day, calling Kostek "one of the hardest workers I know" and "always caring." It's pretty clear; the two are still very much into each other and defying the celebrity couple odds all these years later.
There are no immediate indications that marriage and family are on the horizon. But the couple did hint to maybe tying the knot once Gronk officially retires from the NFL. Of course, it doesn't make much of a difference to most fans, who think they're the dream-team NFL couple every relationship should strive to imitate.
RELATED: How Old Is Rob Gronkowski and Did He Get Engaged to Camille Kostek?