Rob Gronkowski Gives Tom Brady a Glowing Endorsement to Win NFL MVP: 'Every Year, Baby'
The Tampa Bay Buccaneers haven't had the easiest road on their quest to repeat as Super Bowl champions. However, they're still one of the strongest contenders in the NFC. The ageless wonder, Tom Brady, is still playing at a high level. Rob Gronkowski feels that people often take TB12's greatness for granted, though. The Pro Bowl tight end argues Brady should be a shoo-in for NFL MVP.
Rob Gronkowski backs Tom Brady for NFL MVP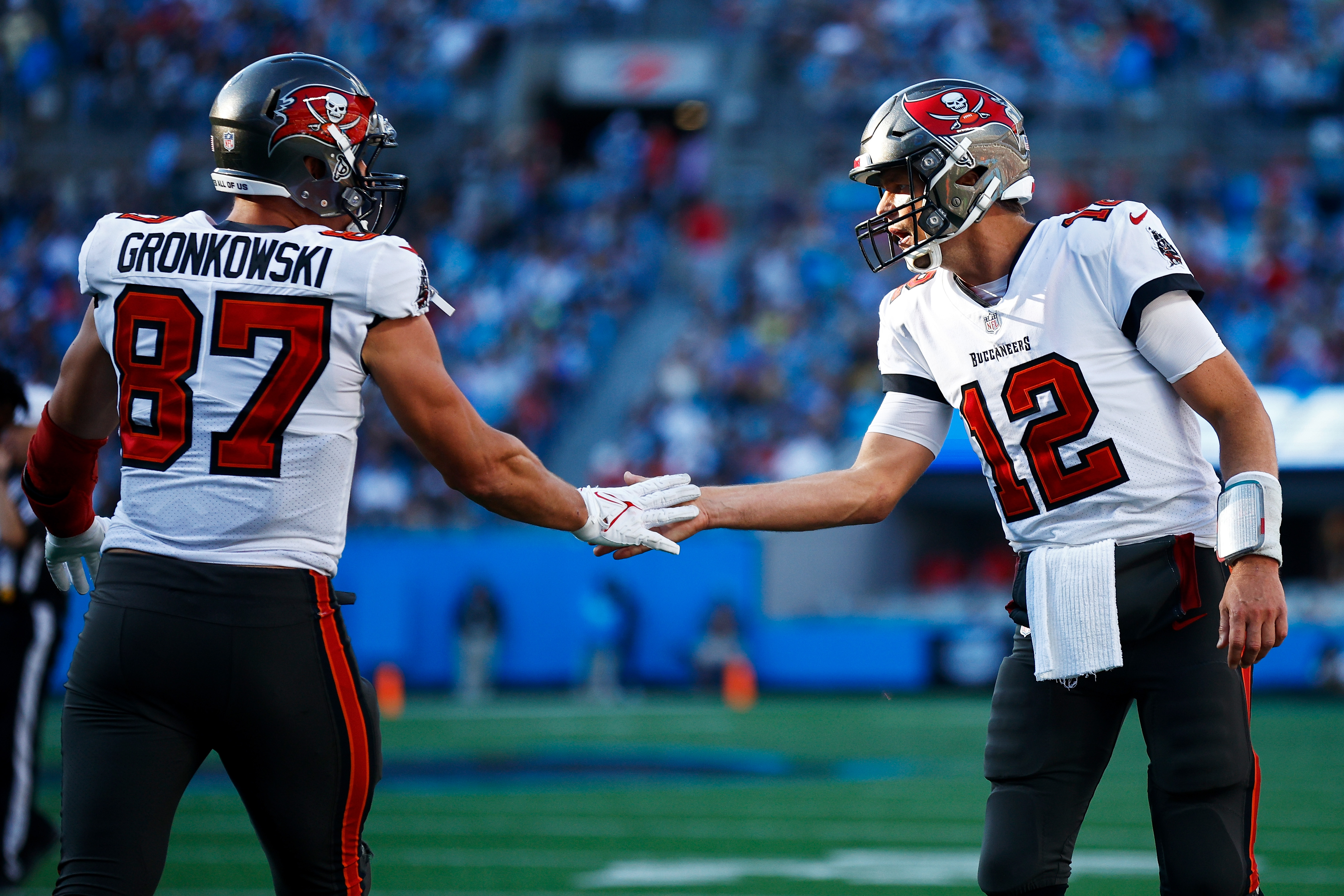 Rob Gronkowski is in his 11th NFL season, and he's never played without Tom Brady as his quarterback. He witnesses firsthand how dominant the seven-time Super Bowl champion can be when firing on all cylinders.
The Tampa Bay Buccaneers' signal-caller is 44 years old but hasn't shown signs of slowing down. With one game left in the regular season, Brady will have an opportunity to put his stamp on the NFL MVP race.
If you ask Gronk, the MVP conversation is a no-brainer.
"Tom's the MVP every year," said the 5-time Pro Bowler per Pro Football Talk. "The way that he adjusts on the fly to his personnel, just trying to get the ball into the best player's hands or the best matchup on that current play. He's just always ready to go no matter what the situation is. So he's MVP every year, baby."
Bruce Arians' squad is 12-4 heading into the final week of the regular season. Considering some of the injuries suffered on both sides of the ball, Tampa Bay is in a good spot going into the postseason.
The All-Pro tight end is just glad he gets to continue playing with arguably the greatest quarterback of all time.
"It's just cool to be part of history," he added. "It's unbelievable. It shows what his work ethic is, how dedicated he is to the game of football, and how talented he is. The determination, week in and week out, is just unbelievable. It's just surreal how he's pulling it off at age 44. Just an honor to be a part of."
Why the Buccaneers' QB could win the award
Father Time exists for everyone except Tom Brady. The Buccaneers superstar entered the NFL in 2000, and he's still going strong in 2022. Not to mention, he's still one of the best quarterbacks in the game.
Brady's longevity is something to marvel at, and Rob Gronkowski is right that he could be the MVP every year. TB12 has won three NFL MVP awards and could be closing in on a fourth.
The 15-time Pro Bowler has thrown for 4,990 yards, 40 touchdowns, and 12 interceptions through 16 games. He's completed 66.9% of his passes. Brady leads the league in completions, pass attempts, passing yards, and touchdowns. Those are insane numbers for someone who's played as long as him.
Brady has been consistent throughout the 2021 campaign. His only actual bad performance came against the New Orleans Saints. He threw for 214 yards, zero touchdowns, and one interception while completing 54.1% of his passes. The entire offense struggled that night, especially after Chris Godwin and Mike Evans went down with injuries.
The New Orleans game is more of an outlier than anything else. Tom Brady has been spectacular in 2021. It hasn't always been pretty, but he answers the bell more often than not.
The Buccaneers being in this position is a testament to TB12's greatness and leadership.
Why TB12 might not win MVP
Rob Gronkowski might not like it, but Tom Brady undoubtedly has some stiff competition to win NFL MVP for the 2021 season.
Aaron Rodgers appears to be the frontrunner at the moment. The Green Bay Packers' star quarterback has thrown for 3,977 yards, 35 touchdowns, and four interceptions while completing 68.6% of his passes. He boasts the highest percentage of touchdowns thrown when attempting to pass (6.8%) and the lowest percentage of times intercepted (0.8%).
The Packers are 13-3 and on track to lock up the No. 1 seed in the NFC for the NFL playoffs. It would be no surprise to see Rodgers take home the hardware.
The NFL is a quarterback-driven league, but you can't neglect to recognize what Jonathan Taylor has accomplished in 2021. The Indianapolis Colts Pro Bowl running back has rushed for 1,734 yards and 18 touchdowns. He's also caught 37 passes for 342 yards and another two scores.
Taylor leads the NFL in rush attempts, rushing yards, and touchdowns. The Colts have made an impressive second-half playoff push behind their dominant rushing attack.
The MVP race should be tighter than it seems on the surface. Rodgers could run away it. Taylor might deserve it but is highly unlikely to win.
However, Tom Brady deserves way more credit. It's irresponsible to ignore what he's doing in his 22nd NFL season.
All stats courtesy of Pro Football Reference