Rob Gronkowski Hasn't Spoken to Patriots Head Coach Bill Belichick in Over a Year
Rob Gronkowski was one of the greatest draft decisions ever made by New England Patriots head coach Bill Belichick. In nine seasons as a Patriot, the 2010 second-round pick rose to NFL stardom and played an important part in three Super Bowl teams. Since Gronkowski's retirement and un-retirement, the two have barely spoken to one another.
Rob Gronkowski and Bill Belichick have not kept in touch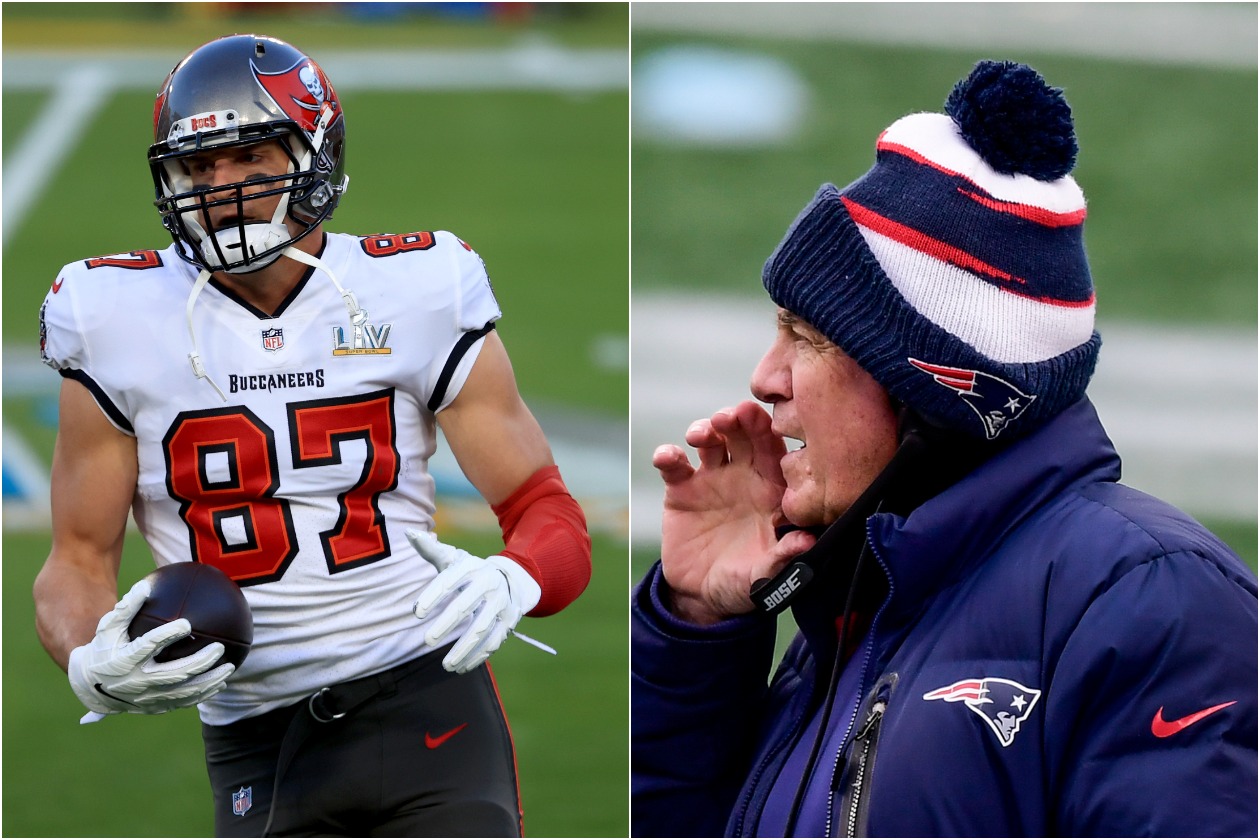 RELATED: Bill Belichick Just Sent a $146 Million Message That the New England Patriots Won't Tolerate Losing
It's been over a month now since Gronkowski won his fourth Super Bowl — this one as a member of the Tampa Bay Buccaneers. By contrast, Bill Belichick's first season in New England without Tom Brady wasn't quite as fruitful. The Patriots suffered their first losing season in two decades and missed the postseason entirely.
Gronkowski spent the previous season in a brief retirement, citing injuries and stress. He spent some of that time as an analyst for Fox Sports, all the while denying rumors that he was interested in coming back to the NFL.
This week, Gronkowski and his girlfriend, Camille Kostek, appeared on the 10 Questions with Kyle Brandt podcast. 33 minutes into the podcast, Brandt asked when Gronkowski last had any communication with Belichick.
"It's been a while for sure," said Gronkowski.
Gronkowski and Belichick last met at 'Gronk Beach'
RELATED: Bill Belichick and the Patriots Suffer Unexpected Retirement Blow
During the podcast, Gronkowski brought up only two specific instances of interaction with Belichick after leaving the Patriots. One came during his brief stint with Fox, where he slammed the Dallas Cowboys' performance following a rainy game against the Patriots.
"I made a comment about the Cowboys…that Jerry Jones needs to get the Cowboys in shape and get them on the right track 'cause they need to practice outside and not in a bubble," said Gronkowski.
Afterward, he received a text from Belichick. "And then [Belichick] hit me up. He texted me, he's like, 'That's true, Rob!'"
The only other interaction the two have had came shortly before Super Bowl 54 in Miami. On the Saturday before the game, Gronkowski held a wild Super Bowl party aptly named "Gronk Beach" — a full-on festival headlined by musicians such as Rick Ross and Flo Rida. For some reason, Bill Belichick saw fit to attend the event.
"That was super cool of him when Coach came to the Gronk Beach party," said Gronkowski. "All my friends, they were flipping out that he was there."
Belichick's Patriots could not take part in the game itself, as they had been eliminated in the wild-card round. It's not clear why Belichick was even in Miami in the first place.
Rob Gronkowski misses something about playing in New England
While Rob Gronkowski's first season in Tampa Bay was a roaring success, he still has a soft spot for Foxborough. Earlier in the podcast, Brandt asked Gronkowski what he missed about playing for the Patriots, and Gronk had a ready answer.
"The Patriots are just the Patriots. They're everywhere. It's a top organization not just in the NFL, but worldwide. And you can feel that energy." said Gronkowski. "The Tampa fans are great fans, but the fanbase is very minimal.
"With the Patriots, I'm talking…wherever you go in New England, it's like, 'Oh, man, what's goin' on with the Patriots? What's up, Gronk?' Like, I can go down in Tampa and go to a random barbershop and they don't know what's goin' on."