Rob Gronkowski Leaves the Door Open for a Potential Julian Edelman NFL Return: 'I Don't See Why He Wouldn't Be Back'
The speculation may never end. As soon as former New England Patriots wide receiver Julian Edelman announced he was retiring from football, many NFL fans began to wonder whether he was just trying to go to the Tampa Bay Buccaneers. Of course, going to Tampa would be somewhat of a reunion for Edelman, as his longtime quarterback Tom Brady is there, as well as his former teammate, tight end Rob Gronkowski. Edelman, though, has reassured fans he is, in fact, retired.
Or is he?
Gronkowski recently discussed the receiver's retirement, and he left the door open for Edelman to possibly return.
Julian Edelman's retirement led to reunion speculation
After seeing Gronkowski unretire in 2020 and follow Tom Brady from the Patriots to the Tampa Bay Buccaneers, fans started speculating whether Edelman could do the same after announcing his retirement.
Check that; everyone started speculating — even Brady.
"We know Julian didn't retire, let's be honest," Brady said while appearing on the NFL's Draft-A-Thon. "He's just too scared to tell Bill [Belichick] he wanted to come to Tampa."
However, in reply to a tweet from former Indianapolis Colts punter Pat McAfee, Edelman posted: "Ain't going any where Bubs #foxboroforever."
Rob Gronkowski left room open for the receiver to potentially return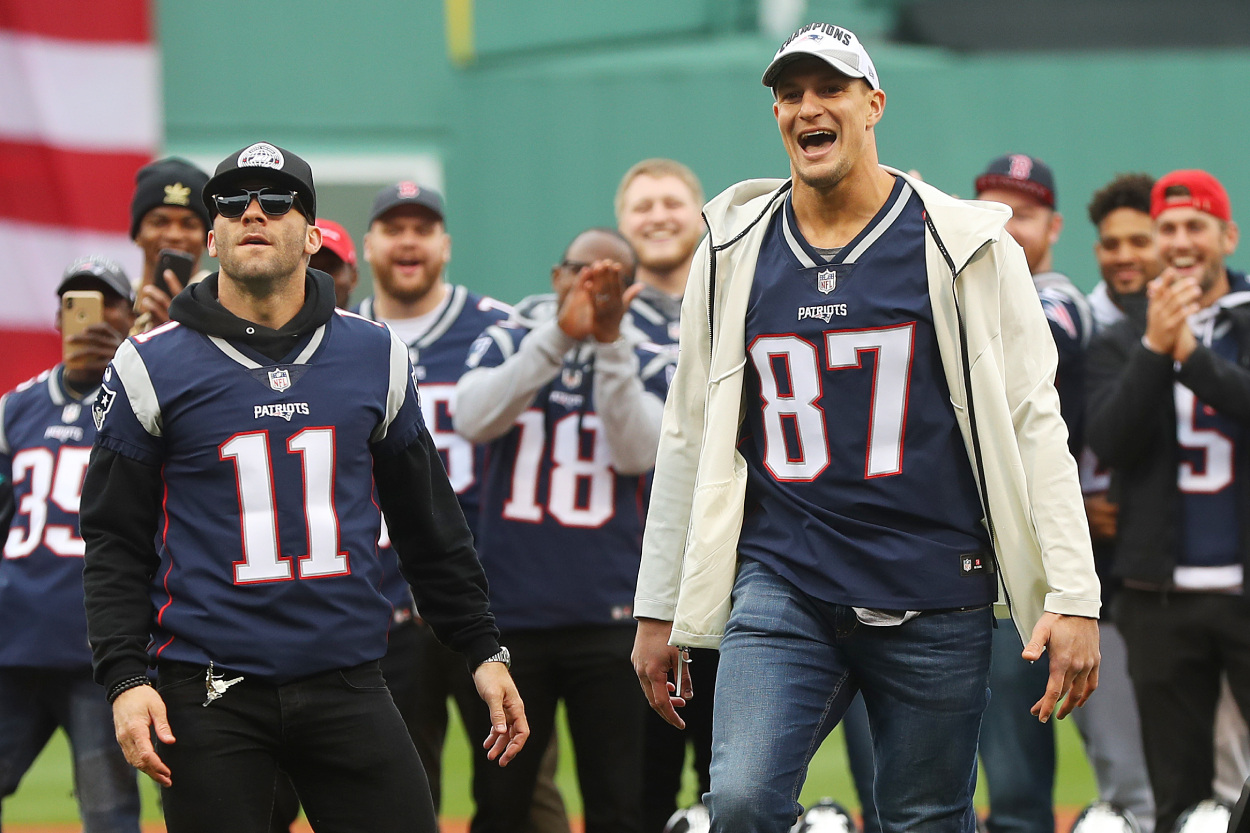 OK, so it appears Edelman isn't looking to go to the Buccaneers, but according to his former teammate, he may change his mind about playing at some point.
"I'm hoping he heals up; I want the best for him," Gronkowski said on the May 5 episode of Mike Greenberg's podcast #Greeny after Edelman only appeared in six games in 2020. "I've been in that situation before. I believe, if Julian truly heals up … and he fully heals and feels good, I think he'll be back. I don't see why he wouldn't be back eventually in the future. Maybe a year or two away. Let me tell you; he's just a competitor. I say if he heals up 100%, feels good, I think he'll be back in the NFL."
Will it be with the Buccaneers? Gronkowski wouldn't commit to his former teammate coming to Tampa.
"I don't know what team; I don't know where," Gronkowski added. "… I don't know where. I can't predict the future right now. We've got this year, I don't think he'll play this year, but after that he'll be back."
No, that wasn't a guarantee that Edelman will reunite with Gronkowski and Brady on the Buccaneers, but it left the door open.
Whether Edelman goes to Tampa or not, though, he, Gronkowski, and Brady are Patriots legends.
Julian Edelman, Rob Gronkowski, and Tom Brady are Patriots legends
Brady, Edelman, and Gronkowski were a part of one of the most dominant dynasties in the history of sports with the Patriots.
Brady became the NFL GOAT, winning six of his seven Super Bowl titles there and playing in the big game three other times. He also won three league MVPs with the Patriots and four Super Bowl MVP awards.
Gronkowski, on the other hand, developed into one of the greatest tight ends to ever play. He earned Pro Bowl honors five times in New England and was a first-team All-Pro four times. Gronkowski also led the NFL in touchdown catches in 2011 and won three of his four Super Bowl titles with the Pats.
This was all while Edelman became an extremely successful slot receiver for Brady and New England, gaining over 1,000 receiving yards in a season three times and winning three Super Bowls. Edelman was also the Super Bowl 53 MVP, as he caught 10 passes for 141 yards in a 13-3 win over the LA Rams.
Would a Brady-Gronkowski-Edelman reunion in Tampa be cool? Absolutely. But no matter what happens, those three are already three of the greatest Patriots of all time.
Stats courtesy of Pro Football Reference