Rob Gronkowski Narrowly Wins the Title of GOAT Tight End, According to ESPN Survey
Rob Gronkowski is a well-known and well-liked tight end who retired recently with four Super Bowl rings and many more accolades to his name. While it's clear Gronk is a great player who's helped his teams win big games, it's not clear exactly what his legacy will be. That said, in a recent survey, Rob Gronkowski was voted the GOAT tight end, and here's a look at why. 
How ESPN's GOAT survey calculated its results
As ESPN reports, the idea behind the GOAT survey was relatively simple. ESPN rounded up 50 experts and asked them who they thought the best players were by position. After the votes were added up, the player with the most votes by position was crowned the GOAT. Then the experts explained their choices. 
Most of the experts are analysts employed by ESPN, but the media company also asked reporters for several teams to weigh in. For example, Matt Bowen and Field Yates are both NFL analysts who work for ESPN. Jenna Laine is an ESPN reporter for the Buccs, and Kevin Seifert is an ESPN reporter for the Vikings.
When all 50 experts weighed in, Gronk was voted as the GOAT tight end, but just barely.
Why Rob Gronkowski is the GOAT tight end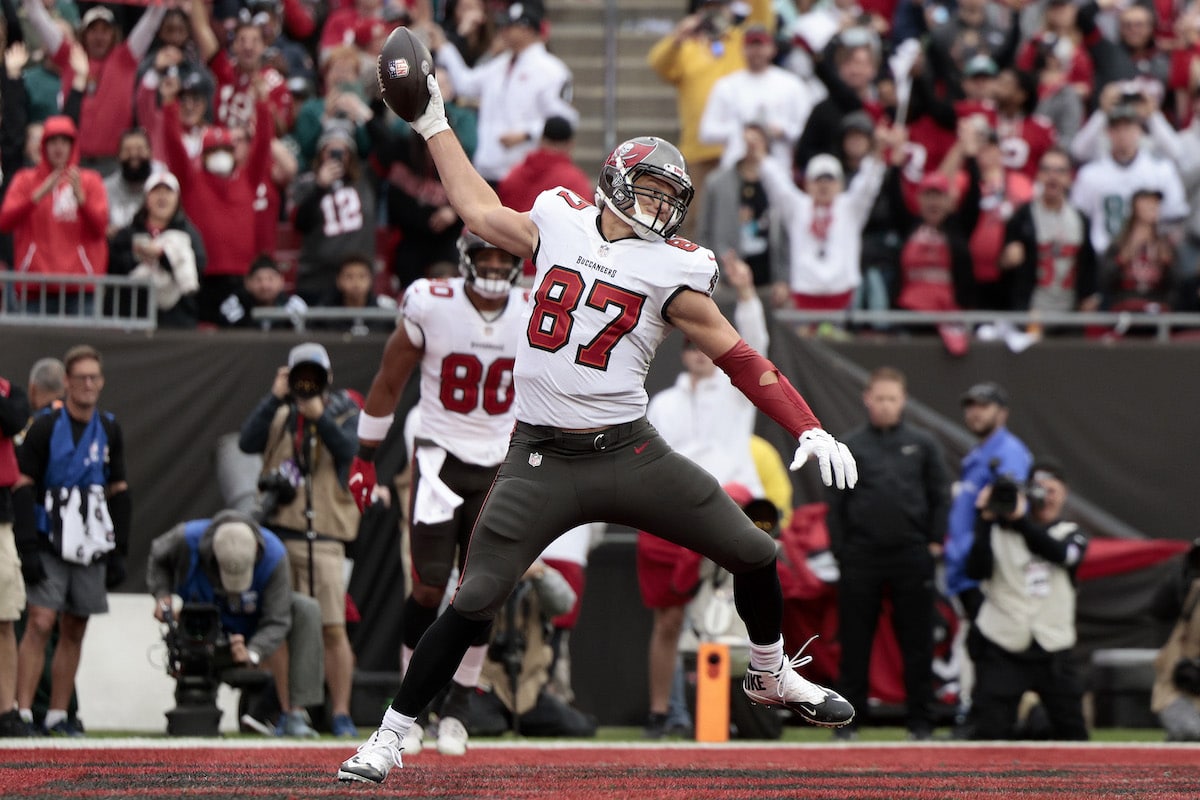 Of the 50 experts, 23, or 46%, said that Gronk is the GOAT tight end. Furthermore, the runner-up in the race was very close to beating Gronk. Tony Gonzalez got 21 votes, just two votes shy of what Gronk got. The reason why Gronk and Gonzalez were the only two major GOAT candidates is simple, and that comes down to the job of the tight end.
Great tight ends need to block well and catch passes, and those are areas that Gronk did well in compared to others. On top of that, GOATs need to be clutch during critical moments, which describes Gronk well. The former Patriot tight end has 1,163 receiving yards during playoffs, and that's the most yards any tight end has gotten during playoffs. His size and strength were also big factors in his success, as few could stop him.
That said, Gonzalez has a compelling case too, even though he never won a Super Bowl. Despite never having that coveted ring, Gonzalez's stats are impressive, especially because he had a 17-year career. Kellen Winslow was in third place with two votes, and the experts say that his physical traits and his abilities helped transform the position.
These are the GOATs for other positions
It should be no surprise that the GOAT quarterback was Tom Brady, and it wasn't close as he got 88% of the vote. Jim Brown earned 46% of the vote and was named the GOAT running back. Despite retiring at 29 in 1965, Brown still holds some NFL records to this day. For wide receivers, Jerry Rice won 90% of the vote. Rice's strength came from the fact that he could play at such a high level for so long throughout his career.
Anthony Munoz was voted GOAT offensive tackle with 54% of experts choosing him. Munoz was on multiple NFL anniversary teams, and his offensive skills were unmatched on the field. Larry Allen was voted GOAT offensive guard with 42% of the vote. On top of his elite stats, he also famously benched 705 pounds. 
Lastly, with 30% of the vote, Mike Webster was narrowly voted GOAT center. As ESPN reports, Webster is "the only offensive lineman in NFL history with four Super Bowl rings."
Stats courtesy of Pro-Football-Reference.
RELATED: Rob Gronkowski Is Typically on the Same Page as Tom Brady, but He Strongly Disagrees With TB12's Latest Claim