With Rob Gronkowski Out, the Buccaneers Need His Forgotten Teammate to Step up on 'Thursday Night Football' and Beyond
Tampa Bay Buccaneers (4-1) tight end Rob Gronkowski will be out for the third straight game with a rib injury. While not the fountain of youth like his immortal teammate Tom Brady, Gronkowski has been a big part of the Tampa Bay offense because of his connection to the aforementioned quarterback.
Not having him on the field is a big deal.
As is life in the NFL, Gronkowski's absence will provide another opportunity for 2017 first-round pick O.J. Howard to step up. It's next-man-up time in Tampa Bay, but is Howard ready to fill the shoes of the future Hall of Fame tight end?
He'll have another chance to give that a try on Thursday Night Football on the road against the Philadelphia Eagles (2-3).
Tom Brady has always thrived because of strong tight end play
The beauty of Tampa's offense is that Brady has no shortage of weapons. Mike Evans and Chris Godwin are arguably the best one-two punch in football at wide receiver. The ever-controversial Antonio Brown has also found a big role in the offense and is starting to show the superstar talent that made him a household name for the Pittsburgh Steelers before his off-field incidents did.
Still, anybody who knows anything about Brady as a quarterback knows that he's at his best when he has a reliable tight end to help him keep things moving. Gronkowski has always been a major target for Brady in the red zone, whether in Tampa or with the New England Patriots, and few players are better at going up and making a play on the football.
Earlier this season, Brady and Gronk connected on their 100th passing touchdown, which goes to show you just how important the big tight end has been to Brady's success.
Where has O.J. Howard been?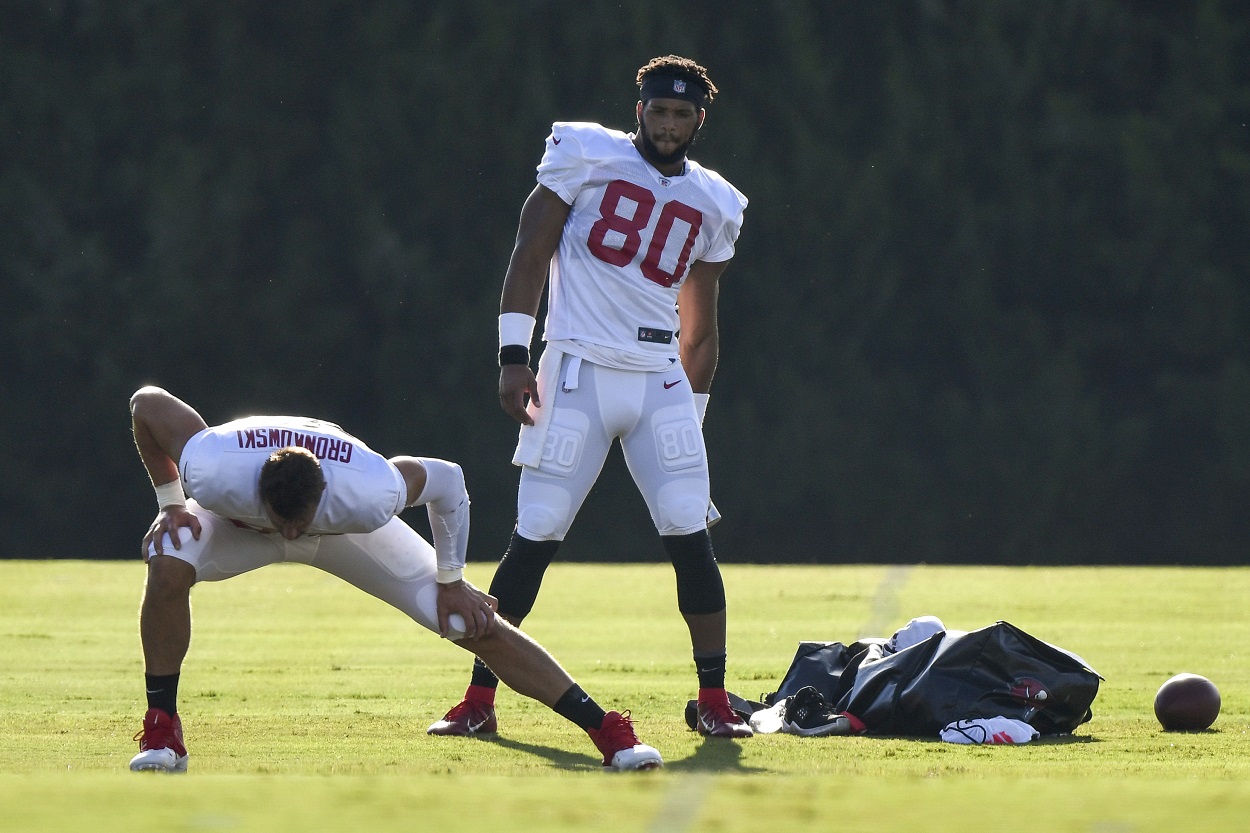 Gronkowski, age 32, was a major piece of the Buccaneers' Super Bowl run in 2020, catching 45 passes for 623 yards and seven touchdowns during the regular season. Two more touchdowns came in Tampa's resounding Super Bowl win over the Kansas City Chiefs.
Gronk seemed poised to continue his late-career dominance after another full offseason in head coach Bruce Arians' system, and the numbers through three games in 2021 reflected that. He was arguably Brady's most consistent target before getting hurt, catching 16 passes for 184 yards and four touchdowns.
Howard, on the other hand, has basically been invisible in 2021. He has only four catches this season, and he hasn't found the end zone.
That has been about par for the course for the former Alabama tight end, though.
His first impressions in the NFL looked strong enough. He notched 997 yards and 11 touchdowns in his first two seasons with the Bucs. His touchdowns dipped to just one in 2019, though, and the Buccaneers' Super Bowl season saw him spend all but four games on the bench because of an Achilles injury.
In fact, injuries have been a notable problem for Howard, and that's perhaps why he's become the invisible man for Tampa. Even before the Achilles injury, he missed 10 games because of foot, ankle, and hamstring injures.
Howard does have the talent to re-emerge for Tampa Bay
The kicker for Howard is that he has flashed incredible talent as a pro. The Buccaneers drafted him in the first round, after all, and there was a reason for that. At 6-foot-6, 251 pounds, he's an intimidating presence between the hashes for smaller defenders in the secondary. He's also more than fast enough to run away from linebackers and safeties trying to cover him over the middle.
There's also some evidence that he can step up for Tampa. He was off to a strong start before his Achilles injury in 2020, catching 11 passes for 146 yards and two scores. He also finally saw some targets last week in Tampa Bay's 45-17 win over the Miami Dolphins (1-4). Brady targeted him three times, and Howard came away with two catches for 19 yards.
If that's the start of some momentum for Howard, Brady and the Buccaneers will be the direct beneficiary. We all know what Tom Terrific can do with strong tight end play, and against an Eagles defense that features some legitimate playmakers, Howard can be a big asset.
Tampa Bay's next few weeks also feature some strong pass-rushers in Khalil Mack (Chicago Bears), Cameron Jordan (New Orleans Saints), and Chase Young (Washington Football Team).
The best way to neutralize a pass rush is to utilize the quick-passing game and make hay with tight ends over the middle. The opportunity for Howard is there, even when Gronkowski returns. He just needs to capitalize and remember what makes him so special as a potential game-changing tight end.
Stats courtesy of Pro Football Reference
RELATED: Ravens' QB Lamar Jackson's Passion Prompted Him To Accomplish Something So Great That Absolutely No One Can Criticize Him For