Rob Gronkowski Is Pushing Tom Brady for a Deserving New Nickname after a Life of Being 'Gronk'
Article Highlights:
Tampa Bay Buccaneers tight end Rob Gronkowski wants Tom Brady to call him 'One-Sixth'
Brady has thrown 102 total touchdowns to his longtime tight end as of Nov. 5, 2021
Gronkowski is more than deserving of the new moniker
Some professional athletes have fun and creative nicknames. Tampa Bay Buccaneers tight end Rob Gronkowski, AKA "Gronk," does not fall into that group.
Gronkowski's simple moniker looks lame compared to Milwaukee Bucks star Giannis "The Greek Freak" Antetokounmpo or New York Jets quarterback Mike F-ing White. Perhaps that's why the four-time Super Bowl champion is pushing close friend and Buccaneers teammate Tom Brady to start calling him by a new name.
Rob Gronkowski is pushing Tom Brady to call him 'One-Sixth'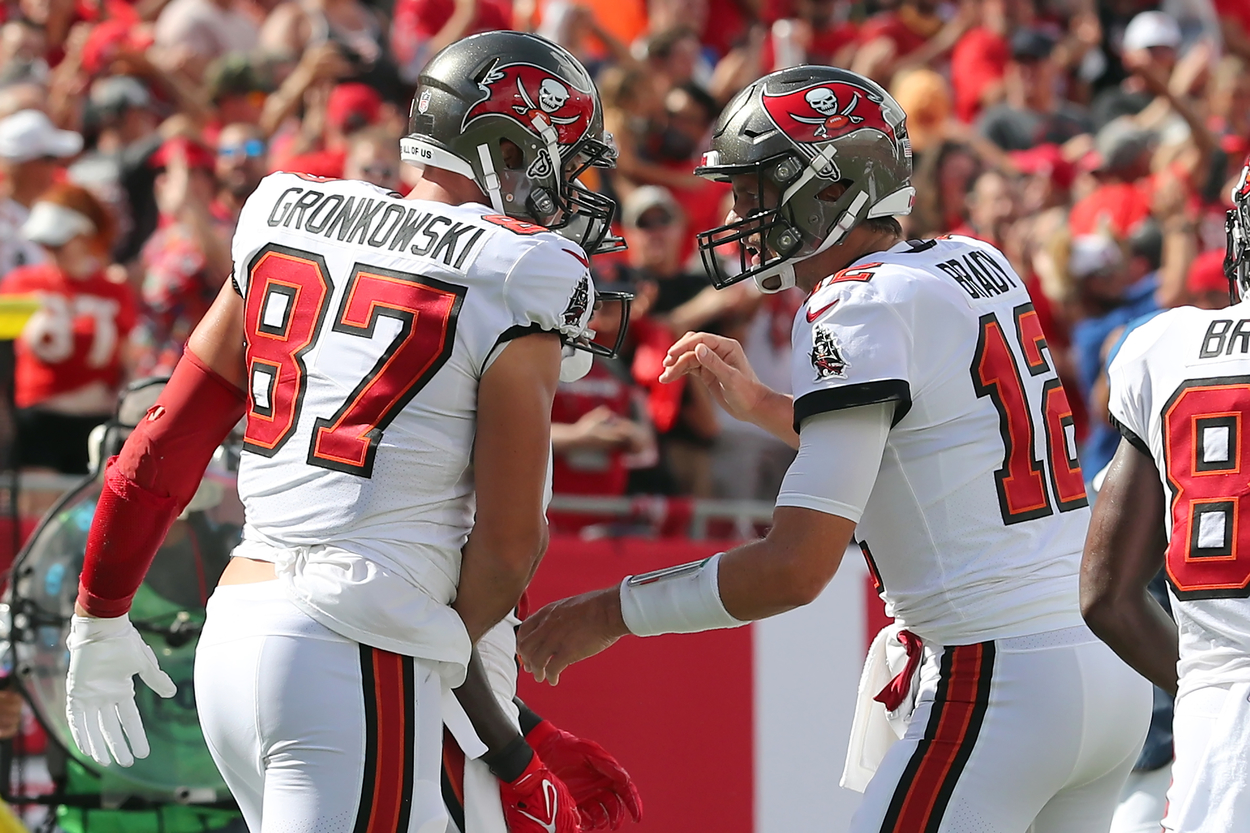 Nicknames in sports, especially baseball and football, are lazy in 2021. New York Yankees manager Aaron Boone often adds a "y" to players' names, turning outfielder Aaron Judge into "Judgey" and closer Aroldis Chapman into "Chappy."
We all need to learn from Gronkowski, who is at least trying to get creative. According to NBC Sports, the veteran tight end wants Brady to call him "One-Sixth" going forward.
No, the potential new nickname doesn't refer to Gronkowski switching from No. 87 to No. 16. Although, one-sixth of 87 would actually be 14.5, which rounds up to 15.
Gronkowski suggested the new nickname because he's caught 102 of Brady's 689 career total passing touchdowns. As of Nov. 5, 2021, the legendary duo has teamed up for 88 regular-season scores and another 14 in the playoffs.
'Gronk' is more than deserving of the new nickname
Of all the nicknames sports fans might have expected to hear in 2021, "One-Sixth" likely wouldn't have been among them. Then again, Mike F-ing White was the talk of the NFL before suffering a forearm injury against the Indianapolis Colts, so anything is possible.
Brady is widely considered the greatest quarterback in NFL history, and Gronkowski is among the top tight ends ever to take the gridiron. Why not celebrate the latter's greatness by bestowing the new nickname, one which celebrates the fact he's responsible for so many touchdowns and memorable moments?
There are only two problems, though. First, Gronkowski isn't quite in one-sixth territory; that'd be if he had at least 115 of Brady's 689 scores. The other issue is, barring a significant injury, Brady is likely to keep playing beyond whenever his longtime teammate retires for the second time.
You know what? We're willing to go with One-Sixth anyway. As fitting and straightforward as "Gronk" is, it's time for a fresh coat of paint.
There's plenty of notable faces on the list of players who caught a touchdown from Brady
As of Nov. 5, 2021, Brady has thrown a touchdown to 89 players across 22 seasons in the NFL. Gronkowski and his 102 total scores lead the pack by a large margin. Longtime Patriots receiver Julian Edelman (41), Pro Football Hall of Famer Randy Moss (40), and perennial Pro Bowler Wes Welker (38) are the only others with above 30 touchdowns.
Mike Evans (23) and Chris Godwin (12) haven't had too many issues finding the end zone since partnering with Brady in 2020. The same goes for Anthonio Brown, who has hauled in 11 touchdowns from the three-time NFL MVP since the start of the 2019 season.
There are plenty of other fun names on the list, including Super Bowl 39 MVP Deion Branch, who ranks fifth with 28 total touchdowns. Chris Hogan, the former college lacrosse standout, caught 15 touchdowns.
Even longtime Patriots linebacker and current Tennessee Titans head coach Mike Vrabel got in on the fun. Vrabel hauled in 12 total goal-line touchdowns during his Patriots career.
No one is in Gronkowski's territory, though, and that alone warrants a new nickname. Besides, the One-Sixth Spike definitely rolls off the tongue.
Like Sportscasting on Facebook. Follow us on Twitter @sportscasting19.
RELATED: When and How Did Jets Legend Joe Namath Earn His 'Broadway Joe' Nickname?