Here's Why Rob Gronkowski Refuses to Play Football Without Tom Brady
Everyone loves a good bromance, especially when it's two celebrities — or professional athletes (it's probably safe to consider both of these players celebrities, though). Rob Gronkowski recently said he couldn't go anywhere, meaning play for any other team, if Tom Brady wasn't his quarterback. These two have been on the field together for years, and Gronkowski greatly admires everything Brady has grown to be — and vice versa.
Gronkowski and Brady have played together since Gronkowski joined the Patriots in 2010. Through eight seasons, the tight end has had Brady by his side, and the two have formed a bond that extends far beyond teammates.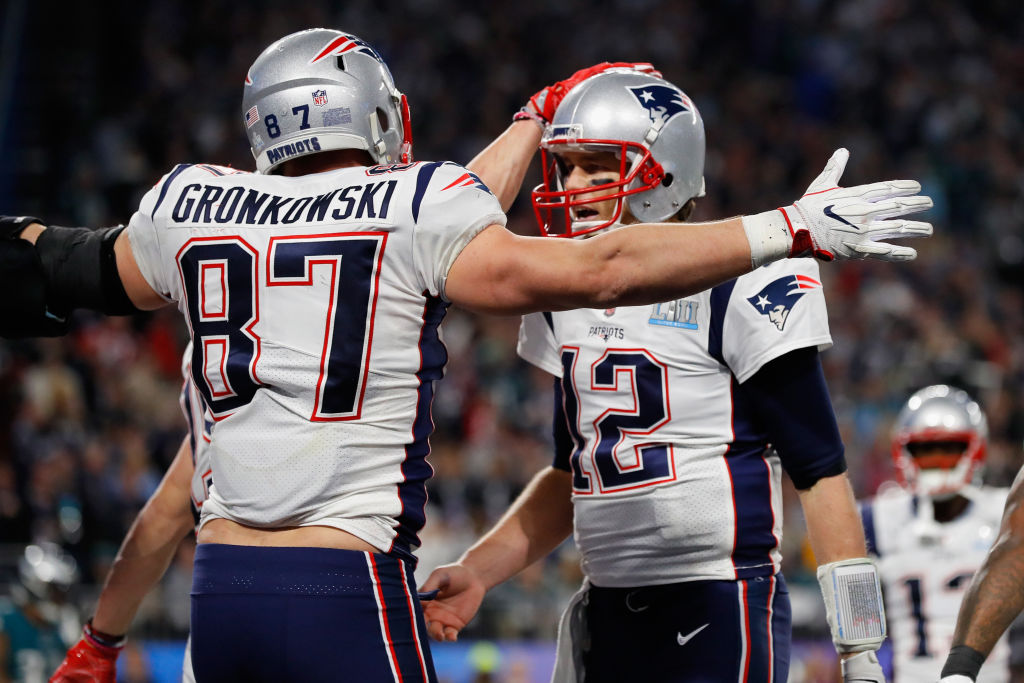 Before the 2018 season, Gronkowski was in talks to be traded to Detroit
During the off season, there was a chance Gronkowski would be traded to Detroit. But the tight end said he'd rather retire than play for a different team — and he meant it. Gronkowski reportedly ignored Detroit's calls in order to avoid any kind of deal. It was thought to be out of spite for relations between both team's organizations, but Gronkowski has since said that he refuses to play with anyone but Brady.
Trade talks come up frequently between teams and players but don't always pan out. However, the supposed talks between the Patriots and Tigers about Gronk had gotten pretty deep, according to SB Nation. But Gronkowski was able to secure a position with his favorite team and remain close to the quarterback that has been by his side for eight years.
Gronkowski nixed the idea of a trade — at least in part to stay with Brady, whom he admires
Although there may have been a few factors at play that made Gronkowski want to stay with the Patriots, his relationship with Brady definitely played a role. Gronkowski has outwardly admired Brady through the years and has defended him on several occasions. Specifically, any time Brady has a rough game, Gronkowski puts it on himself and his teammates to do better. And when the discussion of his trade to Detroit came up in a recent interview, Gronkowski wasn't shy about explaining part of his reasoning.
"Brady's my quarterback. That's all," he said. "Wasn't going anywhere without Brady."
Any player worth retiring for must mean there is one hell of a friendship between the two. Gronkowski admires Brady too much — the Brady helped Gronkowski establish himself as an awesome tight end — and as a result, he won't go anywhere without him.
'That speaks to our relationship,' Brady said about Gronkowski's reaction to the trade possibility
Brady wasn't shy about showing love back to his favorite teammate. Gronkowski's willingness to retire or refusal to play with another team speaks volumes on the impact each of them have had on the other.
"I feel as strongly about him as he does about me," Brady said in an interview with radio hosts Kirk & Callahan on WEEI. "I love the guy. He's had a big impact on my career, personally and professionally, and I'm very lucky to play with him."
Gronkowski and Brady have been a tag team for years, and Bill Belichick, the Patriots head coach, knows it.
"They're both really good," Belichick said after the Patriots' season opener. "Rob's hard to cover, and Tom can put the ball where only Rob can get it, and Rob can get a lot of those. I'm glad we have them. They're both great players."