Rob Gronkowski Revealed That Partying Is What Makes Him Good at Football
Rob Gronkowski is coming out of retirement. That feels good to say. Gronkowski was one of the greatest tight ends of all-time while playing with the New England Patriots. Now, after one year in retirement, Gronkowski is reuniting with quarterback Tom Brady on the Tampa Bay Buccaneers. Gronkowski will certainly be one of the top tight ends yet again and he once revealed what makes him so good.
Rob Gronkowski had a great career for the New England Patriots
After being drafted in the second round of the 2010 NFL draft by the Patriots, Rob Gronkowski had success whenever he was on the field. In his rookie season alone he had 10 touchdown catches.
Then during his second season in 2011, Gronkowski proved he was one of the best tight ends in the league. He caught 90 passes that year for 1,327 yards and had a league-leading 17 touchdown catches. Gronkowski earned his first Pro Bowl selection that season and was a first-team All-Pro.
Not including his rookie season, Gronkowski went on to gain 1,000 or more receiving yards every season he played 14 games or more. He ultimately won three Super Bowls with the Patriots. He also went to five Pro Bowls and was first-team All-Pro four times. Gronkowski ultimately caught 521 passes and had 7,861 receiving yards to go with 79 touchdown catches for the Patriots.
However, in March 2019, Gronkowski announced his retirement. He said that he had to look ahead past football, according to CBS Sports.
Joining Tom Brady on the Tampa Bay Buccaneers
After 20 seasons with the New England Patriots, Tom Brady is on a new team as he signed with the Tampa Bay Buccaneers this offseason. Brady won six Super Bowls with the Patriots, went to nine of them, and played in 13 AFC Championship Games. He is also a 14-time Pro Bowl selection, a three-time first-team All-Pro selection, and a three-time NFL MVP.
On Tuesday, Ian Rapoport of NFL.com reported that Gronkowski told the Patriots that he is interested in playing football again. However, he wanted to do it with Brady on the Buccaneers. If Gronkowski came back, though, he would still be under contract with the Patriots, so he would only be able to play on the Buccaneers if he was traded.
Shortly after that report, ESPN's Adam Schefter reported that the Patriots are sending Gronkowski and a seventh-round NFL draft pick to the Buccaneers for a fourth-round draft pick.
So, Gronkowski is now joining Brady's stellar receiving core. In addition to Gronkowski, the Buccaneers also have Mike Evans and Chris Godwin at wide receiver. That is in addition to having tight ends Cameron Brate and O.J. Howard. So, in other words, the Buccaneers are loaded.
Gronkowski revealed what makes him so good at football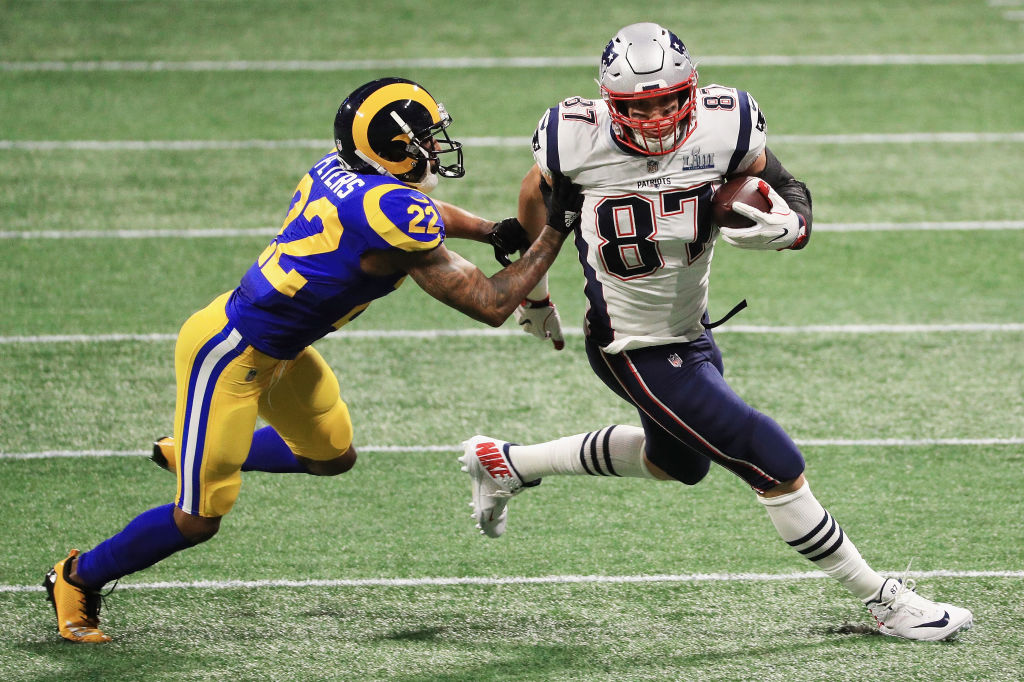 In 2015, Rob Gronkowski revealed what makes him a better football player on CBS This Morning. What makes Gronkowski so good, in addition to practicing, of course, is partying.
"It makes you get that itch to go back out. You go out and get refreshed, and it just makes you want to go back out on that practice field and keep going hard," Gronkowski said, according to CBS News. "When you get that itch, when you're working for like 20 days in a row, you're out on the practice field just grinding, you want to go out once and awhile."

Rob Gronkowski
So, with Gronkowski not playing in a football game since Super Bowl LII on Feb. 3, 2019, he is going to need to put in a lot of work to get better. That means Tampa Bay better watch out, especially once social distancing restrictions are lifted, because Gronkowski is going to need to party a lot. Who knows, Tampa Bay might be partying along with him in February 2021.