Rob Gronkowski Reveals He's Adamantly Chasing Hall of Famer Tony Gonzalez for His Place in the History Books: 'I'm Coming for It'
Rob Gronkowski has put together a solid Hall of Fame resume for his contributions to the tight end position. Even with all of his accomplishments, the Tampa Bay Buccaneers star won't be satisfied until he gets in the NFL record books again. He has his eyes set on one of Hall of Famer Tony Gonzalez's most elusive records.
Tony Gonzalez enjoyed a Hall of Fame NFL career
When discussing the greatest tight ends of all time, you have to mention the great Tony Gonzalez.
Gonzalez entered the NFL after an impressive career at California. The No. 13 overall pick in the 1997 NFL Draft, he was a highly sought-after prospect. However, he exceeded even those expectations.
Gonzalez played 17 seasons in the NFL between the Kansas City Chiefs and Atlanta Falcons. The Torrance, California native helped transcend the tight end position. A former basketball player, he brought a different type of athleticism to the football field.
Gonzalez finished his career with 1,325 receptions, 15,127 receiving yards, and 111 touchdowns. Standing 6-foot-5 and 247 pounds, he was a matchup nightmare for opposing defenses.
The first-rounder earned 14 Pro Bowl and six All-Pro selections. The Pro Football Hall of Fame inducted Tony Gonzalez into its illustrious club in 2019.
Rob Gronkowski wants to break an elusive record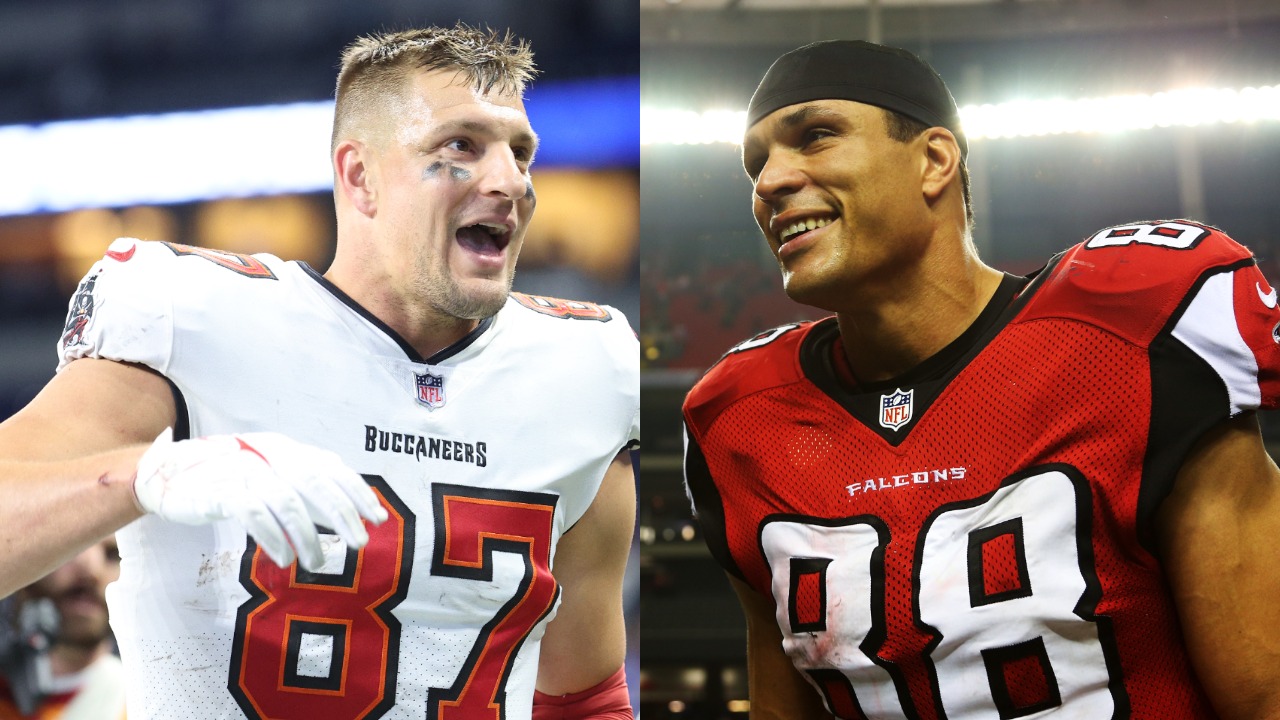 Tony Gonzalez makes a solid case as the best ever to play the tight end position. Rob Gronkowski wants to be that guy when it's all said and done, though.
Gronkowski knows that he still has some work to do to make things abundantly clear. The Buccaneers tight end has the perfect opportunity in front of him to get one up on Gonzalez.
The Arizona product recently admitted that he's actively chasing one of Gonzalez's records.
Gonzalez currently holds the record for the most 100-yard receiving games by a tight end (31). Gronk has eclipsed the 100-yard mark 30 times in his career, and he wants to pass the legend in that category.
"Let me tell you, I'm trying to break that record," Gronkowski said per NFL.com. "I mean, why wouldn't I try to break that record? I'm coming for it. Tony, I'm coming for it. Basically, you got every record, so I'm coming for this one, and it's a pretty cool one, too, for sure. It just shows that I guess you're a baller and Tony's a baller."
Rob Gronkowski most recently tallied 123 yards on seven receptions against the Indianapolis Colts in Week 12. Considering how he's looked as of late, the 32-year-old has a legitimate chance to pass Gonzalez.
The Buccaneers tight end is headed to Canton someday
Rob Gronkowski didn't enter the NFL with lofty expectations like Tony Gonzalez. The New England Patriots selected him with the No. 42 overall pick in the second round 2010 NFL Draft. He just so happened to land in the perfect situation.
Gronkowski played nine seasons under Bill Belichick in New England. He initially was one half of the most electric tight end tandem in NFL history, alongside Aaron Hernandez.
Similar to Gonzalez, Gronk has been a matchup problem throughout his career. The 6-6, 265-pounder built unrivaled chemistry on the field with Tom Brady. The game has never seen a quarterback-tight end duo more dominant.
The Amherst, New York native was a 5-time Pro Bowler and 4-time First Team All-Pro selection with the Patriots. He also had a strong hand in three Super Bowls in New England.
Gronkowski retired in 2019, but his hiatus was short-lived, thanks to Brady. The Buccaneers quarterback convinced his favorite tight end to come out of retirement and join him in Tampa Bay.
Brady and Gronk have made magic together. The All-Pro tight end has recorded 595 receptions for 8,862 yards and 90 touchdowns in just 137 career games. He and TB12 set the playoff record for most touchdowns by a quarterback-tight end tandem in league history.
While you can credit Brady's greatness for much of his success, Gronk's also had a tremendous impact on his quarterback's career.
Whether he passes Tony Gonzalez or not, Rob Gronkowski is already a surefire Hall of Famer.
All stats courtesy of Pro Football Reference