Rob Gronkowski Is Typically on the Same Page as Tom Brady, but He Strongly Disagrees With TB12's Latest Claim
For years on the New England Patriots and now Tampa Bay Buccaneers, Rob Gronkowski and Tom Brady have almost always been on the same page. They have become one of the most successful duos in NFL history. However, Gronkowski recently revealed that he doesn't entirely agree with a comment Brady recently made.
TB12 ultimately said he would trade in two Super Bowls for the 2007 season with the Patriots when they nearly went undefeated but lost to the Giants in Super Bowl 42. Gronk wasn't on that 2007 team, but he said he's not trading in any Super Bowls for an undefeated season.
Rob Gronkowski and Tom Brady have had a ton of success together
Tom Brady had already won three Super Bowls by the time the New England Patriots selected Rob Gronkowski in the second round of the 2010 NFL draft. However, Gronkowski has since helped him have even more success.
In his second season in 2011, Gronk not only proved to be one of the best tight ends in the NFL by gaining 1,327 receiving yards and an NFL-leading 17 touchdown catches, but he also helped lead the Pats to the Super Bowl. The Patriots lost in the game that year but ultimately went to the Super Bowl five times in the seasons Gronkowski and Brady played in New England together. This included three straight trips from 2016 through 2018.
Overall, Gronkowski won three Super Bowls on the Patriots and caught 521 passes to go with 7,861 receiving yards, and 79 touchdown catches.
Once Brady left the team that he won six Super Bowls with in 2020, though, Gronkowski ended his one-year retirement and joined him on the Buccaneers. The two ultimately won yet another Super Bowl this past season and set the NFL record for most playoff touchdowns by a quarterback and a pass-catcher.
Gronk disagreed with TB12's recent claim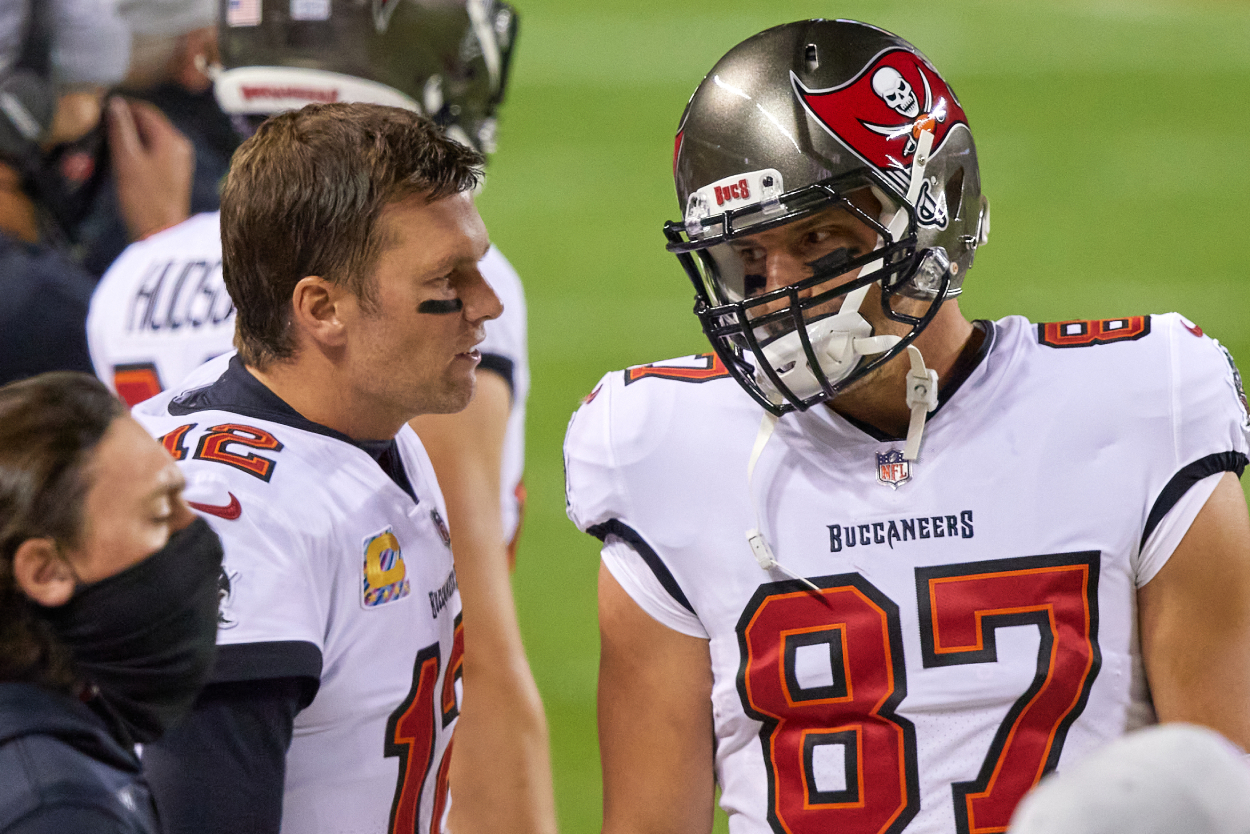 Brady has appeared in 10 Super Bowls, winning seven and losing three. The most shocking outcome, though, was during the 2007 season when the Patriots went 16-0 in the regular season and started 18-0 overall before losing to the New York Giants in the Super Bowl.
Brady recently received a question on if he would trade two of his seven Super Bowl rings for going undefeated during the 2007 season.
"I would, let's be real," Brady said, per ESPN.
However, his tight end disagrees with that notion. Gronkowski wasn't on that 2007 team, but he's not trading in any of his Super Bowl rings for an undefeated season.
"I wouldn't want to trade in any because I think there's a chance, you know, in my life to be on a team like that," Gronkowski said on the May 5 episode of Mike Greenberg's #Greeny podcast, per NBC Sports. "So, I don't feel like I have to trade in any Super Bowl rings."
He continued: "I see in the future I have a chance, you know, to be on a team like that, so I ain't trading any rings. I've just got to keep going for it."
So, Gronkowski doesn't want to trade in any rings because he thinks he may be on an undefeated team in the future. But since he was just retired in 2019, does this mean he believes the Buccaneers can potentially go undefeated in an upcoming season?
Can the Buccaneers go undefeated in 2021?
It's pretty hard to go undefeated in the NFL, but since Brady has almost done it before, can he and the Buccaneers do it in 2021?
What they have on their side is that they are returning all 22 of their starters from the Super Bowl-winning team. They are also bringing back Antonio Brown, and they signed another running back who should help in the passing game in Giovani Bernard.
Their schedule, though, could make running the table difficult. The Buccaneers, luckily, don't play anyone like the Chiefs, but they play the AFC's runner-up in the Buffalo Bills. They also play a couple of up-and-coming teams like the Indianapolis Colts and Miami Dolphins, in addition to having to face four NFC playoff teams in the Saints (twice), Washington Football Team, LA Rams, and Chicago Bears.
However, Washington and the Bears aren't world-beaters by any stretch of the imagination, and the Saints no longer have Drew Brees, so that should help significantly. But NFL teams also play one extra regular-season game now (17 instead of 16), and that alone decreases their odds.
The Tampa Bay Buccaneers have a great chance at being an excellent team in 2021, but some of the teams — and the number of games — they play, as well as the fact that Tom Brady will be 44 years old, all make the odds of them going 20-0 pretty unlikely.
Stats courtesy of Pro Football Reference