Rob Manfred Has an Uncomfortable Situation Ahead With Sport Facing Billion-Dollar Losses
Rob Manfred may finally see his sport return in the coming weeks. Major League Baseball's commissioner is "hopeful" the sport will return this summer and play in front of no fans.
If or when baseball returns, it may be without some of the sport's top players. Rob Manfred and Major League Baseball need to be prepared in that case.
The possible answer, in that solution, creates a potentially uncomfortable situation for Manfred and baseball.
Rob Manfred believes baseball faces major consquences if there is no season
Rob Manfred recently appeared on CNN and provided details about how the league would operate in 2020. Manfred said the lab that normally does baseball's minor league drug testing will now focus on COVID-19 testing.
Players will be tested multiple times per week, according to Manfred, and the league has a quarantine situation ready.
Although Rob Manfred believes baseball will help "heal" the country, he also has a financial incentive to play this year. Manfred told CNN the sport and the owners face up to $4 billion in losses if the season is canceled.
Rob Manfred, owners need to accept the possibility that high-profile players will sit out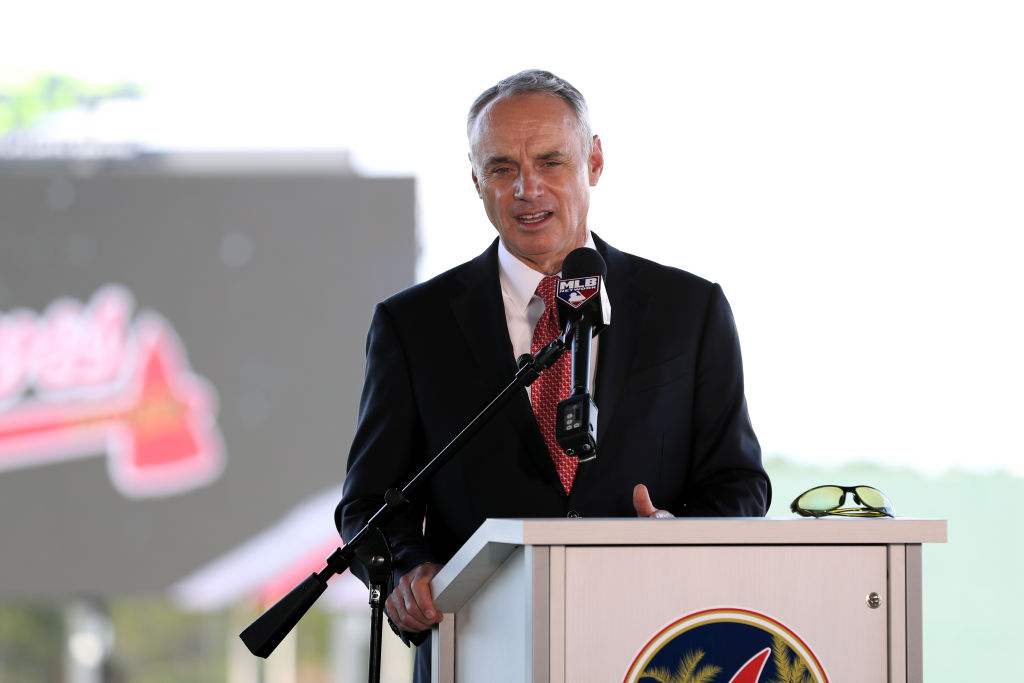 Multiple MLB players have openly said they are open to sitting the season out for various reasons. Phillies pitcher Zack Wheeler doesn't want to be away from his wife when she gives birth this summer.
Tampa Bay Rays ace Blake Snell said he refuses to play if he has to take a pay cut from the $7 million he is owed.
Others, such as Washington's Sean Doolittle, have expressed health and safety concerns.
Manfred and the owners need to be prepared if high-profile and high-earning MLB players refuse to play this year over safety and/or financial issues.
As uncomfortable as it sounds, the solution would be players who, in essence, would be replacement players. They wouldn't officially be "scabs," but they'd take the roster spots of other players who are voluntarily sitting out.
Baseball hasn't seen replacement players enter the mix since the 1994-95 labor strike. But if players hold out if or when the season begins, teams will have to strongly consider playing those who are inexperienced at the big league level but want to play.
Officially, these replacement players wouldn't be "scabs" because they're not crossing a picket line. The current collective bargaining agreement runs through 2021.
It is not unrealistic to think media members, fans, and even other players could consider those new players as "scabs." It would be an incorrect and, quite frankly, unfair term.
How would the replacement players work?
The 'replacement players' wouldn't need to be random players picked off the street. Teams could promote their top prospects or players already in the system.
Minor league players are grossly underpaid. Any pitcher in the Rays system should jump at the idea of earning major league money to replace Blake Snell this summer.
According to NBC Sports, players who crossed the picket line in 1995 were given $5,000 in guaranteed money to participate in spring training.
Those players earned another $5,000 if they made the Opening Day roster.
The MLB rookie minimum is $563,500. It is not yet known how that will be impacted this season and going forward.
Enough baseball fans root for the teams and the uniform, not the players wearing them. That is especially true now when people will do anything to see live sports.
The New York Yankees' broadcast ratings won't take a giant hit if Estevan Florial is playing the outfield instead of Aaron Judge. The Yankees are still the Yankees.
The NFL played regular-season games with "scabs" during its 1987 strike. That was amid a labor war, though. The coronavirus pandemic is uncharted waters.
Baseball could be back soon, whether it's Blake Snell or Shane Baz on the mound in Tampa Bay. Fans need to prepare for some new and different faces this season.