Rob Manfred Hints at Rule Changes MLB Fans Might Actually Be Happy About
The boos rained down on MLB Commissioner Rob Manfred as he presented Toronto Blue Jays slugger Vladimir Guerrero Jr. with the MVP trophy following the American League's triumph in Tuesday's All-Star Game at Coors Field in Denver. Is it possible those boos could somehow turn to cheers?
Manfred has become a polarizing figure in the sport. Agents like Scott Boras have questioned his capacity in terms of "legislating the game." Players such as Cincinnati Reds All-Star Nick Castellanos have taken potshots at him. Additionally, pitchers and personnel around the sport have questioned MLB's handling of the use of foreign substances.
Numerous persons seem to have grievances with Manfred. That said, the commissioner hinted at some rule changes that might draw positive responses from baseball fans.
Rob Manfred is consistently thinking of ways to change baseball
Manfred has been somewhat gung-ho about finding ways to make the sport more interesting.
The minor leagues have been something of an experimental level for a number of these rule changes. Anthony Castrovince of MLB.com noted in May these include limiting shifts and pickoff attempts, bigger bases, and even robot umpires at some levels.
Another subtle change MLB has considered is moving the mound back. This became a rampant topic of discussion, with strikeouts way up and the leaguewide batting average plummeting to an all-time low early in the season. Tyler Kepner of the New York Times discussed the Atlantic League moving the mound back by a foot.
Foreign substance checks had been in the offing for some time, but the midseason crackdown appeared to come as an abrupt interruption for many hurlers in the game.
Two of the previous rule changes — seven-inning doubleheaders and beginning extra innings with a runner on second base — have also been somewhat controversial. However, those rules might not survive past 2021.
MLB could do away with the extra-innings rule and seven-inning doubleheaders
Manfred said Tuesday he envisions a return to normalcy of sorts when MLB returns in 2022.
The commissioner explained that modified doubleheaders and the extra-inning rule were devised mostly due to the COVID-19 pandemic.
"When we adopted seven-inning doubleheaders for this year, we didn't know the country was going to look like it does now," Manfred said via ESPN's Jesse Rogers. "We were scared it was going to look very, very different.
"It was a COVID-related change. I don't think that seven-inning doubleheaders are going to be part of our future going forward."
Both rules have had somewhat strange impacts on the sport. For example, Arizona Diamondbacks left-hander Madison Bumgarner threw a no-hitter against the Atlanta Braves during a doubleheader in April. Yet the record books will not recognize the achievement because it did not happen in a full nine-inning game.
Meanwhile, the Minnesota Twins and their lackluster bullpen were winless in their first eight extra-inning contests as they struggled to get outs in high leverage. The Atlanta Braves are another club with an uninspiring group of relievers, and they have also struggled in extras, going 2-6 on the season.
Some might argue these rule changes help speed up the pace of games, though there isn't much evidence to back that notion. Rather, they have merely been departures from the tradition of the sport.
What is next for Manfred and MLB?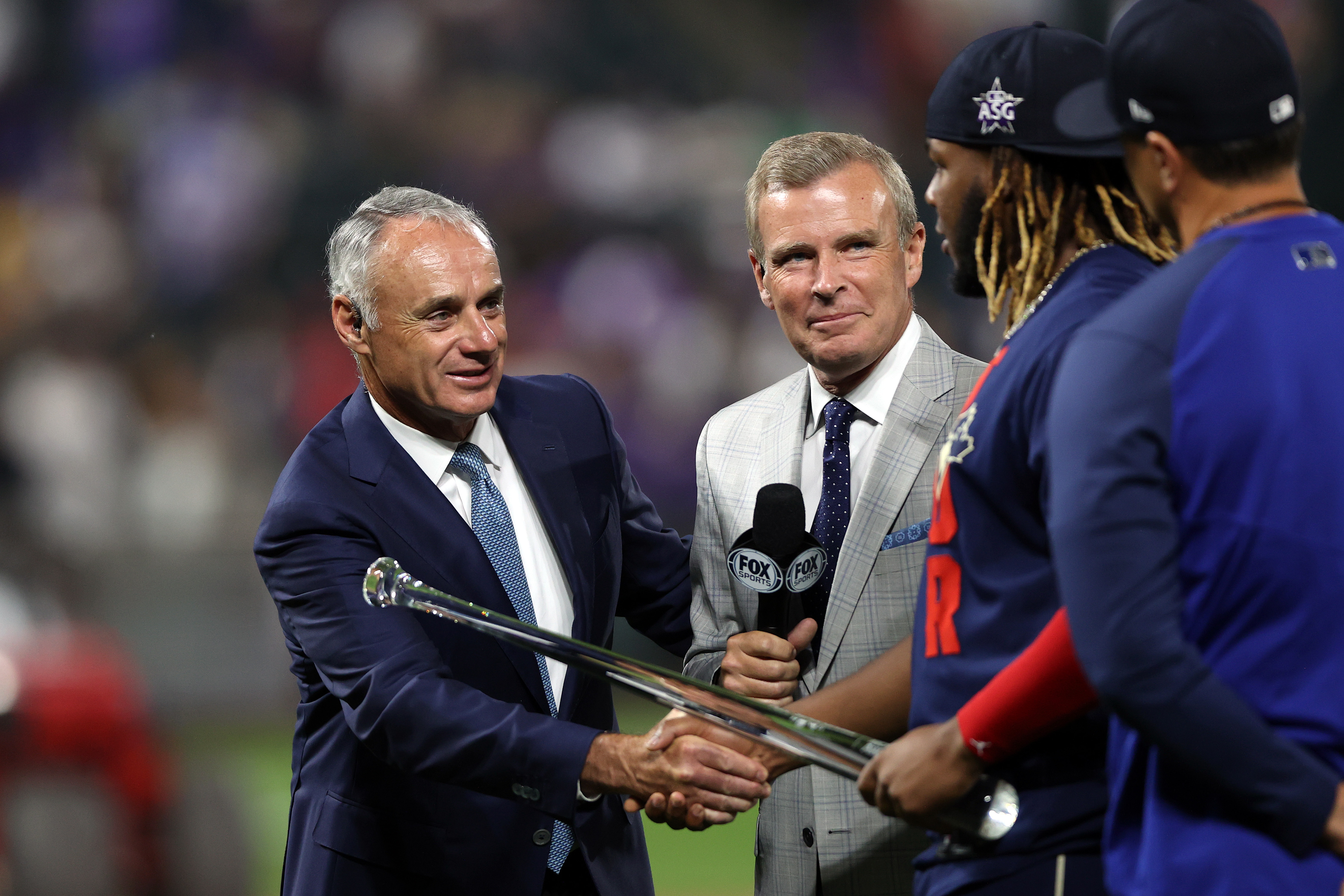 First off, baseball fans should hope there is a "next."
The current collective bargaining agreement (CBA) is set to expire at the end of the 2021 season. Given the contentious nature of last year's negotiations between MLB and MLBPA, as well as all the moving and shaking this year, a lockout is not out of the realm of possibility. Still, Manfred feels the two sides will eventually reach an accord.
"We have a very professional working relationship with the MLBPA," Manfred said via Rogers. "More generally, this whole relationship thing gets overplayed and misinterpreted.
"The fact that you have a period of time, which we admittedly had last spring, where we had serious disagreements which became public, I don't think is an indicator of whether you're going to get a new agreement."
Time will tell whether Manfred can guide the owners and MLBPA through the next negotiating period. There is also a potential relocation at hand for the Oakland Athletics.
For now, though, baseball fans might take solace in Manfred's assertion the sport will look at least slightly more traditional in 2022.
RELATED: Max Muncy Fans Getting Case of Deja Vu After Mind-Blowing Coincidence During MLB Draft