Rob Manfred Needs to Step up and Mandate MLB Players Return to the Field
Rob Manfred potentially spoke a 2020 season into existence. Now, Major League Baseball's commissioner needs to follow through and ensure a season actually happens.
The coronavirus pandemic and a labor war have created a de facto lockout in baseball. Manfred has the power to mandate MLB players return to the field and now is the perfect time to do so.
If Manfred doesn't step up and make the right call, baseball will never be the same.
The 2020 MLB season is in limbo
RELATED: Yankees Legend Miller Huggins Received His Law Degree — and Life Advice — From a Future U.S. President
Every day provides a new development into the ugly war between Major League Baseball and the sport's player's association.
Both have made several offers about a possible 2020 MLB season. The MLBPA's biggest goals, rightfully so, are making sure players are paid and healthy.
The owners, similarly, want to make money. But neither side has budged and made strides toward a compromise.
The minor league baseball season is expected to be canceled. Numerous teams have not yet committed to paying their minor leaguers through the rest of the year.
Players have also criticized the owners' refusal to open their books and show how much money they've lost. St. Louis Cardinals owner Bill DeWitt Jr. recently caused a social media stir when he said the sport isn't "profitable."
Forbes Magazine valued the Cardinals' worth at $2.1 billion in April 2019, which ranked seventh among MLB teams.
On the other hand, the players' outspokenness hasn't gone well with fans, either. Tampa Bay Rays ace Blake Snell, who was supposed to receive $7 million this season, earned universal criticism for saying he wouldn't play for a pay cut.
Rob Manfred hasn't handled the last few months well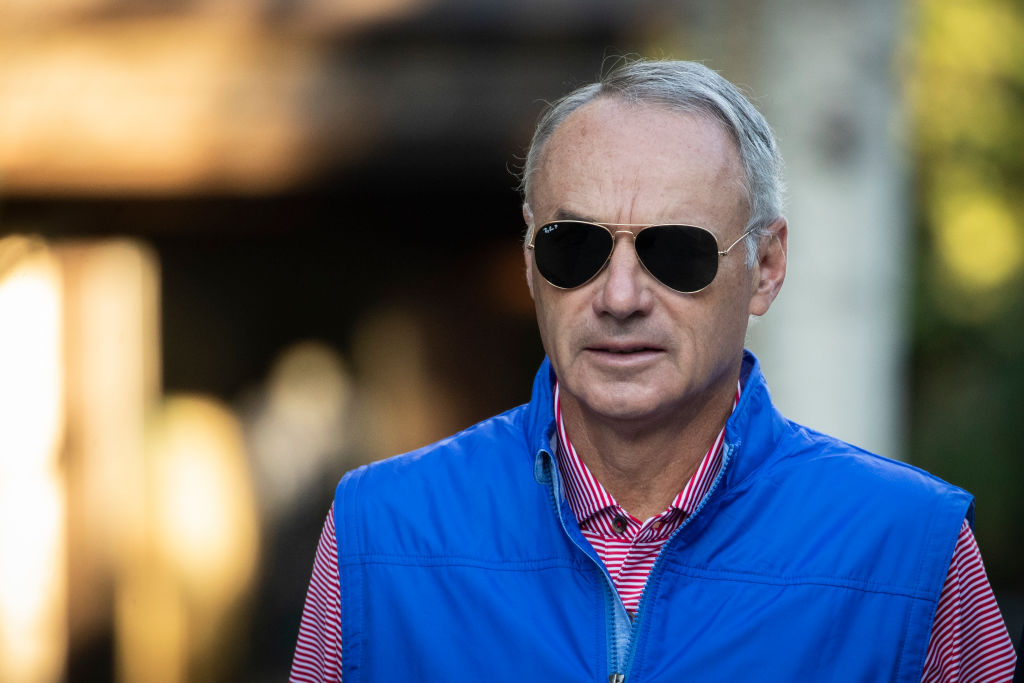 RELATED: Joey Votto Admits He Has Been Ignorant to Racism in Self-Written Newspaper Op-Ed
The players and owners each hold blame for why the 2020 MLB season remains in limbo. But commissioner Rob Manfred shouldn't get off scot-free, either.
Manfred has had a brutal 2020 so far. His punishments on the Astros and Red Sox in their respective cheating scandals were received as weak and meaningless.
Manfred didn't handle the early days of the coronavirus pandemic lockdown well, either. The NBA postponed its season on March 11, the same night Jazz big man Rudy Gobert tested positive for the virus.
Major League Baseball played its spring training games as scheduled the next day.
Add in the sport's continued treatment of minor leaguers and Rob Manfred has to be feeling his seat warm up. Then came baseball's lackluster responses to the death of George Floyd, a Minneapolis man, at the hands of police.
Major League Baseball took nine days to address the situation, according to the New York Times.
Manfred can save his legacy by mandating players return to the field
RELATED: Rob Manfred's Handling of Coronavirus Pandemic Will Cost Him His Title
Rob Manfred made it clear at the 2020 MLB draft: There will "100 percent" be a season this year.
The power, at this point, is in Manfred's hands. He can mandate players return to the field and start playing what would likely be a 50-game season with prorated pay.
Players have every right to be frustrated they won't receive their full salaries. There is no reason, in an ideal world, why Yankees ace Gerrit Cole should receive a salary under $10 million when he is supposed to make $36 million this year.
But this isn't an ideal world. The players and the owners have had months to work an agreement out and neither side has budged.
Now is the time for Rob Manfred to intervene. Players want to play and owners want games so they can make money.
Baseball cannot afford to miss the entire 2020 season. The sport is facing the strong possibility of not playing on July 4, a seemingly impossible thought.
A mandated 2020 MLB season won't fix the labor wars, not with the collective bargaining agreement expiring after next season. But an intervention is what baseball needs, and Rob Manfred is the only person who can make that happen.