Rob Manfred's Handling of Coronavirus Pandemic Will Cost Him His Title
Rob Manfred is entering a crucial point in his time as Major League Baseball's Commissioner. The 2020 MLB season is indefinitely delayed because of the coronavirus pandemic, and Manfred hasn't handled recent events well.
Although Rob Manfred isn't to blame for the coronavirus pandemic, here is why recent events — both before and after the sport shut down in March — could lead to Manfred's departure from the commissioner title.
Rob Manfred isn't baseball's most popular figure
The goal of a sports commissioner is to make sure the league is making money. The commissioner works for the owners, not the players or its fans. That is why David Stern and Roger Goodell, even in the NBA and NFL's respective dark times, remained in place as commissioner.
Before the coronavirus shutdown, Rob Manfred continued making baseball money. Although attendance is down across the sport, MLB saw a record $10.7 billion in revenues last season, according to Forbes.
MLB extended its national media deal with Fox in 2018, and several smaller teams, including the Kansas City Royals and Tampa Bay Rays, have new cable deals.
All 30 MLB teams can also sell their local streaming rights when the sport eventually returns.
Rob Manfred's approval rating among those players and fans, though, isn't what it is with the owners. Manfred earned universal criticism for the light punishments both the Boston Red Sox and Houston Astros received for cheating.
Several players, including the Dodgers' Justin Turner, ripped Manfred earlier this year when he called the World Series trophy a "piece of metal." That trophy's official name is the Commissioner's Trophy.
Rob Manfred has also engaged in several notable spats with the MLB Players' Association.
Manfred hasn't handled the coronavirus pandemic well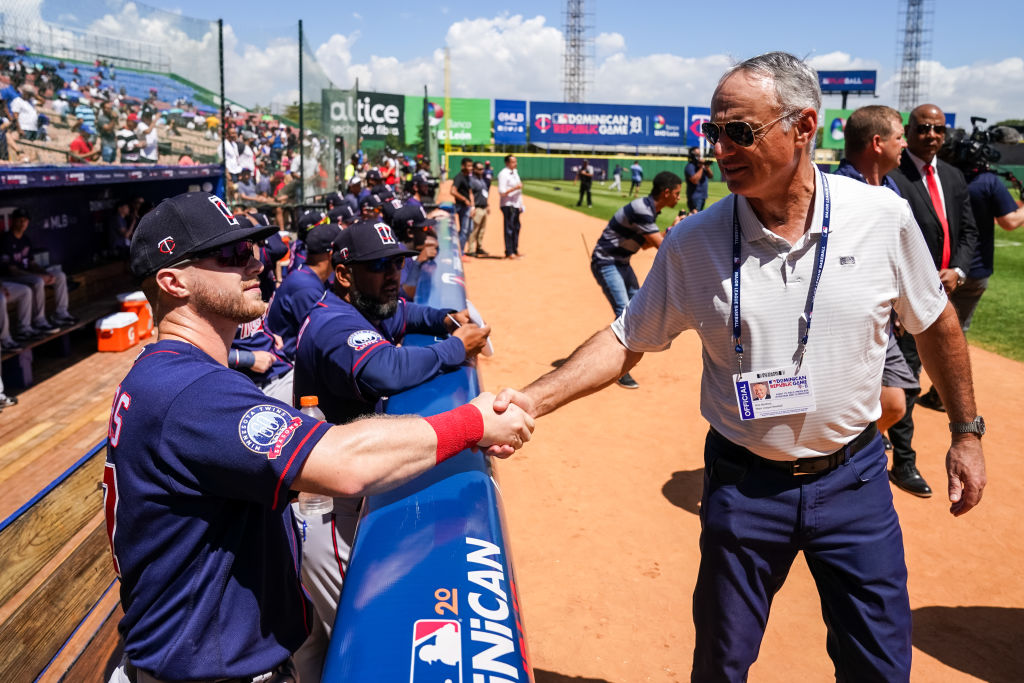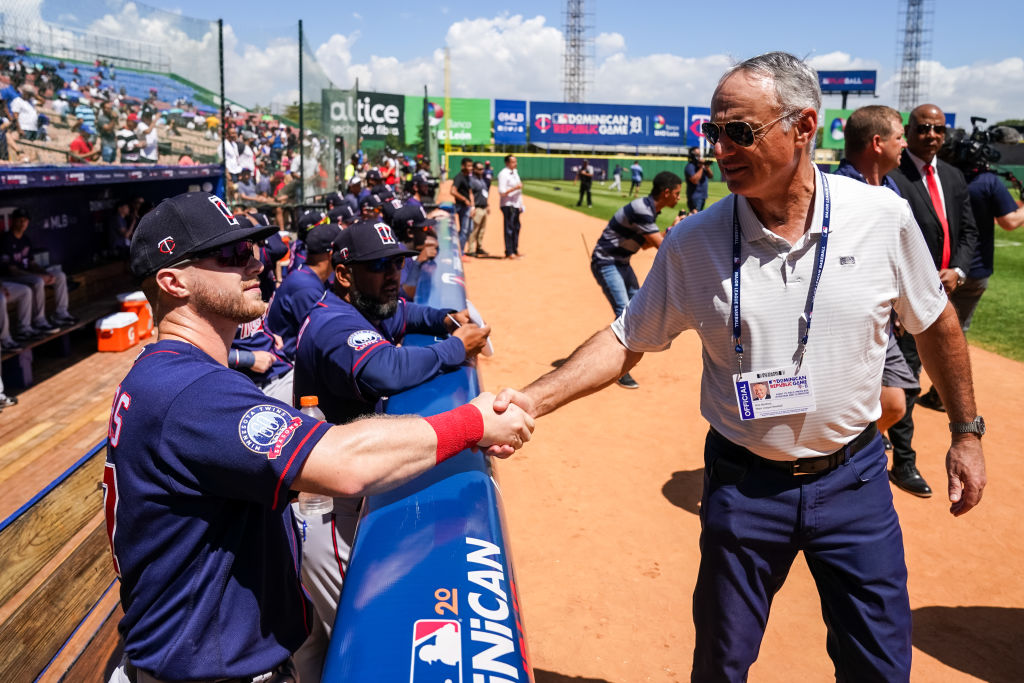 The coronavirus pandemic is an unprecedented time worldwide. The NBA got ahead of the curve by postponing its season and the NFL found ways to maintain a business-as-usual approach with promoting social distancing.

Elsewhere, Rob Manfred and Major League Baseball have utterly failed across the past two months.
The NBA postponed its season on March 11. Major League Baseball played its spring training games as scheduled the next day.

Rather than close all facilities, Major League Baseball allowed its teams to individually decide what would happen.
Several teams, including the New York Yankees, intended to continue working out at their spring training parks until they were asked to leave.
Baseball has also been the most persistent of the four professional sports in saying "when" sports return. Rob Manfred has not done the sport any favors in attempting to commit to a 2020 season rather than letting things play out and emphasizing social distancing and staying safe.
Players haven't responded well to Major League Baseball's ideas of a shortened season in Florida or Arizona.

Numerous players have outright said they would not participate in a "contained" league if it meant they would effectively be quarantined away from their families for months.
How much longer will Rob Manfred be commissioner?
Rob Manfred's current contract runs through 2024. Manfred turns 66 that April and would be in his 10th full season as commissioner. His predecessor, Bud Selig, served as MLB commissioner until he was 80.
The next months will prove to be a crucial part of Rob Manfred's legacy. He fully botched the sports' most recent cheating scandals and his immediate handling of the coronavirus, including letting teams play games even after announcing the sport would shut down, has been terrible.
The one thing on Rob Manfred's side is his money sense. Major League Baseball's owners want a commissioner who brings in a great deal of money.
The owners may still need to re-evaluate if Manfred truly is the best choice to lead Major League Baseball, or if keeping him in place will lead to baseball's eventual downfall.
The deciding factor could be baseball's outcome later this year. If Manfred continues publicly saying there will be a 2020 season — as opposed to insisting waiting for things to play out — and logistics prevent there from being a season, that is on him.
Such a scenario, even if the coronavirus pandemic is out of Manfred's control, could be the final straw for Manfred's tenure.