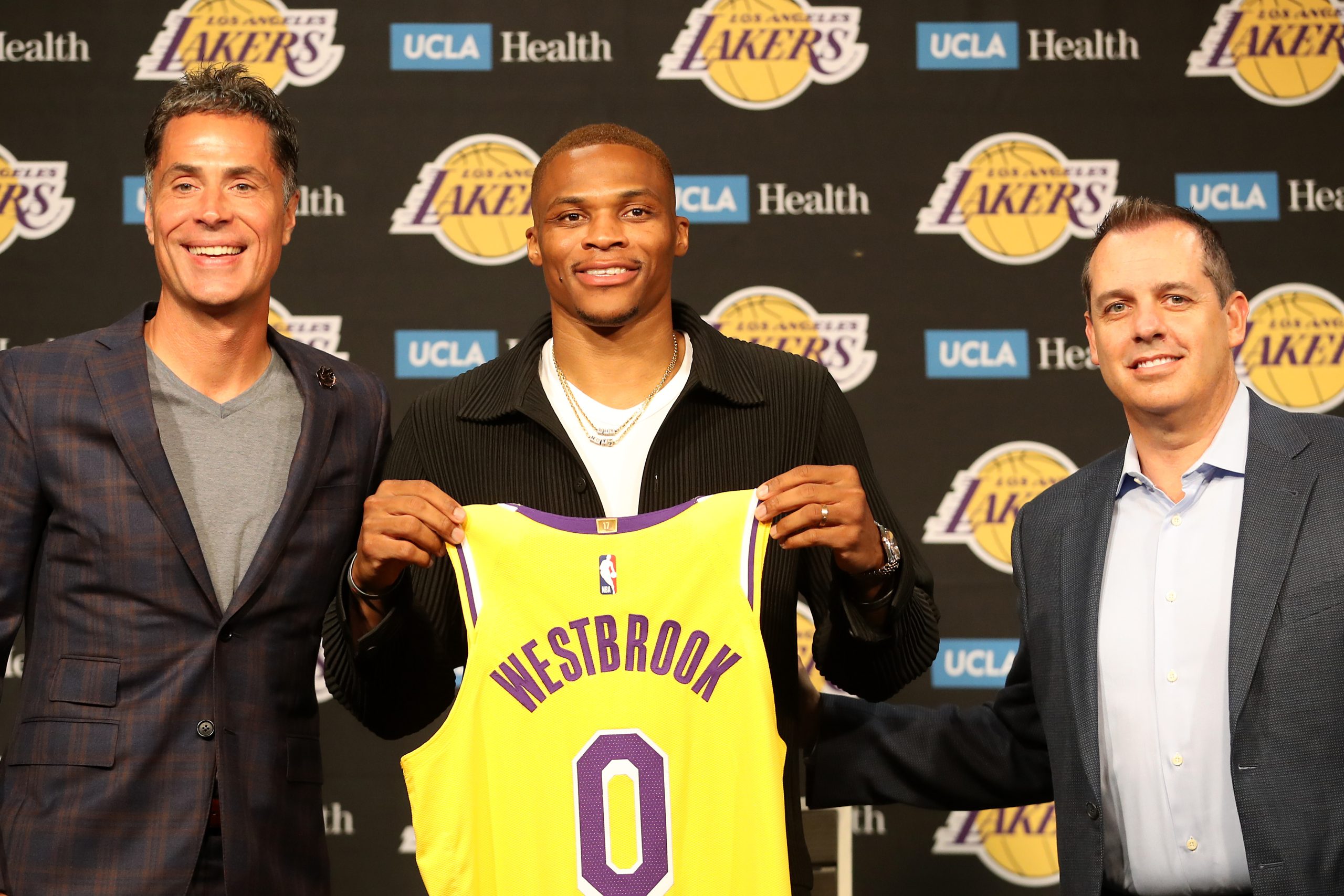 Frank Vogel Might Take the Fall for the Los Angeles Lakers Woes, But It's GM Rob Pelinka Who Is Most at Fault
Los Angeles Lakers head coach Frank Vogel has come under fire for the team's struggles this season, but it's GM Rob Pelinka's acquisition of Russell Westbrook that is most to blame for the woes.
When the Los Angeles Lakers started the season 0-2 and 5-5, mass hysteria predictably spread among Southern Californians and Lakers fans worldwide. And when this LeBron James-led Lakers team failed to escape mediocrity's shadow — they have been 8-8, 9-9, 10-10, 12-12, 16-16, 19-19, and 22-22 at various points — calls came for heads to roll.
The problem, however, is that Lakers Nation and Lakers management has it all wrong in trying to throw head coach Frank Vogel under the bus for this shoddy season. Instead, fingers should be pointing directly at team president and GM Rob Pelinka, who has his fingerprints all over putting this discombobulated, old-folks-home of a roster together last summer.
More specifically, Pelinka had to have been the only talent evaluator in the basketball world who thought adding a deteriorating and disruptive Russell Westbrook to a roster that already struggled to shoot would be a good idea. Even Jack Nicholson in those trademark dark shades could have seen this disastrous result coming. Pelinka paired Westbrook, Carmelo Anthony, Dwight Howard, Avery Bradley, and a historically brittle Anthony Davis around James and the Lakers have lived up to their billing by looking old, uninspired, and defensively weak for long stretches. Just imagine where they would be if the 37-year-old James weren't doing all of the heavy lifting and playing some of his best basketball (30.3 points a game over his last seven).   
GM Rob Pelinka helped the Los Angeles Lakers in 2019-20, but he whiffed on Westbrook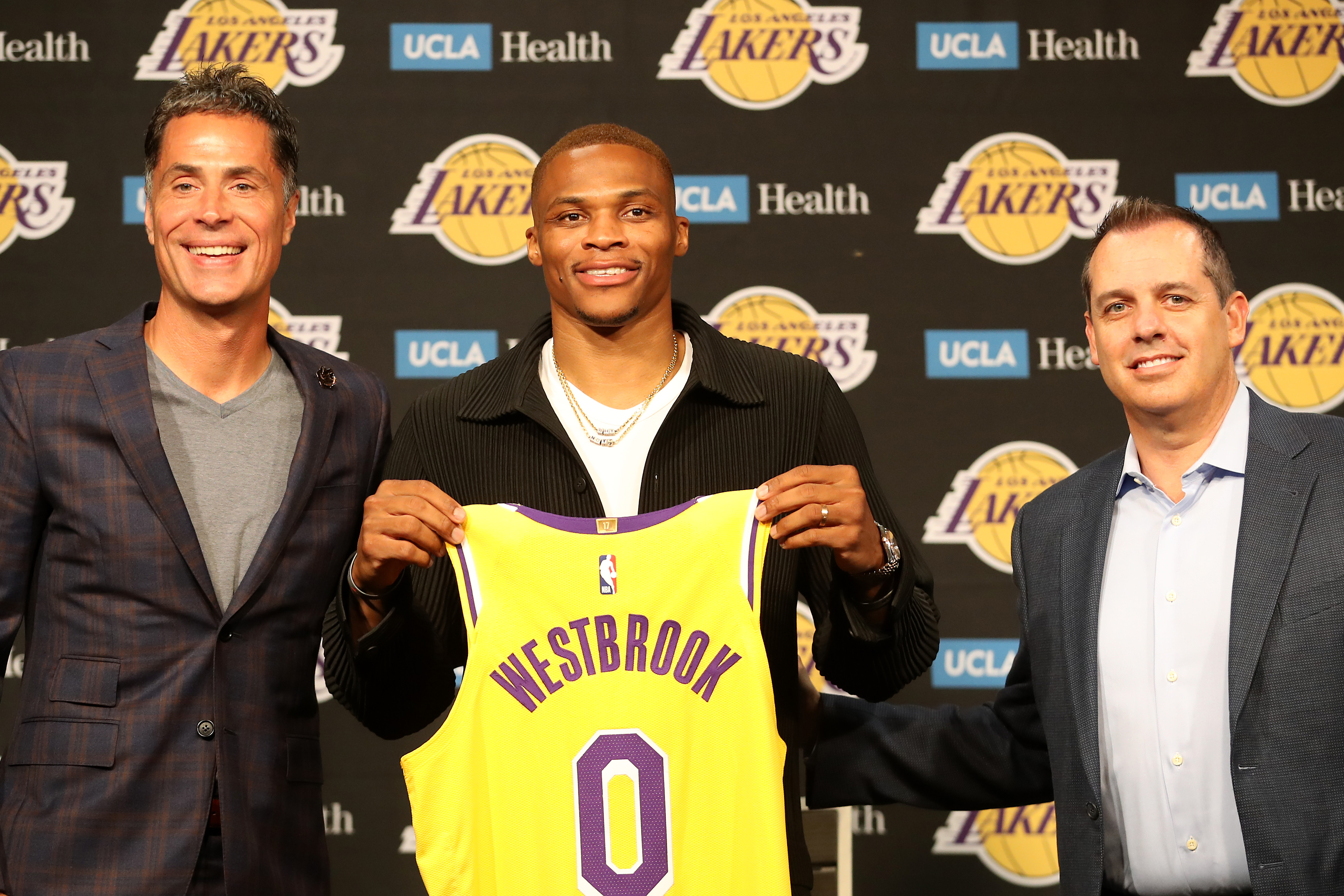 Again, GM Rob Pelinka was the person who overhauled last season's disappointing Los Angeles Lakers roster. Rather than wondering and worrying why Oklahoma City, Houston, and Washington were so willing to move off Westbrook, Pelinka flipped Kentavious Caldwell-Pope, Montrezl Harrell, and Kyle Kuzma for the 33-year-old Westbrook. 
Maybe, just maybe, Pelinka was swayed by the overwhelming input of James, who has acted like a de facto GM on most of his teams the past decade. Even if James did strong-arm him, did Pelinka not ponder why superstars such as Kevin Durant, James Harden, and Bradley Beal wanted nothing to do with playing alongside Westbrook long term?
Sure, bringing Westbrook back to his native LA created some sappy, feel-good narratives in the offseason for the Lakers. But when it comes down to pure talent evaluation and Roster Construction 101 for Pelinka, he had to see this result coming, right? If not, maybe the Lakers should fit him with those horn-rimmed glasses that current executive Kurt Rambis used to wear during the "Showtime" days of lore. 
Did Pelinks execute the trade without wondering how James and Westbrook would coexist with only one basketball on the floor? Why would he do that without watching how a petulant Westbrook had responded throughout his career when he wasn't the focal point of offenses? Also, did he do that thinking Westbrook would be a trusty, knock-down 3-point shooter that James could kick the ball to when defenses collapsed around him?
Pelinka masterfully put great talent (Davis) and reliable shooting (Danny Green, Alex Caruso, Jared Dudley, Caldwell-Pope, and Kuzma) around James in 2019-20. Those factors, combined with some much better defense, led to the Lakers compiling the West's best record and winning a championship in the Disney World "bubble."
This season? The Lakers rank a pedestrian 16th in the NBA in 3-point accuracy (35%) and 15th in 3-point makes a game (12.1). Their defense — 27th in points allowed (112.8) and 20th in made 3-pointers surrendered (12.8) — has been even worse. Westbrook has shot 43.3% from the floor and 30.4% from the 3-point line. He's been painfully worse in eight January games — 32% from the floor and 25% from 3-point range — and that's after making a season-best four threes in Wednesday's home loss to injury-ravaged Indiana. Defensively, he still freelances far too much and has had long stretches of indifference on that end of the floor. 
Frank Vogel is benching and slashing the minutes of point guard Russell Westbrook
In the days after the LA's hideous, 37-point loss in Denver on Saturday, rumors started to swirl that Frank Vogel could be coaching for his job. That Lakers were so horrendously bad and undisciplined on the defensive end in Denver that it led NBA TV analyst and former Laker Channing Frye to utter this assessment: "It's hard to be that bad."
When they weren't trying to pick fights — Westbrook went nose-to-chin with the 6-foot-8 Aaron Gordon after his bully-ball efforts to get to the rim were twice thwarted — the Lakers resembled a team that had already resigned itself to its fate for the season.
According to The Athletic, Vogel reportedly staved off his firing when LeBron James backed up his apology tweet with some stellar play, and the Lakers showed more fire two nights later in a defeat of Utah.
On Wednesday, Vogel took a proactive step to try and fix the issue of having a struggling Westbrook on the floor late in games. He benched the former MVP with 3:52 to play and the Lakers within 101-94, and he never went back to him again. 
Over the past three games, Vogel has played Westbrook 27, 28, and 26 minutes — three of his four lowest minutes totals. When asked about the decision to bench Westbrook down the stretch, Vogel had this to say in his postgame news conference: "Playing the guys I thought were going to win the game."
The Lakers have a tough road ahead, starting with a challenging six-game, 11-day trip
Vogel has faced a similarly disastrous roster situation before, and those results were also ugly. In 2016-17 when Vogel was the Orlando Magic head coach, former GM Rob Hennigan foolishly traded for Serge Ibaka and signed Bismarck Biyombo to a bloated free-agent deal. Attempts to fit them with center Nikola Vucevic and power forward Aaron Gordon were predictable. That Magic team finished 29-53 and 25-57 a year later. Vogel was out of a job, and so too was the GM who gave him a substandard roster.
Of course, the imminent return of Anthony Davis could cure a lot of the defensive and chemistry issues that have plagued the Lakers of late.
However, the Vogel/Pelinka/Westbrook dynamic bears watching over the next few weeks. The Lakers' home-heavy schedule is about to grow teeth as they start a six-game, 11-day trip in Orlando on Friday. Notable games are dead ahead in Miami, Brooklyn, and Philadelphia over the next week.
According to Positive Residual, the Lakers have the NBA's most challenging schedule between now and the break for the NBA All-Star Game. If that stretch goes poorly, Lakers brass and Lakers fans undoubtedly will be calling for heads to roll.
However, their blame shouldn't go to Vogel. Instead, the root for disastrous results that most in the basketball world saw coming since last summer points back at Pelinka.           
Let the finger-pointing begin, and make sure it's at Pelinka and not just Vogel.
All statistics in the story are courtesy of ESPN.com.