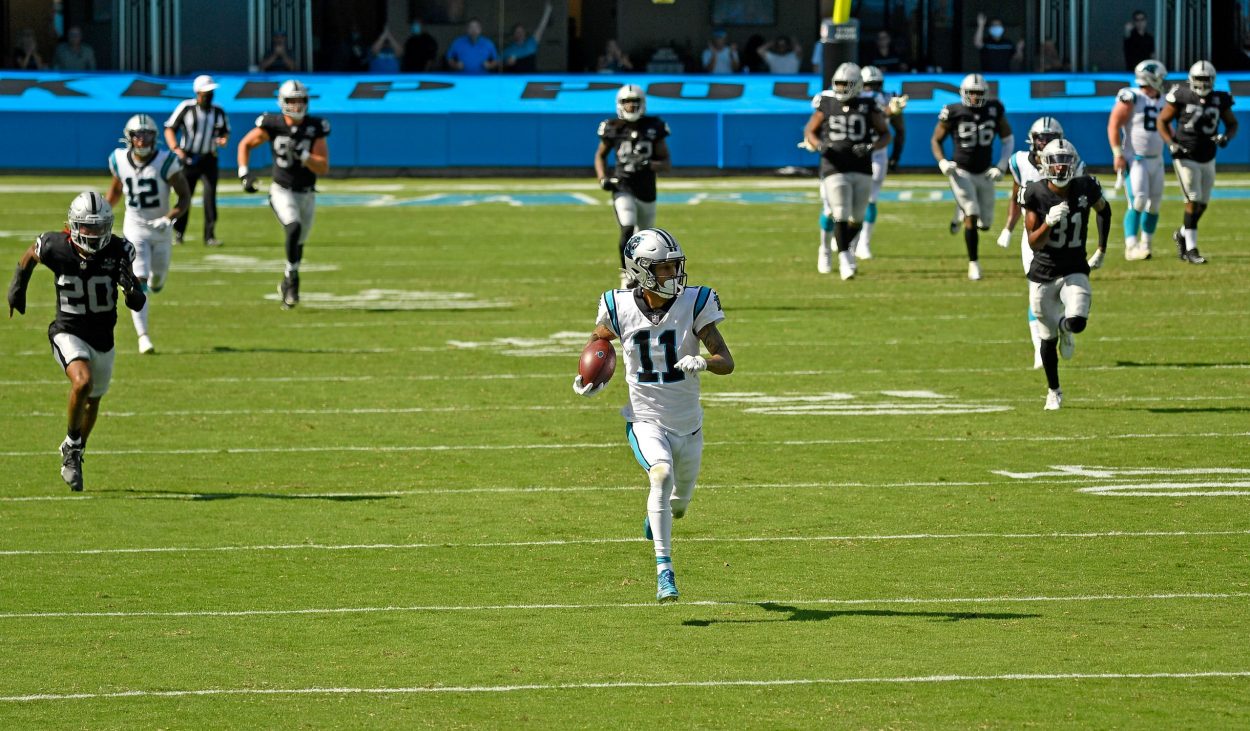 Robby Anderson Could Be the Answer To Mac Jones' Prayers
The Patriots have engaged the Panthers about a trade for wide receiver Robby Anderson, according to a report Saturday.
In his final season with Alabama in 2020, Mac Jones had Heisman Trophy winner DeVonta Smith lined up on one side of the formation and Jaylen Waddle on the other. Good times.
In his first season with the New England Patriots, Jones had Jacobi Meyers and Nelson Agholor.
Oof.
Despite a rag-tag group of wide receivers that also included Kenrick Bourne, who has good last season, and N'Keal Harris, who wasn't, Jones managed to put together a solid rookie season in the NFL, solid enough to earn a Pro Bowl appearance.
But life is only going to get rougher for Jones if the Patriots don't get him some legitimate receivers to throw the ball to. This weekend, the offseason rumor mill churned up a possibility that had to put a smile on Jones' face.
Report: Patriots have inquired with Carolina Panthers about a trade for Robby Anderson
From 2016-19, Robby Anderson played the Patriots twice a season as a wide receiver for the New York Jets. In 2020, in his first season with the Carolina Panthers, Anderson faced the Patriots one more time.
Over those nine games, Anderson did not score a single touchdown. He barely made a dent in the Patriots defense, amassing just 17 catches for 181 yards, an average of 2-20 per game.
But don't tell Bill Belichick about the numbers. Anderson recalled before the 2020 game what Belichick told him about his leaving the Jets.
"When I played them, from what I can remember, [Belichick] usually would put man coverage — a safety over the top and scheme me, do things like that…Kind of take me out of the picture. He even told me that, too. Last year when I was in free agency, he tried to get me to sign. He was like, 'I'm tired of scheming against you. I'm tired of going against you.'"
Apparently, Belichick wasn't kidding. Greg Bedard of Boston Sports Journal was first to report Saturday that the Patriots have engaged with Carolina about a trade that would bring Anderson to Foxboro.
"The Patriots seem much more likely to get an impact receiver via trade, and have targeted a familiar player, according to league sources," Bedard wrote. "If the Patriots land this receiver, or if this is representative of the type they would like to add, it would also seem to put the future of Nelson Agholor in doubt."
Patriots are also considering big names like Ridley and Cooper
While Anderson is one receiver the Patriots have inquired about, it is also possible they will try to make deals for either Calvin Ridley, who left the Atlanta Falcons at midseason to deal with personal issues but remains under contract, and Dallas Cowboys wide receiver Amari Cooper, who could be a salary-cap casualty, thus incentivizing the Cowboys to seek a trade before free agency hits next week.
But Anderson, who had a terrific 2020 season, but took a step backward in 2021 with San Darnold and Cam Newton at quarterback, wouldn't cost the Patriots quite as much in terms of assets in return. It would seem likely the Patriots would have to give up the 21st overall pick in the 2022 NFL Draft, but that's a pick the Patriots were likely to use on a receiver anyway, so the cost would be prohibitive.
Should the Pats stand pat, there are plenty of viable wide receivers in the draft
Should the Patriots keep the 21st pick, wide receivers like Ohio State's Chris Olave and Penn State's Jahan Dotson, who both had outstanding NFL Combines last week, would be viable options.
Olave put on a show in the 40-yard dash this week, clocking at 4.39. If there is one area the Patriots desperately need to improve, it is a deep-threat option to take the top off a defense. Olave was part of a prolific Ohio State offense and at 6-foot-1 would be a terrific target for Jones to work with.
The only problem for the Patriots is that Olave's solid combine might have boosted his draft status enough to get selected well before No. 21.
Should Olave not be there at 21, or the Patriots use their first-round pick to fill a defensive hole, Dotson in the second round is a worthy consideration. Dotson passed on the 2021 NFL Draft and returned to Penn State for his senior season and probably made a wise choice, as he put up huge numbers last season, catching 91 passes for 1,182 yards and 12 touchdowns.
Dotson has drawn comparisons to Tyreek Hill, but because the draft is loaded at the wide receiver position, it's possible he could slip all the way down to No. 54, where the Patriots would be thrilled to get him.
Stats courtesy of Pro Football Reference