Robert Griffin III Loves His ESPN Role But Still Hasn't Closed the Door on an NFL Comeback: 'The Love for the Game Is Embedded in Me'
Those who have watched college football games on ESPN this season may have been surprised to see former Baylor quarterback Robert Griffin III in the booth each week.
After three seasons with the Baltimore Ravens, the 2011 Heisman Trophy winner joined the Worldwide Leader as a college football color commentator and NFL studio analyst earlier this year. Although his days of carving through defenses for the Washington Football Team are long over, the 31-year-old (and doesn't that feel weird to read?) isn't ready to hang up his cleats just yet.
Robert Griffin III hasn't closed the door on one final NFL comeback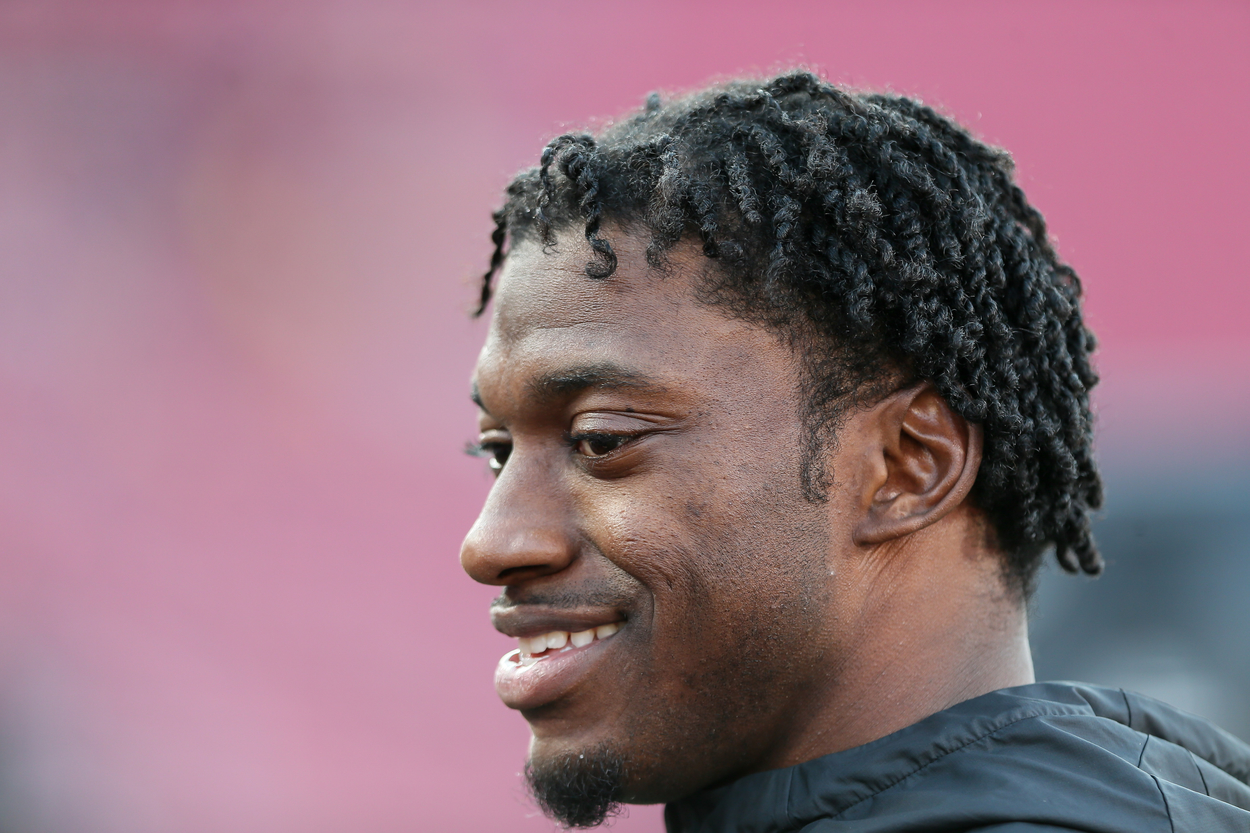 As a quarterback who played in 2020 and is still relatively young, Griffin's phone could conceivably ring at any point. For now, though, the bulk of his football-related calls involve whatever his next task is for ESPN.
When he appeared on the Nov. 2 episode of the Sports Media with Richard Deitsch podcast, Griffin said he still trains every day, and he's ready to suit up again if given an opportunity.
"I don't think the football player in me will ever die, even when I'm 67 years old and couldn't even think about playing on a football field; I think that that type of energy is just embedded in me. The love for the game is embedded in me. But when you talk about a contractual thing with ESPN and playing football, right now, my contract is my contract. I'm at ESPN, and that's the approach I'm taking."

Robert Griffin III
Griffin, who tore his hamstring with the Ravens last year, said he hopes he can eventually end his playing career on his own terms. 
It's hard to realistically see Griffin getting a call anytime soon
On the one hand, there are NFL teams who would likely welcome a mobile quarterback as their backup. Griffin held that role with the Ravens from 2018-20 and completed 33 of 58 passes for 288 yards, a touchdown, and four interceptions in that span. He also rushed for 139 yards on 4.3 yards per attempt in 14 games and two starts.
Baltimore wisely wanted Griffin, a terrific athlete, to run the offense similarly if Lamar Jackson ever went down — or, as we saw last year, went on the COVID-19 list. The Baylor product struggled in a Week 12 loss to the Pittsburgh Steelers last year.
However, it's hard to see a team calling a 31-year-old non-pocket passer and asking him to be a backup when they can have a younger quarterback fill the same role. There's a reason why the Philadelphia Eagles acquired Gardner Minshew this summer and why Josh Rosen is still earning opportunities.
Fair or unfair, more traditional quarterbacks like Andy Dalton, Brian Hoyer, and Josh Johnson are far likelier to get backup jobs than more mobile quarterbacks like Griffin or Cam Newton.
Griffin has a bright future at ESPN if he wants to stay in television
If Griffin's NFL career is over, he'll retire with an NFL Offensive Player of the Year Award to his name and over $33 million in career earnings. Something tells us he's not going to complain about either achievement.
For now, Griffin is working as a color commentator on college football games, usually those involving Power 5 football teams. He, Mark Jones, and sideline reporter Quint Kessenich called Oregon's 26-16 victory over Washington for ABC on Nov. 6.
Griffin has also displayed a charming personality and clear knowledge while doing studio work. Trust us when we say his insightful analysis about young quarterbacks is a welcome change from screaming talking heads like Stephen A. Smith.
He might not be juking through defenses or slinging 60-yard touchdowns, but Griffin is happy with where he is right now. We should all be so lucky.
Like Sportscasting on Facebook. Follow us on Twitter @sportscasting19.