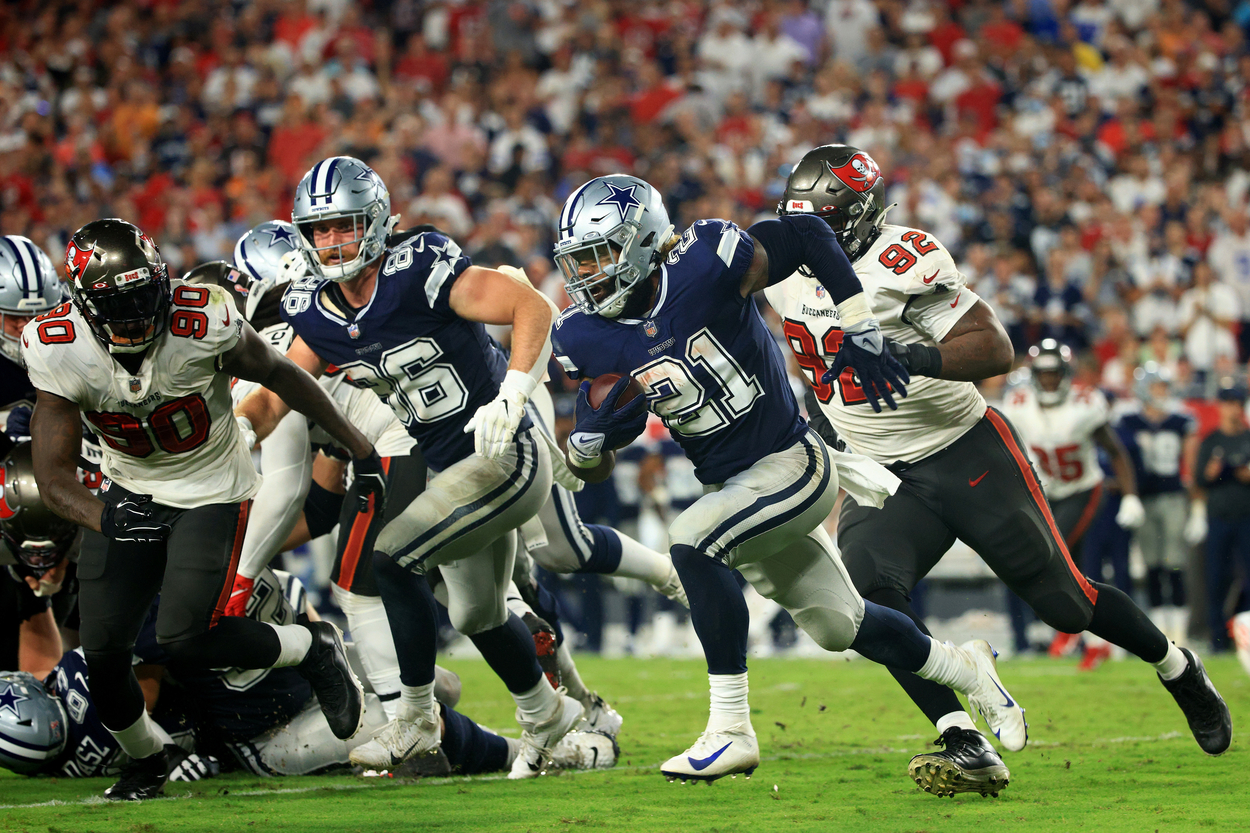 Robert Griffin III Potentially Envisions a Terrifying Next Home for Ezekiel Elliott if the Cowboys Are Willing to Start Over
Former Baltimore Ravens quarterback Robert Griffin III believes his ex-team should acquire Dallas Cowboys star Ezekiel Elliott.
For now, the Dallas Cowboys are sticking with star running back Ezekiel Elliott. Considering how early it is in the 2021 NFL season, the only people who will argue with that move are the ones who have Tony Pollard, his backup, on their fantasy football team.
Now, is it possible the Cowboys part ways with the former rushing champion down the line? Sure, of course. If America's Team does make such a move, ESPN analyst and former NFL quarterback Robert Griffin III knows where he wants the three-time Pro Bowl selection to land.
Robert Griffin III sarcastically suggested the Baltimore Ravens trade for Ezekiel Elliott
Unless you're a devout Baltimore Ravens fan, the idea of Elliott and Lamar Jackson in the same offense sounds outright terrifying … on paper, at least.
Griffin, who spent 2018-20 with the Ravens, recently tweeted the idea into existence. Midway through the Cowboys' Week 1 loss on Sept. 9, Griffin tweeted he felt the Ravens should acquire the three-time Pro Bowler.
It's essential to add a bit of context here. Griffin tweeted that hypothetical trade after Elliott rushed only four times in the first half against a stout Tampa Bay Buccaneers front seven. The sixth-year running back finished with 33 yards on 11 carries in a 31-29 loss.
Although tone can be challenging to read on social media, we can likely universally agree the former quarterback's tweet was sarcastic. Still, his proposed partnership is worth thinking about even if it doesn't happen within the next 24 hours.
Elliott would be an intriguing fit in Baltimore, but will the Cowboys even consider a trade?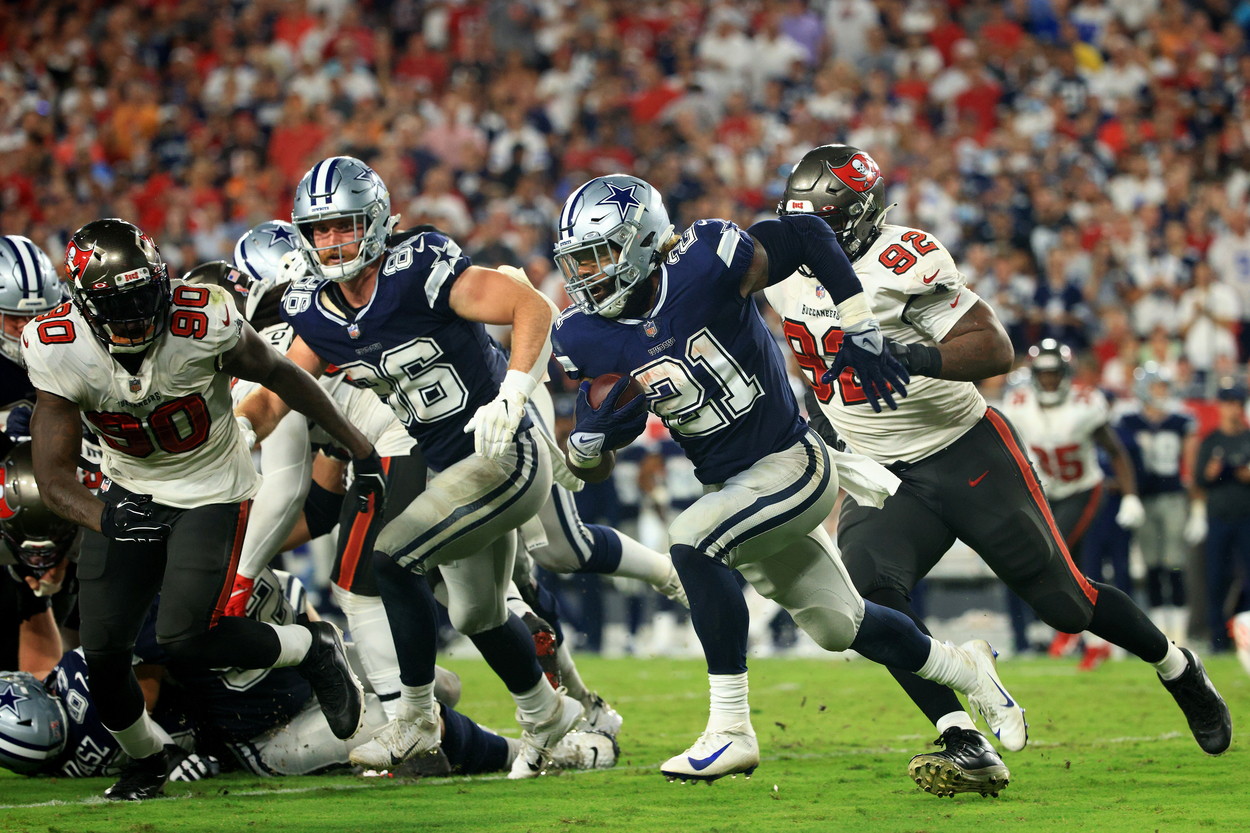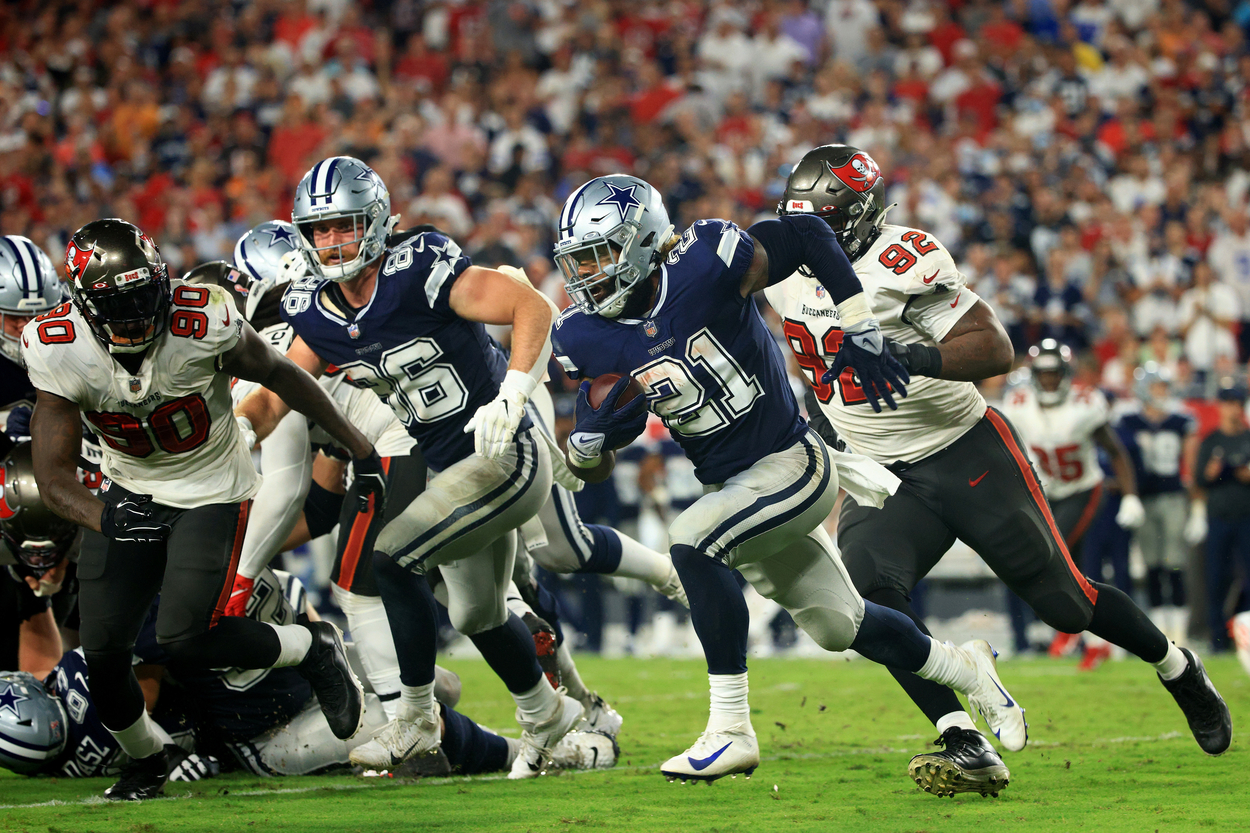 Anyone who's paid attention to the NFL lately knows how badly injuries have ravaged the Ravens' running back room. J.K. Dobbins, a sophomore from Ohio State, and veteran Gus Edwards will each miss the 2021 season with knee injuries.
Justice Hill, a third-year backup, tore his Achilles tendon a week before the Ravens' season opener. Baltimore signed Devonta Freeman and Le'Veon Bell in hopes that both would play how they did in 2016. Expectations for both understandably remained low because the Ravens do not own a time machine, at least one that we knew of at publication.
In theory, Elliott makes sense for the Ravens. Then again, no one is going to suggest the Los Angeles Lakers would be wrong if they wanted to pair LeBron James with Giannis Antetokounmpo.
Still, Ravens fans shouldn't get their hopes up about seeing Elliott in purple and black anytime soon. The Cowboys would need to eat too much money — he has five years and over $65 million remaining on his contract after this season — and it's way too early in the season for them even to consider offloading their star running back.
We won't rule out the idea of the Ravens acquiring another veteran running back later this year. If the Houston Texans are as bad as advertised, perhaps Mark Ingram will wind up returning to Baltimore later this year. But if a new running back arrives in Charm City, it almost certainly won't be Elliott.
Don't be surprised to see the Cowboys strongly consider rebooting after this season
The Cowboys have nothing to gain by trading Elliott during the 2021 season. Even after a crushing Week 1 loss, this team is still talented enough to win the NFC East.
Now, things could change if the Cowboys miss the playoffs for the fourth time in five years. Standout receiver Michael Gallup, who is out indefinitely with a calf injury, will hit free agency next spring. All-Pro offensive tackle Tyron Smith's neck issues reached the point last year where he underwent surgery and missed most of the season.
Few would fault Cowboys owner Jerry Jones if he decided to hit the reset button and try reworking parts of the roster in hopes of winning one last Super Bowl. If Elliott's Week 1 struggles are a sign of things to come, his long-term future on the Cowboys' roster might not be as secure as he may have thought.
The Cowboys will need to absorb a financial hit if they part ways with Elliott, especially if the team does so ahead of the 2022 NFL Draft. However, if the 78-year-old Jones is all about earning a final ring, don't be surprised to see him do whatever it takes in the process.
Like Sportscasting on Facebook. Follow us on Twitter @sportscasting19.