Robert Griffin III's Shocking Announcement About the Washington Football Team Could Cost Taylor Heinicke $1.5 Million
Robert Griffin III (yes, the same Robert Griffin III who was once viewed as a franchise-caliber quarterback) refuses to let his football dream die.
On the latest episode of The Adam Schefter Podcast, the former No. 2 overall pick reveals he is currently training for a return to the NFL.
Griffin III highlights one particular team of interest during his podcast appearance, which he is incredibly familiar with.
Robert Griffin III wants to return to Washington
During his interview with Schefter, Griffin III (also known as RGIII) makes the overarching point that he would welcome a job with any NFL team. However, when prompted with the Washington Football Team as a potential option, Griffin III responded positively.
"That would have to be something that Coach Ron Rivera and the team would be open to," Griffin said. "You never say never. Would I be open to it? Yeah, I would love to go back and be able to have that come full circle."
Later in the podcast, Griffin claims that he isn't necessarily "begging" to return to Washington. However, seeing as the Football team is currently set to be without starting QB Ryan Fitzpatrick for another couple of weeks, they definitely make sense as a potential landing spot.
Griffin was last in the NFL with the Baltimore Ravens, where he backed up Lamar Jackson. RGIII started one game for the Ravens last year and massively struggled. The former Rookie of the Year finished 2020 with a 25.6 QBR.
RGIII potentially returning to Washington spells major trouble for fan-favorite Taylor Heinicke
With Fitzpatrick sidelined for the near future, the Football Team's starting QB duties currently rest in the hands of former XFL player Taylor Heinicke.
Heinicke is emerging as a bit of a fan favorite in the Washington D.C. area. However, it's worth pondering whether the Football Team will look to replace him eventually. Heinicke is a limited thrower compared to the rest of the NFL and nearly cost the Football Team an easy win against the New York Giants due to a late interception.
Whether it's RGIII or a different free agent (Cam Newton, anyone?), the introduction of another QB to the roster spells disaster for Heinicke.
This season, Heinicke can earn up to $1.5 million in bonuses by winning games that he plays at least 60% of the snaps during (Washington Football Wire). If he were to lose his starting job to someone like Griffin III, he can go ahead and kiss that extra money goodbye.
Ultimately speaking, Griffin III replacing Heinicke is unlikely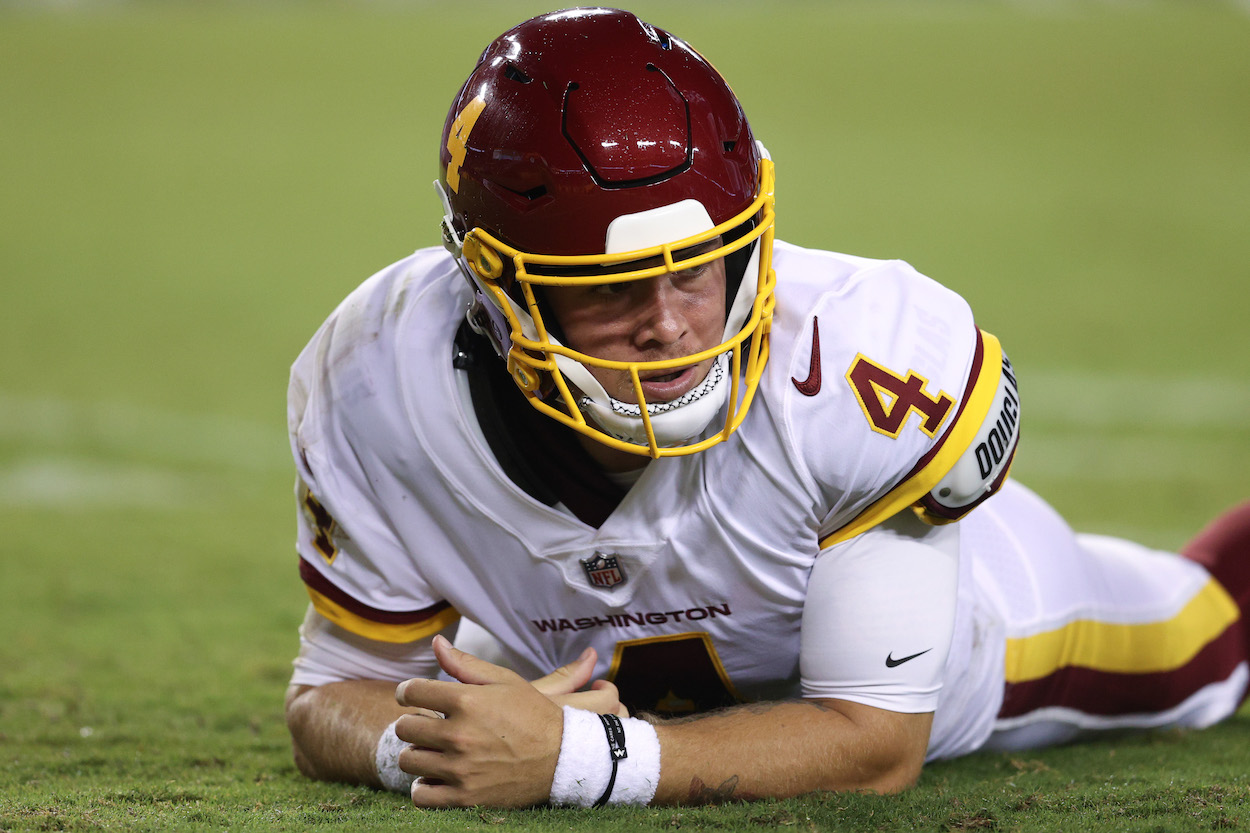 While RGIII returning to Washington and replacing Heinicke would be a feel-good story for the ages, such an occurrence does feel unlikely.
Griffin III did not look like a serviceable starter during his lone appearance as one with the Ravens, and the Washington staff appears to like Heinicke. Ron Rivera even went on record following Cam Newton's surprising release stating he has no immediate plans of adding a free agent QB to the roster.
Things can change in a matter of seconds in the NFL. However, in the meantime, Heinicke can breathe a sigh of relief when it comes to his potential $1.5 million bonus check.
Now he just has to worry about winning games and earning said money.
All stats courtesy of Pro Football Reference.
RELATED: The Buffalo Bills Added Insult to Injury With a Ruthless Post-Game Jab Directed at Tua Tagovailoa and the Miami Dolphins