Robert Kraft, Stephen Ross, and Jeffrey Lurie Are Just 3 of 40 Billionaires Living on This Florida Island
NFL owners tend to come from business backgrounds, and most were born into at least some wealth. It's a far cry from many NFL players' backgrounds, who come from middle class or impoverished homes. NFL owners are all billionaires and, well, they are a lot like other billionaires. This extends to their tastes. In fact, many owners live on the same Florida island, with dozens of other billionaire friends.
How Palm Beach became the go-to home for the wealthiest Americans
RELATED: How Many Florida Gators Have Won the Heisman Trophy?
The South Florida Sun-Sentinel reports that Palm Beach, Florida has long been home to both a low income service worker community, alongside one of the most opulent communities on earth. The dichotomy began when Henry Flagler, founder of Standard Oil, visited the area in 1893 and decided to build a luxury hotel there.
That hotel was of such high quality that it, alongside the natural comfort and beauty of the island, enchanted many visitors into building homes there. It became a land of homes for wealthy people who intended to avoid the harsh weather months of the cities where they made their fortunes. Eventually, the amenities and community of the region encouraged many wealthy people to make Palm Beach their permanent home. According to Fox Business, 43 billionaires live on the Florida island today.
The NFL owners who all call Palm Beach home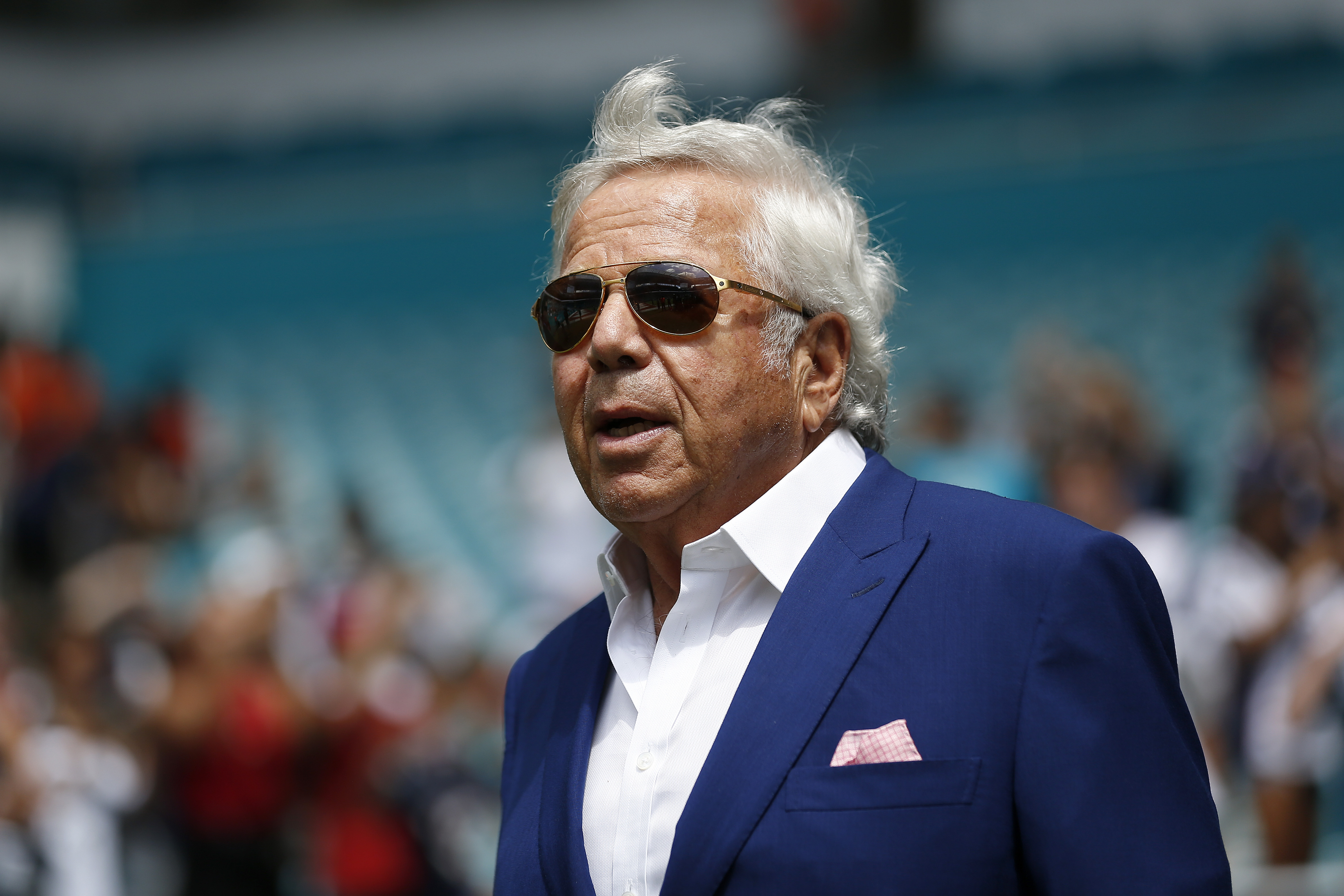 RELATED: A Breakdown of How Robert Kraft Pays the Patriots
Patriots owner Robert Kraft is one of the most famous denizens of Palm Beach. His 17,000 square foot British Colonial-style home sprawls across a beachside corner of the island. While he spends ample time in the Boston area, presiding over his team, the warmer climes of Palm Beach are where he hangs his hat.
Kraft is far from alone. Miami Dolphins owner Stephen Ross grew up in Detroit but prefers the warmer climate of Palm Beach, according to the Palm Beach Daily News. Eagles owner Jeffrey Lurie is a local fixture there, as well, despite his team's diehard fan base existing back in Philadelphia. New York
Giants owner Jonathan Tisch sticks to Palm Beach for most of the year, although he is forced to spend the coldest months of the year in New York with his team. Vikings owner Mark Wilf suffers the same indignity of work taking him away from Palm Beach and dropping him into the maw of Minnesota's harsh cold months. Janice McNair of the Houston Texans, based in a more welcoming climate, still prefers Palm Beach.
Ownership families make up a sizable portion of the billionaire niche of the community. The Palm Beach Daily News reports that the Glazer family, who own the Super Bowl LV championship winning Tampa Bay Buccaneers, also live on the island. And the Rooneys, who have kept the Pittsburgh Steelers in the family since 1933, are also in the area.
NFL royalty dots the island
The South Florida Sun-Sentinel reports that many NFL players are actually from the Palm Beach community.  St. Thomas Aquinas is a private high school noted for its incredibly strong football program. It puts out nearly one new future NFL player every year. Los Angeles Chargers defensive end Joey Bosa is a recent alum.
Palm Beach is a beautiful, vibrant community. And yes, it has a history of inequality that persists today, with an economy formed around wealthy people being served directly by a working class. But the people who call it home, regardless of their class status, are proud of the association. It may be home to many NFL owners, but it also has conditions that produce a good number of NFL players.