Robert Kraft's Political Connections to Donald Trump and Barack Obama Confuse Us All
Robert Kraft is no stranger to political discourse when it comes to his NFL team. Since buying the Patriots, he's been politically active on many fronts. Kraft's relationship with President Donald Trump makes people wonder about possible contradictions in his political past. His connections to both Trump and Barack Obama show Kraft is hard to gauge.
Robert Kraft and Barack Obama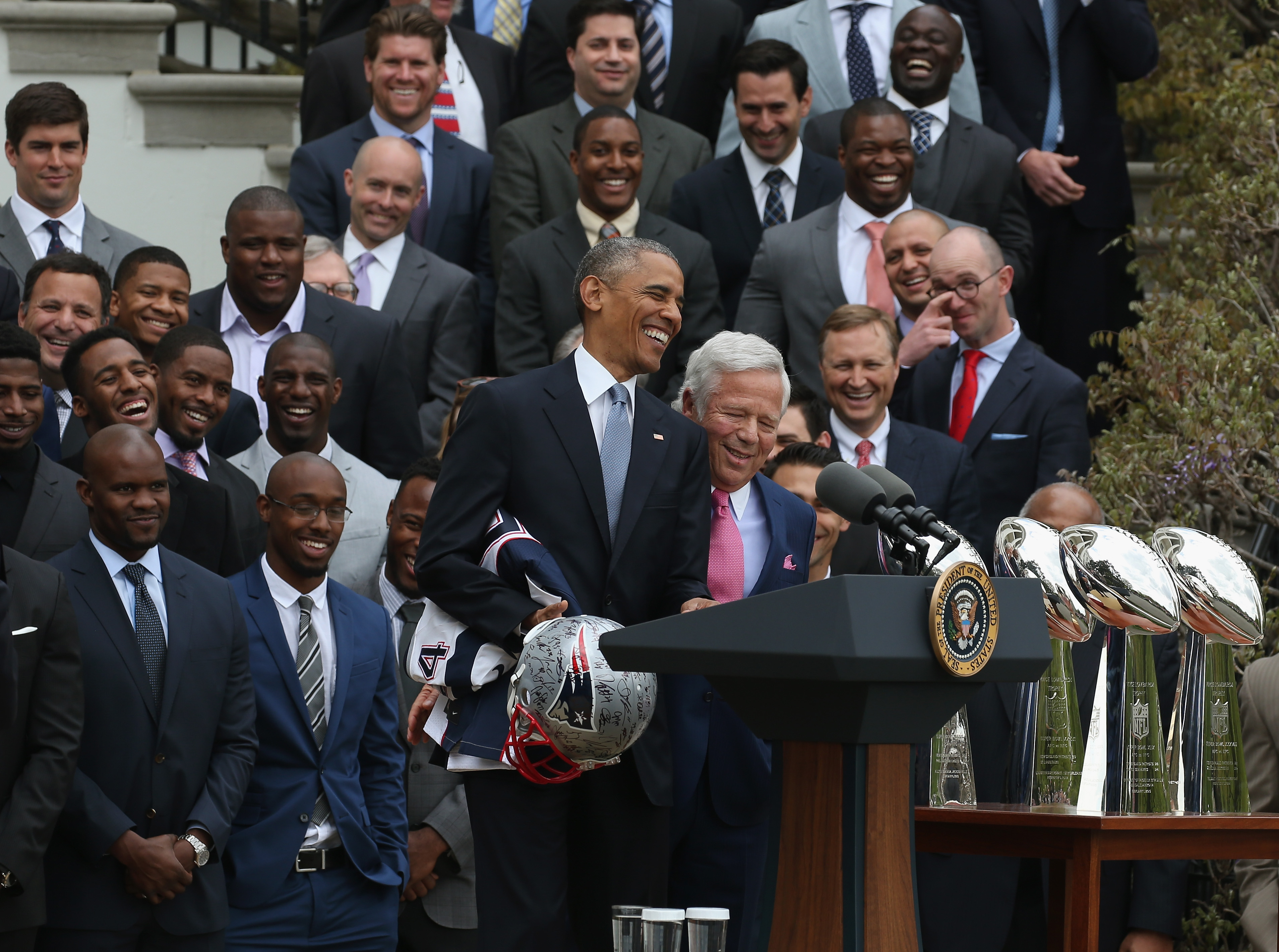 A lifelong Democrat, Kraft historically voted that way for much of his life. Despite his recent support of Trump, details USA Today, he and Obama had a relatively close relationship. When the Patriots won the 2015 Super Bowl, Kraft took the stage with then-President Obama with a pair of Air Force 1s to commemorate the Patriots' win. A lifelong sneakerhead, Obama was thrilled, calling him the coolest owner in sports.
What may have helped matters in this scenario was that Kraft was a donor for Obama's presidential runs. However, when looked at through the 2020 lens, it seems like Kraft's latest political stances contradict the ones he supported in the years before 2016. After a scandal involving a massage parlor, it was revealed that Kraft donated to members of both parties in Colorado's congressional elections, according to the Denver Post. 
This type of center-dwelling politics makes Kraft a hard person to nail when it comes to his views. For everything he does for one party, he seems to support the other, as well. Nothing better encapsulates this than his friendship with the mercurial Donald Trump. 
Kraft and Donald Trump
Kraft has been a friend of Donald Trump's for several years. After Kraft's wife Myra died in 2011, Trump was one of his closest friends who helped him through the grief. He explained this at Bloomberg Breakaway, via USA Today:
"He called me once a week for a year and invited me to things. That was the darkest period of my life. I'm a pretty strong person. My kids thought I was going to die. There were five or six people who were great to me, and he was one of them. Loyalty and friendship trumps politics for me. I always remember the people who were good to me in that vulnerable time, and he's in that category."

Robert Kraft on his friendship with Donald Trump
The pair go way back. But after this moment, Kraft supported his friend as his ambitions got political. As Trump got more controversial, Kraft came to his defense. "He doesn't mean everything he says," Kraft said. "I'm privileged to know that. People who don't know him maybe don't see the better side. I tell you one thing: He's very hard-working."
However, a lot has changed in the last four years, and if Kraft's most recent donations mean anything, he might be ready to drop his controversial friend. 
Kraft gives back
Kraft's support for Trump has become infamous among those who don't view the President favorably. The last four years have been among the most divisive in recent memory. During an election year in 2020, the racial unrest across the country garnered headlines. As Trump decried protests across America, details NESN, Kraft donated $1 million to restoring racial justice. 
While this isn't necessarily a jab at his friend, it goes against things Trump has spoken against during his presidency. Kraft's politics remain murky. However, sometimes, as he's shown, someone's friendship means more to him than what they do in office. Now with time to reflect on the matter, time will tell when and if Kraft ends up supporting Trump again. If he does, it will be another step in a long line of political contradictions.