Robert Mathis Went From Underrated Fifth-Round Pick to $70 Million Sack Artist
Robert Mathis entered the NFL as a fifth-round pick from a non-FBS program. He left the league as one of the greatest sack artists in modern league history.
A dynamic pass-rusher who played his entire career in Indianapolis, Robert Mathis partnered with Dwight Freeney and Bob Sanders on an underrated Colts' defense.
A few years after his final game, the Colts rewarded Mathis with a prestigious honor.
The Indianapolis Colts drafted Robert Mathis in 2003
Before he entered the NFL, Robert Mathis was a four-year starter at Alabama A&M. He set an NCAA I-AA/FCS record when he totaled 20 sacks in his senior season.
Mathis had an immediate impact in Indianapolis. He registered 3.5 sacks and three forced fumbles as a rookie in 2003.
A year later, Mathis had 10.5 sacks and six forced fumbles despite starting one game. It quickly became evident that Mathis was there to stay in the NFL.
Mathis had a stellar career in Indianapolis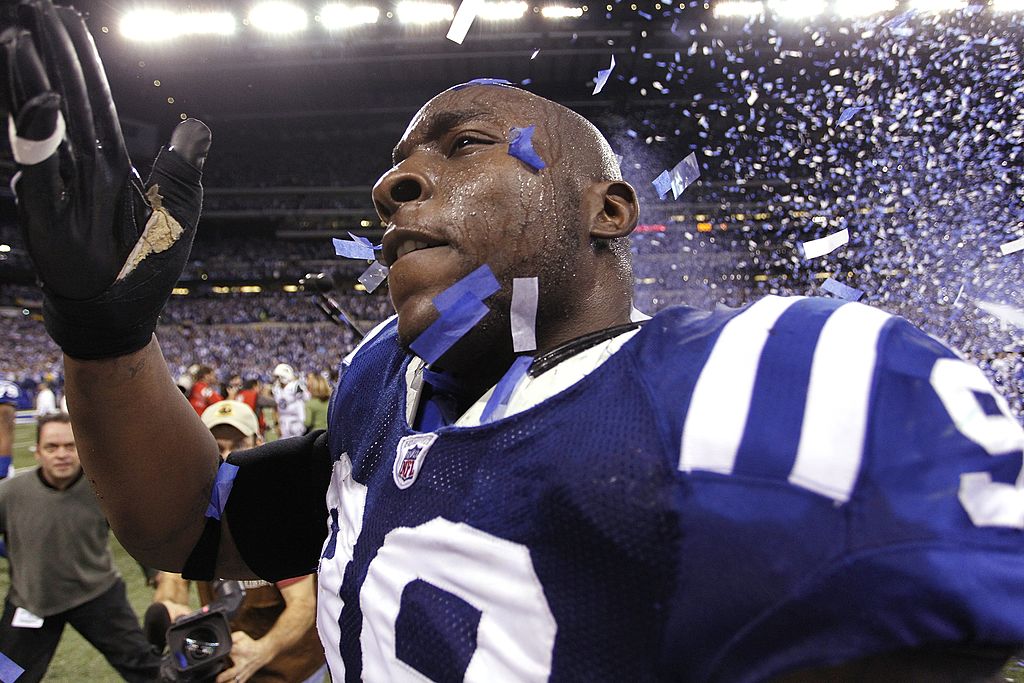 Although Robert Mathis made five Pro Bowls and won AFC Defensive Player of the Year in 2013, he never received the national recognition other pass-rushers did.
Mathis totaled 123 sacks, 52 forced fumbles, and recovered 17 fumbles in 14 NFL seasons. He added another 6.5 sacks and five forced fumbles in 18 career playoff games.
Mathis won a Super Bowl with the Colts in early 2007 and played in a second Super Bowl three years later.
No NFL player had more strip-sacks than the 47 Mathis recorded.
Robert Mathis ended his career as a Colts legend. He totaled an 86 approximate value, according to Pro-Football-Reference, which is tied with running back Lydell Mitchell for 22nd place among Colts players.
Only 26 players have an AV over 80. NFL legend Peyton Manning leads the pack with a 219 AV and Hall of Fame receiver Marvin Harrison is a distant second at 161 AV.
Robert Mathis just earned induction into the Colts' Ring of Honor
Robert Mathis had an extended NFL career that netted him plenty of money. Mathis retired after the 2016 season with over $68 million in career earnings, according to Spotrac.
Mathis isn't up for the Hall of Fame yet, but he just earned another incredible honor. The Colts recently announced Mathis would join several of his former teammates in the team's Ring of Honor.
Colts owner Jim Irsay called Mathis an "all-out TERROR" on Twitter.
Mathis is the latest Colts star from the mid-2000s to enter the Ring of Honor. Indianapolis inducted center Jeff Saturday in 2015, Peyton Manning in 2017, receiver Reggie Wayne in 2018, and pass-rusher Dwight Freeney last year.
Marvin Harrison entered the ring in 2011, a year after former head coach Tony Dungy. Hall of Fame running back Edgerrin James joined the club in 2012.
Robert Mathis' special day is Nov. 22, the same day Indianapolis hosts the Green Bay Packers. Mathis earned the honor and, regardless if he makes the Hall of Fame, will always have that place in Colts history he can treasure.