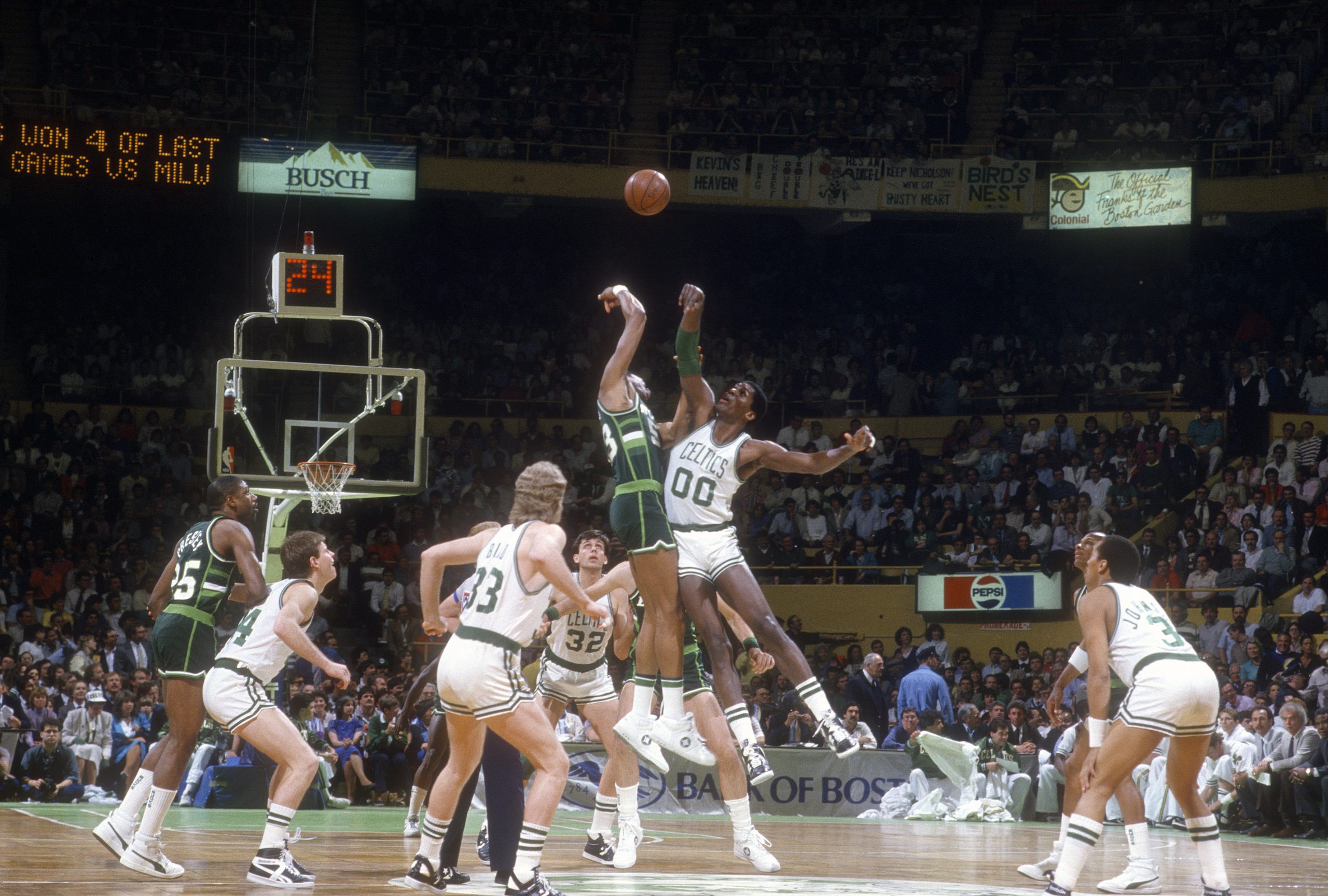 Robert Parish's Nickname, Given by a Boston Celtics Sportswriter, Did Not Sit Well With Him and His Wife
Robert Parish didn't mind being called The Chief. It was another nickname he seemingly had a problem with.
Longtime Boston sports reporter Dan Shaughnessy knows former Boston Celtics star and Hall of Famer Robert Parish didn't like him. Heck, Parish's then-wife didn't seem too fond of Shaughnessy, either.
Shaughnessy may have been too hard on Parish, the man known as "The Chief" during his playing days. Shaughnessy had another nickname for the former Celtics center, which may have played a role in why the Parishes weren't overly happy with the journalist.
Robert Parish was all business on the basketball court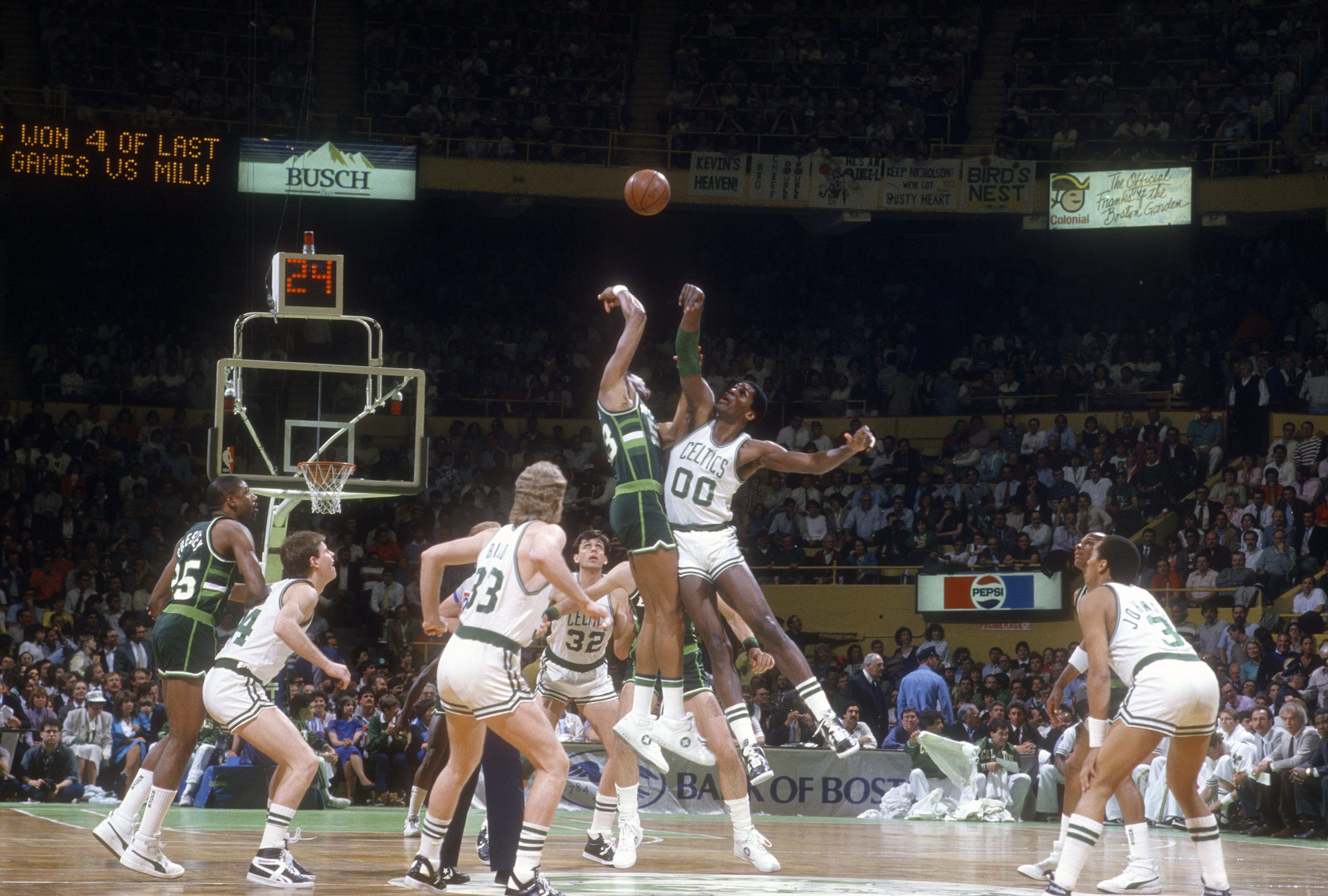 Parish was quiet, doing most of his talking on the basketball court. He came over to the Celtics in a trade with the Golden State Warriors right before the 1980 NBA Draft. That idea helped reshape the franchise, paving the way for an impressive run through the 1980s.
The Celtics acquired Parish and the Warriors' third pick in the draft and sent Golden State the first pick and another future first-rounder. Golden State selected Joe Barry Carroll with the top pick. The Celtics used the third pick to take Kevin McHale.
Parish and McHale teamed up with Larry Bird, who had just earned Rookie of the Year honors. The trio helped guide the Celtics to their first championship together when they knocked off the Houston Rockets in six games. They added titles in 1984 and 1986 while also reaching the Finals in 1985 and 1987.
Parish was the quiet leader. He went about his business with little fanfare. He's played more games than any other player in the NBA, and he was inducted into the Naismith Memorial Basketball Hall of Fame in 2003.
McHale couldn't say enough about Parish's dependability.
"I'd like to say something about Robert (Parish). Robert might have been the most disciplined — not make mistakes, in the right spot every single time," McHale said on The Cedric Maxwell Podcast in 2021. "He was amazing. That dude defensively just did his assignment all the time. Offensively, he was just so dependable.
"Robert was like a clock. You just wind him up and put him out there. He was going to get 18 to 22 points, 10 to 12 rebounds, and he wasn't going to mess up. He wasn't throwing the ball in the third row. Just an amazing, dependable guy. I was lucky to play with him for 12 years."
Boston Celtics reporter Dan Shaughnessy used to refer to Robert Parish as 'Mr. October'
Parish had no problem being called The Chief. It was a name given to him by Maxwell, a teammate of his on both the '81 and '84 championship teams. Shaughnessy said Parish didn't like what the reporter called him in the newspaper, which may have contributed to why he wasn't too fond of him.
"Remember how Reggie Jackson was "Mr. October" in baseball?" Shaughnessy asked Maxwell Shaughnessy said in an interview with Maxwell, posted by NBA History & Legends on CLNS. "I used to have this version that Chief didn't do as well in the playoffs as he did in the fall, so I would call him basketball's Mr. October.
"You don't want to be Mr. October in basketball because those are the games that don't count. That might've been kind of a low blow. I don't know."
Shaughnessy was opinionated and had no fear of reporting anything, negative or not.
"I was the only guy who wrote about Larry getting into that barroom fight in the '85 Finals when you guys lost," Shaughnessy said. "I really felt that was newsworthy because he didn't shoot well after that and the Celtics didn't win the playoffs that year. They had a really good team that year, as you know. That team was stacked."
Shaughnessy said Parish and his wife didn't like him
Shaughnessy said certain players in Boston were sacred, and if you were negative about them as a reporter, you'd hear about it.
"David (Ortiz) is one, Tom (Brady) was one, Larry was one," Shaughnessy said. "When stuff happens, I feel obligated to put my opinion to it. That's what I get paid to do. Part of this is anonymity. You go on the radio, people know it's Cedric Maxwell, same with me. When you're behind a keyboard and you're anonymous, you can kill anybody and say the meanest things. That's what Twitter is all about.
Maxwell said he knew Parish wasn't a big fan of Shaughnessy. He also said Parish's then-wife, Nancy, also wasn't fond of the reporter. Maxwell told Shaughnessy he wasn't exactly sure why.
"Robert Parish's wife wasn't anonymous," Maxwell said. "She came right at you. You wrote a few things about him, and she was just blasting you as soon as she saw you."
"You didn't want to be on the other side of Mrs. Chief, I can tell you," Shaughnessy said.
"Dan didn't really write anything that was bad about Robert," Maxwell said. "It might have been he was holding out with a contract or something like that. All I remember is Nancy just going ballistic when she saw you. She went at you like you had stolen money out of her damn pocketbook."
"Nancy was very fiery and did not hold back," Shaughnessy said. "I was on the list at that time because he didn't like me, she didn't like me."