Robert Saleh Has a Bizarre Message for Jets Fans That Should Leave Them Feeling Furious and Disrespected
Despite all the fanfare that came with drafting Zach Wilson and hiring Robert Saleh this past offseason, the New York Jets look like a similar version to that of their 2020 selves.
They're 2-8 through 11 weeks of football, and they rank toward the bottom of the NFL in yards gained (23rd) and yards allowed (31st). To put things bluntly, the Jets are still one of the worst teams in the league, despite the significant overhaul that occurred in the organization over the summer.
The Jets' rebuild is off to shaky start
Despite the addition of Wilson, Saleh, and several key free agents (WR Corey Davis, for example), the Jets weren't expected to be a playoff-caliber team in 2021. On paper, they were still another year or two away from completing their rebuilding process and emerging as a consistent threat in the AFC.
However, this mindset doesn't excuse their miserable performance through ten weeks. They've looked completely uncompetitive on more than one occasion, and their overall incompetence has already resulted in Wilson being sidelined with a knee injury.
Before his injury, Wilson looked utterly lost running the Jets' offense as well. While he's set to return to the starting lineup in Week 12, significant questions have emerged regarding his confidence and overall NFL readiness. This is obviously not where the Jets wanted to be halfway into their No. 2 overall pick's rookie season.
Ultimately speaking, the 2021 Jets look like a downright bad football team instead of a bad team working through growing pains. They aren't improving week over week, and few young players are emerging as reliable starters.
Amidst all this chaos and uncertainty, first-year head coach Robert Saleh offers a somewhat bizarre message to worried Jets fans.
Robert Saleh's message to Jets fans is insulting
When questioned about the Jets' struggles this season, Saleh didn't mince words. He's arguing the Jets haven't experienced a proper rebuild and that his "actual plan" will magically make everything better as the games go by.
"I respect the heck out of the urgency from the fans and the wanting to flip this thing, but in fairness, this is the first time this fan base is actually experiencing something like this," Saleh said. "Usually, it's been a quick fix, followed by a scramble. This is an actual plan."
Saleh needs to refresh on his football history. The Jets have finished below-.500 five seasons running, and are likely to make it six barring a miraculous second-half turnaround this year. The Jets have been rebuilding for over half a decade, with nothing to show for it. Jets fans are more than accustomed to experiencing losing seasons. The issue lies in the countless failed rebuilds being orchestrated by bad front offices and bad head coaches.
Robert Saleh is already showing signs of crumbling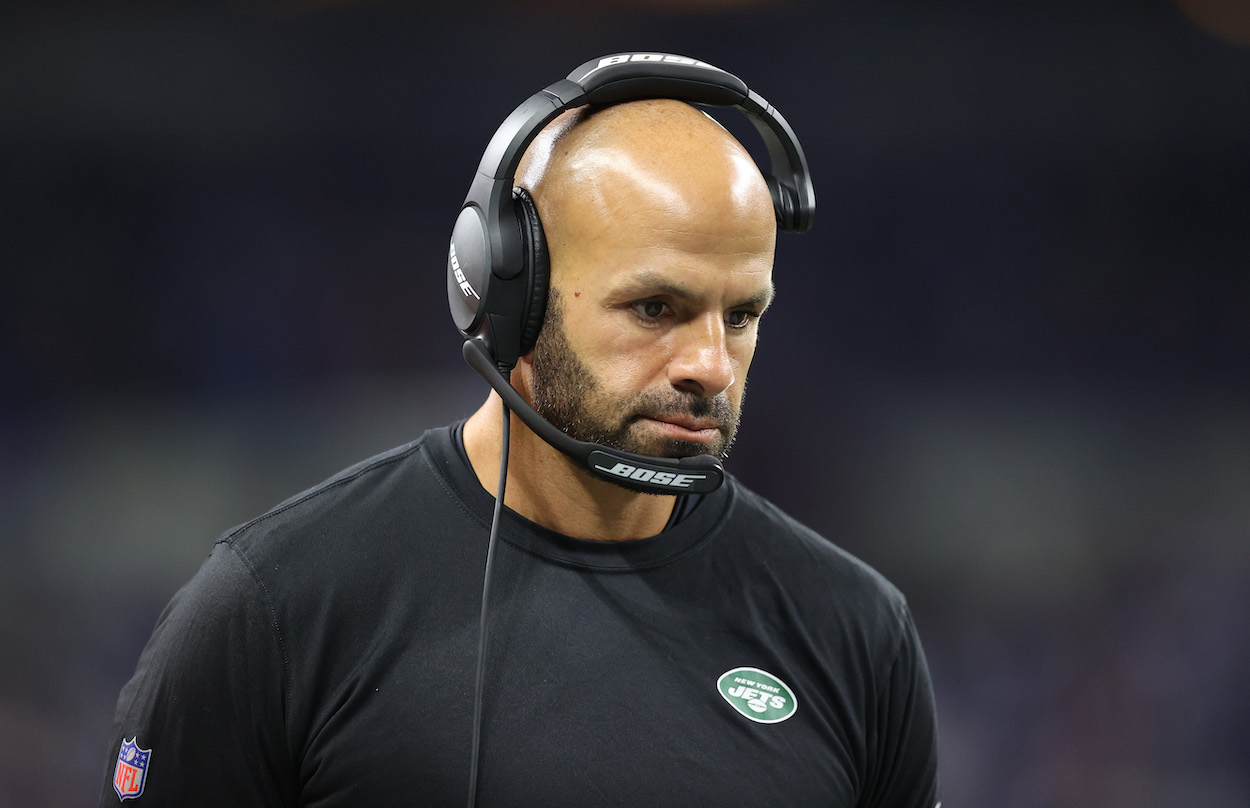 The Jets' roster isn't the greatest. However, Saleh can only blame himself for the team's current 2-8 record. He was hired as a defensive guru. Yet, the Jets have the second-worst defense in the NFL at the moment. That's an issue he needs to own.
Blaming the fan base for being impatient is ridiculous, especially considering how long they've waited for their team to field an actual winner. Finishing above-.500 aside for the moment, the Jets haven't made a Super Bowl since 1968.
Maybe Saleh does have a secret master plan that will yield results sooner rather than later. However, based on how things have gone in year one for him, Jets fans shouldn't hold their breath. Saleh is struggling to coach at the highest level. His gripes with fans and reporters paint the picture of someone already frustrated with his lack of results.
All stats courtesy of Pro Football Reference.