Robert Saleh's Rough Start Has Forced ESPN's Mike Greenberg to the Point of Desperation: 'Boy, I Miss Adam Gase'
As has been the case for the vast majority of his 54 years on this planet, the New York Jets are making ESPN's Mike Greenberg miserable.
The veteran sports personality spent much of the 2020 season demanding that his team fire oft-criticized head coach Adam Gase. With the Jets off to an ugly 0-3 start under new head coach Robert Saleh, however, Greenberg has reached the point of desperation.
Mike Greenberg has already given up on the Robert Saleh era in New York
Greenberg would likely be among the first of the Jets fans to admit that expectations entering the 2021 season were low. Then again, the team went far below rock bottom last season, so whatever represented the worst-case scenario for many teams would be an appealing sight for one of the league's longest-suffering franchises this fall.
Things are never that easy. The Jets scored two total touchdowns in their first three games, both on connections between rookie quarterback Zach Wilson and receiver Corey Davis in Week 1. An often-sharp defense didn't keep the team from being outscored 70-20 over that span.
Greenberg, who has remained an avid Jets fan despite the Rich Kotite era and Mark Sanchez running into his own offensive lineman's posterior and everything else in between, has had enough. ​​On the Sept. 27 episode of Get Up!, a day after the Denver Broncos moved to 3-0 with a 26-0 victory over the Jets, the National Radio Hall of Famer explained how frustrating it is to support his favorite football team.
"There were moments watching this game that I spoke aloud words I thought were impossible in my home. And they were, 'Boy, I miss Adam Gase.' You know what, at least under Adam Gase, it looked like they tried. It looked like they cared. They could've played 20 quarters [Sunday], and the Jets would not have scored."

Mike Greenberg
Remember when we mentioned hitting rock bottom? Greenberg is nearing Earth's inner core at this point.
Greenberg is so desperate that he wants Rex Ryan to replace Saleh on the sidelines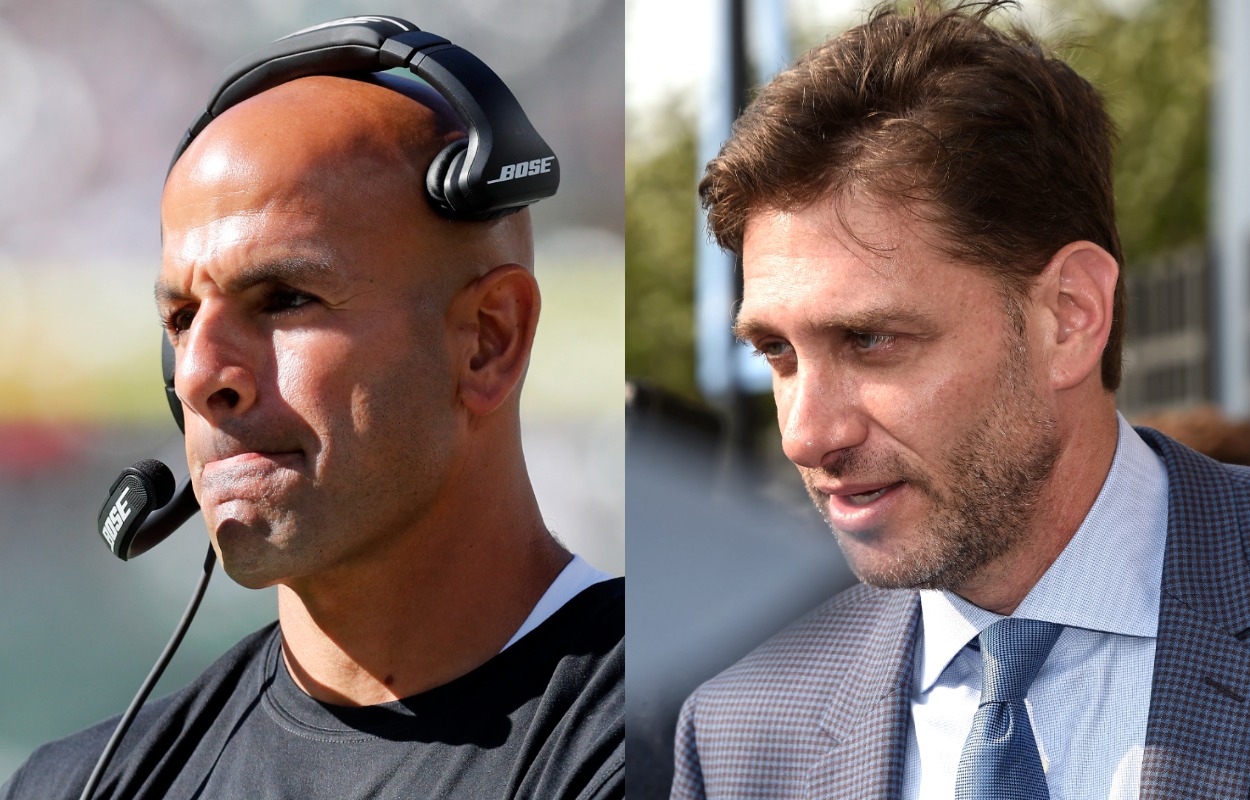 To give you an idea of how long it's been since the Jets even reached the postseason, their head coach at the time was Rex Ryan, who was fired following the 2014 season.
During that segment, Greenberg turned to Ryan, who joined ESPN in 2017, and admitted he's ready for a reunion.
"I love having you here on Mondays. You know there's nothing I love more," Greenberg told Ryan. "But I'm hoping next Monday you're otherwise occupied because I'm hoping you're coaching the Jets again."
Barring any last-minute changes or publicity stunts, Ryan will not be an NFL coach in Week 4. Instead, he'll be preparing to analyze what could be the Jets' 18th loss in their last 20 games.
You know who likely won't be watching Wilson and teammates struggle against Mike Vrabel and the Tennessee Titans? That would be Greenberg. 
"The only reason people aren't talking as much about the way the Jets are destroying Zach Wilson as they are in Chicago with Justin Fields is no one cares," Greenberg said. "And the Jets genuinely deserve that. They richly deserve it."
Saleh needs to turn things around before even the most devoted Jets fans join Greenberg
Three games is an extremely small sample size for anyone, even in the NFL. Let's not forget that Bill Belichick lost his first four games as the New England Patriots' head coach in 2000 and finished that year 5-11.
If Saleh's Jets finish 5-12 after this horrific start, we might be inclined to agree with fans who call him a miracle worker. As low as expectations may have been entering this season, few expected the offense to be so inept. Offensive coordinator Mike LaFleur, the younger brother of Green Bay Packers head coach Matt LaFleur, arrived with much fanfare.
How have things gone? It only took three weeks before Saleh needed to address his offensive coordinator's job security at a press conference. The rookie head coach provided a vote of confidence and said LaFleur has done a "good job" thus far.
"Once it all clicks, people will start to appreciate the job he's doing," Saleh said.
The Jets organization can think about the postseason next year or in 2023. In the short term, Saleh needs to see his offense improve and for Wilson to prove he deserved to be the second overall pick earlier this year.
There are still 15 games left for the team to show some positive changes. Otherwise, Saleh might just find himself watching games on the couch with Gase next fall.
RELATED: Zach Wilson's Rookie Season Is Already Being Sabotaged by a Ridiculous Benching and Another Draft Bust